Music and Mental Health
Can songs really change our tune?
February 17, 2023 at 8:00 AM
Mental health and music have always been intertwined. With so much turmoil, war, and oppression in the world, people experience depression and anxiety on a multitude of levels. Since life reflects art (or the other way around), songs can contain these feelings of hopelessness, frustration, and ambiguity — emotions that can toy with our hearts, sending us on a downward spiral of the mind.
The beauty in this ugliness is that no matter how emotionally complex a song can be, if it can resonate with listeners, it can create a sense of peace, giving the consumer a feeling of being understood. The artists who created the tunes that we love on our playlists and the radio have had their fair share of mental disturbances too, which fuels the music that we continue to enjoy. Is music the remedy to poor mental health? Could music actually be mental health therapy through rhythm and lyrics? Let's take a deep dive into the relationship between the two.
Whether through alternative rock, country, or hip-hop, songwriters commonly use composition as a coping mechanism. The genre of blues unapologetically waves distress signals, with stories of lost love and despair. Even the methods some blues guitarists use to strum their instrument convey emotion — you can tell within the wailing that the pain is real and not just for our entertainment. The late, great B.B. King, also known as the King of Blues, was no stranger to admitting his heart wasn't well in songs such as 1969's "The Thrill Is Gone" and 1970's "Nobody Loves Me But My Mother." The legendary English rock band The Beatles, who are known for songs like "Come Together" and "I Want To Hold Your Hand," were also able to push out ballads like their 1965 hit "Yesterday," which lamented a break-up and the desire for things to return to how they were.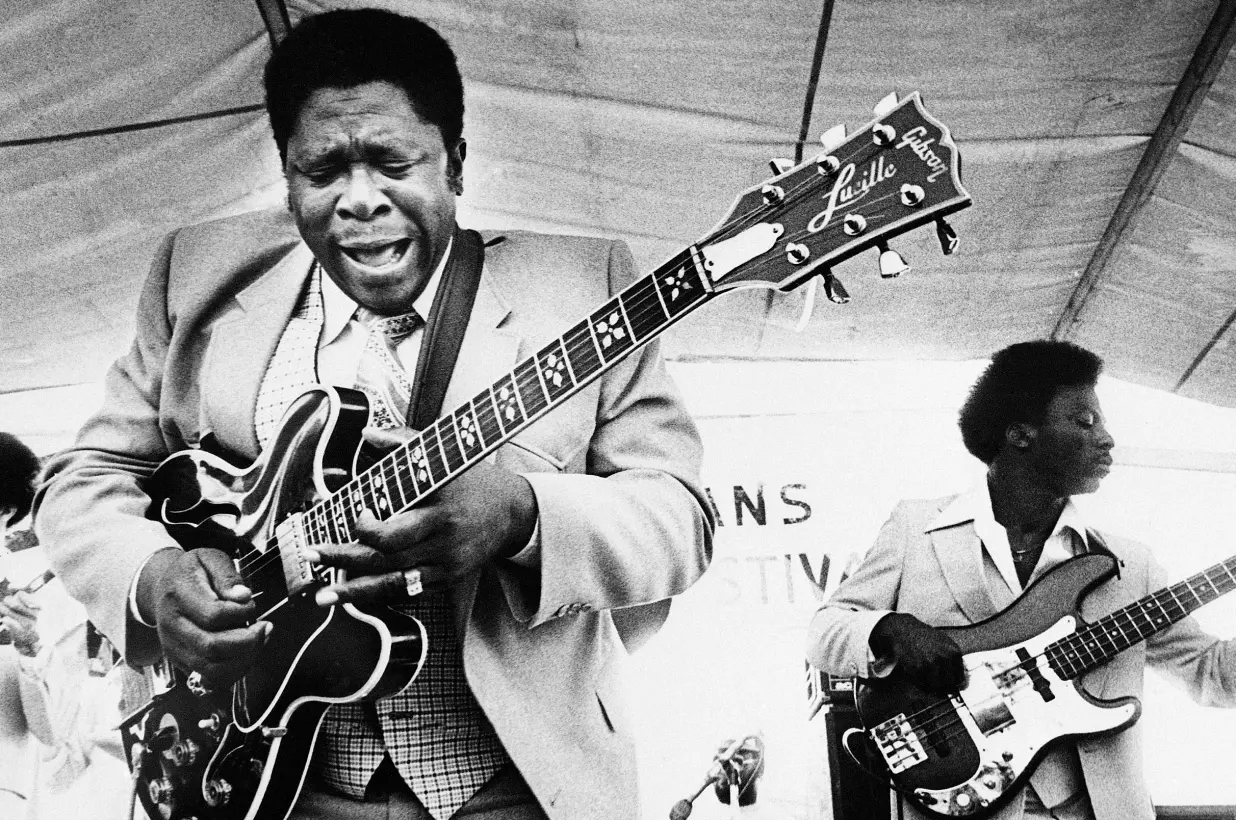 B.B. King, often referred to as "The King of Blues" channeled his feelings of sadness, disappointment, and longing into his music which has resonated with generations of listeners. Photo credit: AP
2022's Best of Erie award winner for Best New Band/Musician Elle Taylor uses music-making to her benefit to tackle issues that she endures internally. "It (creating music) is 100 percent a coping skill for me," says the folk artist. "In fact, I recently realized that it is more of a coping skill than anything else." Regardless of the accolades and recognition that she has been receiving throughout her journey, Taylor was never exactly sure, as a writer, what her message was through song.
But it is clear that the creation of her music cushions her mental state. "I had never planned to write a song. I have lived with depression for so many years and writing has always helped," Taylor admits. "The hurt, fear, rejection, and shame inside of me has to leave my body somehow and so it does it in words. Now I put those words to chords."
Canadian-American songwriter Alanis Morissette, who took the '90s by storm with her unique, transparent style of songwriting confessed the same sentiments in her 2021 HBO documentary Jagged where she says that she would be "sick" from not releasing certain feelings in her music, trying to hold it in.
Some of the greatest musicians have internally suffered and didn't shy away from letting it be known musically. Arguably the most influential rapper of all time, Tupac Shakur (1971-1996), had a slew of songs discussing the state of his psyche. On his 1995 track "Lord Knows" from his multi-platinum studio album Me Against The World, Shakur's first two lines are "I smoke a blunt to take the pain out/And if I wasn't high I'd probably try to blow my brains out." Though that may be disturbing, it's confessional and relatable for many people. In one of Shakur's most notable pieces "So Many Tears" from the same opus, the rapper explores feeling lost and suicidal, begging to get into heaven.
Another fallen soldier in the rap game, DMX, who suffered from abandonment issues and drug usage, was no stranger to pouring his emotions onto wax during his time on Earth. "I would've traded the chance of being a child with a father/over talent and being able to survive when it's harder," the Yonkers, N.Y. artist spits over the Phil Collins sampled track "I Can Feel It" from his groundbreaking 1998 debut It's Dark And Hell Is Hot. Philadelphia based artist RJ Payne, who is highly praised for his gritty metaphors and aggressive delivery, decided to create an EP series called Beautiful Payne in which he touches on the man behind the raps. Each installment provides introspection and vulnerability on a higher level than his other projects with most of them playing as a therapy session.
2011's Rock Erie Music Award Winner in the R&B/Urban category Calikko is known for expressing some of his innermost thoughts within his artistry, discussing relationships and self-reflection with slick word-play. "Being an artist of music myself, I've used it to cope with depression and even suicidal thoughts at times," Calikko confesses. "It definitely helped me get many of my emotions that I kept bottled inside out in a healthy manner."
Calikko adds that even outside of formulating lyrics, music is just a necessary joy. "When it comes to music and mental health, they complement each other very well," the artist claims. "Music is very therapeutic for the mind and the soul, as it is used on a daily basis to help with depression, anxiety, and your overall mood. You can be having a bad day and as soon as your favorite song comes on, your mood could completely change."
Music without question is a universal language that is spoken amongst billions around the globe. And with pain being just as universal, it only makes sense for music to play as an unofficial healer to humanity. A song that describes exactly how you're feeling could boost your mood because it's relatable or, it could bring you to tears for that same exact reason. The strong connection between our emotions and what we listen to is undeniable. The power of a song or even just a beat has the ability to move us.
Local music therapist Craig Stevens was kind enough to share his knowledge on how music affects people through studies and research: "Thanks to an increasingly large body of neurobiology research, music is now objectively seen as a powerful tool that can be used to influence mood, cognition, and behavior. Because music activates emotional and motivational networks in the brain such as the limbic system, specific music therapy techniques serve as training experiences for real-world skills related to mood modification."
Stevens continues, "Music-induced Mood Vectoring — the skill of purposefully moving from an undesired mood state to a desired mood state — combined with counseling-based techniques has been shown to drive behavioral change related to therapeutic goals. Elated mood states can help remove intrusive, unwanted, and negative thought patterns. Therefore, mood induction by music may support those with depression, for example, by helping the client gain more access to positive cognitions. It turns out, happy music indeed does help generate happy thoughts and the opposite is also true."
It's helpful to know that there is a real science behind music and our feelings. We all suffer just as much as the artists of whom we are fans. From Bill Withers to Kurt Cobain, to EDM and lo-fi, music can be a trigger that could take us down paths of sadness, empathy, or bliss. What we choose to listen to has a stronger influence on our day than what we think.
Or is it all subjective? Perhaps an angry song is the reason you can smile or a happy song is the reason you're irritated. At the end of the day, music and feelings are a marriage that will forever stand the test of time. It is my hope that your playlist brings you happiness. And, as a message to all of the songwriters, may your songs heal you just as much as you want them to heal the world.
Charles Brown can be found on Facebook and Twitter @CEEBrown814, and online at ceebrown.com