My Wednesday Night
Erie welcomes its newest Syrian family. 
December 21, 2016 at 10:00 AM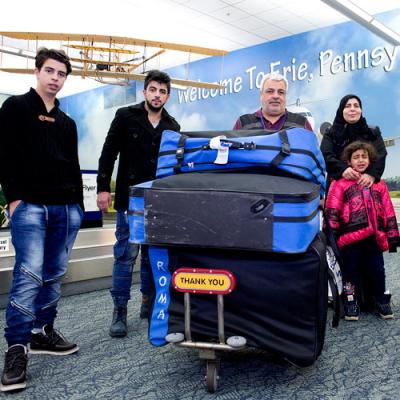 It was a cold night in Erie. The temperature was dropping and snow was in the forecast. It's the type of weather that makes you get out of the car and run to where the heat is.
Bassam Dabbah and I climbed from the car and ran inside Erie International Airport to wait for the arrival of a new Syrian family. Bassam is a Syrian translator for the Erie International Institute. This late-night routine of welcoming newcomers is part of his job. He's done it so many times he even knows the flight number and arrival time of the day's last plane.
"They have been dreaming about this day," he told me. "Coming to America is something very special, and I get to be the first person to welcome them."
Bassam has a good heart, and has prepared Syrian dishes for the family. "The journey has been tiring but this will be a happy moment for them," he continued. "They will be excited to see their new apartment, and this new city. Most importantly, they will feel safe here. Erie is their hope for a better life and many new opportunities."
A few minutes later, Bassam and I were joined by Bryan Prior, an in-training caseworker who is just starting out with Erie's International Institute. He is an adjunct professor at Gannon and seems to be a do-it-by-the-book kind of guy, with the flight information in his hand. He explained to Bassam where the family would go the next day and what time they'd need to be picked up for their appointments.
When the flight from O'Hare International Airport landed in Erie, we all stood and watched for Erie's new family to disembark. I turned my camera and flash on while Bassam and Bryan watched for the newcomers. The family of seven soon came through the gate and walked toward Bassam. He greeted the family, shaking hands with all of the men and using the traditional Arabic greeting, "Assalamualaikum."
The family consisted of the father, Nazer Zahra, 51, his wife, Seba Hamoud Agha, 41, and children, Mohammed, 16, Basam, 14, Fatema, 11, Abdulellah, 7, and Rama, 6.
The youngest child was crying while everyone else seemed tired. They just wanted to rest from the 15-hour flight from Amman, Jordan, to Chicago, and then directly to Erie. We all walked to baggage claim, and the men collected the bags while the mother and the daughter patiently awaited what would come next.
In the van, I started to converse with the 16-year-old who sat in the front seat next to Bassam. I was curious to know what life was like in Syria. He didn't speak any English, and so I asked my questions in Arabic. At times it was hard for us to understand one another because of our different dialects. I am from Iraq; he is from Syria.
As he reflected back on his time in Syria, the young man took a deep breath, looking out at Erie's empty streets. He spoke of the day when the streets of Syria turned turbulent. One Friday, he went to the mosque with his friends for the Friday prayer, and when the prayer ended the turmoil really started for him. As he was walking out of the mosque, he was greeted by pro-government stonethrowers. Syria had become a war zone and was no longer safe.
The family's house was bombed and escaping to the next town was their only solution. They took whatever they could and left for Nabik, Syria, which is about 50 miles away. After a year in Nabik, they had to flee again – this time to Jordan – as Nabik had become a target for the Syrian Army.
The family joined thousands of other Syrian refugees who were already residing in Jordan. Many had to stay in Jordan for years until their resettlement applications would be approved.
The Zahra family lived in Jordan for four years before coming to their resettlement location of Erie. This new Syrian family will undergo the procedures and orientation every newcomer goes through. For the next six months, they will register for school, social security cards, and the required medical care they'll need.
Bassam and I were glad to have a part in welcoming Erie's New American family. It was a Wednesday night well spent.
Maitham Basha-Agha can be contacted at Maitham@eriereader.com.