Netflix to Release Documentary on Nina Simone
The High Priestess of Soul to be the focus of a new 100-minute documentary.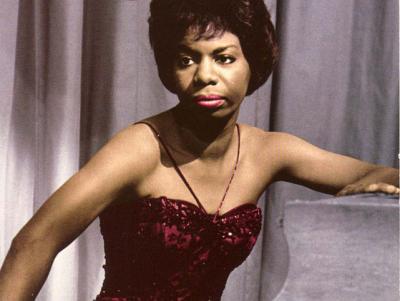 The timing is almost perfect. As America struggles with racial division with an intensity not seen in years, the entertainment industry is about to take a close, extensive look at singer/pianist/songwriter Nina Simone, arguably the most racially-involved performer ever.
Netflix is releasing a 100-minute documentary titled What Happened, Miss Simone? Friday, June 26. It debuted at the Sundance Film Festival last January, and Variety magazine's chief film critic Scott Foundas called it a "meticulously researched, tough-love portrait of the brilliant but troubled folk/jazz/soul diva." Simone's only child, daughter Lisa Simone Kelly, an actor and singer who's been on Broadway and recorded several albums, is part of the production team.
The documentary will be followed soon by Nina, a full-fledged film starring Zoe Saldana in the title role. An actress of mixed Latino heritage and non-singer, her choice has come under heavy criticism. In interviews, Saldana has expressed confidence in her ability to succeed in the role. "I believe in who I am and I believe in Nina Simone," she has said.
In conjunction with Nina, or shortly thereafter, a compilation CD will be issued featuring many of today's best known vocalists singing songs associated with Simone. Already Netflix has a CD available featuring Simone singing 14 songs, including several of her most popular and human and civil rights-oriented numbers, such as "I Wish I knew How It Would Feel to be Free," "See Line Woman," and "Sinnerman."
Born Eunice Kathleen Waymon in Tryon, N.C., Simone was the sixth of eight children, all of whom were musical, but none as much as Nina, who dreamed of becoming a classical pianist and playing in New York's Carnegie Hall. The folks in Tryon generously collected enough money to send her to study at the Juilliard School in New York and the Curtis Institute of Music in Philadelphia.
She and others have made it clear that her color kept her from realizing her goal, and that she never overcame bitterness about that. Her teachers noticed, though, that she had a flair for jazz improvisation and various popular music idioms. So into the clubs Nina went as a pianist until 1954 when a chance engagement turned her life around completely.
A club owner thought he was getting a singer, and he insisted that Simone do just that. So sing she did, and from there she went to accompanying herself on piano as she sang her way into a wonderful performing and recording career. 
Her voice and singing style were singularly distinctive, sending critics to their Thesauruses for the right descriptive words. She also was difficult to categorize as singer and pianist, since both contain elements of gospel, folk, pop, soul, jazz, blues, and classical music.
Someone dubbed her the High Priestess of Soul, and it stuck. But in a 1967 interview with the late jazz critic/author Leonard Feather, Simone said, "It's always been my aim to stay outside any category. That's my freedom." This writer called her voice "dark, deep-throated, tremulous, and emotion-charged," In an interview with Variety, Nina took a shot at describing her voice: "Sometimes I sound like gravel and sometimes I sound like coffee and cream."
In her first year as a singer (1954), Simone struck gold, as in earning her first Gold - or million-selling record - with her interpretation of "I Love You Porgy" from George Gershwin's Porgy and Bess. In the 1950s she scored with "Love Me or Leave Me," "Wild Is the Wind," "My Baby Just Care for Me," "I Put a Spell on You," and others.
In the '60s, she became infuriated with the racial violence in the South and joined with Martin Luther King Jr., Stokely Carmichael, Malcolm X, and other black leaders and became deeply involved in the civil rights struggle onstage and off.
During the bloody march on Selma, recently re-enacted in film, Simone wrote and recorded, "Mississippi Goddamn," "Four Women," "To Be Young, Gifted and Black," and other powerful protest songs. "Mississippi" and other Simone songs were banned by most radio stations in the South.
Simone continued to perform and record sporadically into the early 90s, and then withdrew from public life. She died at 70 on April 21, 2003 of breast cancer.