Never a Long Life Better Spent
Historian, author, and philanthropist Laura G. Sanford made indelible mark on Erie
March 16, 2023 at 8:00 AM
In November 1819, within a house on the corner of Sixth and French streets in Erie, Pennsylvania, Laura Goodwin Sanford was born. She was the second daughter of Giles and Laura Sanford, a respected and financially prosperous family in Erie.
Her father had moved to Erie from New London, Connecticut in 1810. He soon established himself as a trustworthy local merchant along with business partner Rufus S. Reed. Giles was described by those who knew him as having a "sunny spirit" and "sound constitution," a "gentleman of culture and taste" who wasn't religious (at least at this point in his life) but "derived unfailing pleasure from nature and everyday life." He was not formally educated, but was an avid reader and was admired by those in Erie for his intelligence, integrity, and, as he began to experience financial success, his philanthropic nature.
During the War of 1812, the two merchants provided many of the supplies to build the fleet commanded by Commodore Oliver Hazard Perry. After the war, he and Reed secured numerous government contracts, supplying soldiers in Chicago, Green Bay, and other westward areas with provisions, among them: pork, beans, flour, salt, vinegar, whiskey, candles, and soap.
In 1816, he married Laura Goodwin of Litchfield, Connecticut, an outwardly happy yet shy and self-conscious young woman who struggled with numerous health issues. Back in Connecticut, she had been previously engaged to a preacher who had abruptly decided to become a missionary in India. The disapproval of her father, who was opposed to missionary work as well as Christianity itself, along with a lack of confidence in her own potential abilities as a missionary led her to call off the engagement.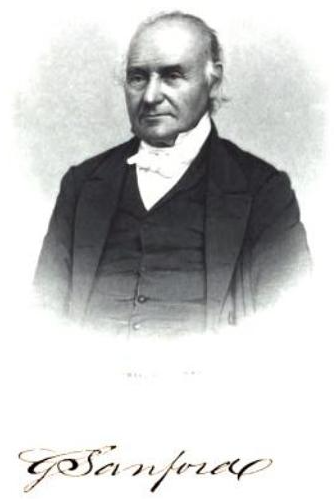 Laura G. Sanford's father, Giles Sanford, was an early pioneering settler of Erie, coming to the county in 1810. He was a successful merchant who was well known for his intelligence and philanthropic nature. Credit: History of Erie County, Pennsylvania, Volume 1 (1884)
"[S]he felt herself deficient," her daughter Laura would later write. "An ambition to succeed in all she might undertake, a desire to attempt nothing that she could not carry out creditably ... [had] too much influence in her decisions." Goodwin's former fiancé took responsibility, later in life writing that he had made a mistake by not doing more to inspire confidence in the "tender and beloved" Laura.
In September 1817, her first child with Giles, Lavinia Stanley Sanford, was born. Their daughter Laura was born two years later and then William in 1822 and Myron in 1824. That summer, when the Revolutionary War hero Marquis de Lafayette's tour through the United States brought him to Erie, the young sisters dropped flower petals as part of the welcoming parade and afterwards they dined with him at the house of the prominent Erie resident Judah Colt (whose great-grandson, Judah Colt Spencer, Lavinia would eventually marry).
During these years, the Sanford family continued to grow in esteem and wealth. Giles helped found the Erie Academy and, after embracing his wife's Christianity, the Erie City Bible Society. He had a great interest in local agriculture and horticulture as well. The elder Laura helped organize churches where there previously had not been any. In 1822, Giles was appointed by the state with two others to survey Presque Isle Bay. The Sanfords also purchased numerous properties around the city.
Meanwhile, Lavinia, young Laura, and Myron attended Erie Academy. William was mostly homebound and cared for primarily by his mother. As the children entered adulthood, Lavinia married Judah Colt Spencer ("a man of system, decision, and energy" with an "unusual combination of suavity ... [and] firmness") and they started a family. Myron ("the most inflexible integrity" and a "courteous man") made a name for himself in Erie's finance world as a banker before marrying as well.
As for Laura, she seemed interested in everything — that is, except for marriage. Thanks to her privileged upbringing, she was able to spend her days at her French Street home sewing and embroidering, writing and drawing, playing chess, and painting landscapes and portraits. The Erie Daily Times noted her "rare artistic and literary gifts." According to Notable Women of Pennsylvania by Emily Sprankle Heron, she was also a skilled pianist and would often entertain others with her ability at family events. She also wrote for the Erie Gazette newspaper, the first woman in the city to do so.
Laura was described as having a "big heart," someone whose empathy for others seemed endless. She dabbled in missionary work in Italy and Spain, mostly in Madrid, where she spent her days speaking with and reading to patients in hospitals, while becoming fluent in Spanish herself.
In 1852, her brother William died. Her mother died two years later. Over the following years, Laura began working on what would become The History of Erie County, Pennsylvania, From Its First Settlement, an influential and impressively detailed comprehensive history of Erie County. She compiled firsthand accounts, manuscripts, letters, and files from locals, including her own father, who had lived through Erie's early decades. It was published in 1862.
"If in every State we had those who were unprejudiced and truth-loving to examine and test the supposed history of their respective localities, truth would be vindicated, much that is interesting rescued from oblivion, and a correct and minute history of our country secured," Laura wrote in the preface, explaining her purpose for writing the book.
The Erie Gazette noted the book's "careful preparation." The Crawford Democrat called it "a work of great value" and that Sanford "deserve[d] the thanks of the whole country" for the work. It received considerable attention outside of Pennsylvania. Following the publication of a revised and updated version, one historical journal described Sanford as a "distinguished" writer and added, "It is without exception one of the most meritorious local histories which has even been issued from the Pennsylvania press and the citizens of Erie county have abundant reason to be thankful to Miss Sanford for her excellent work."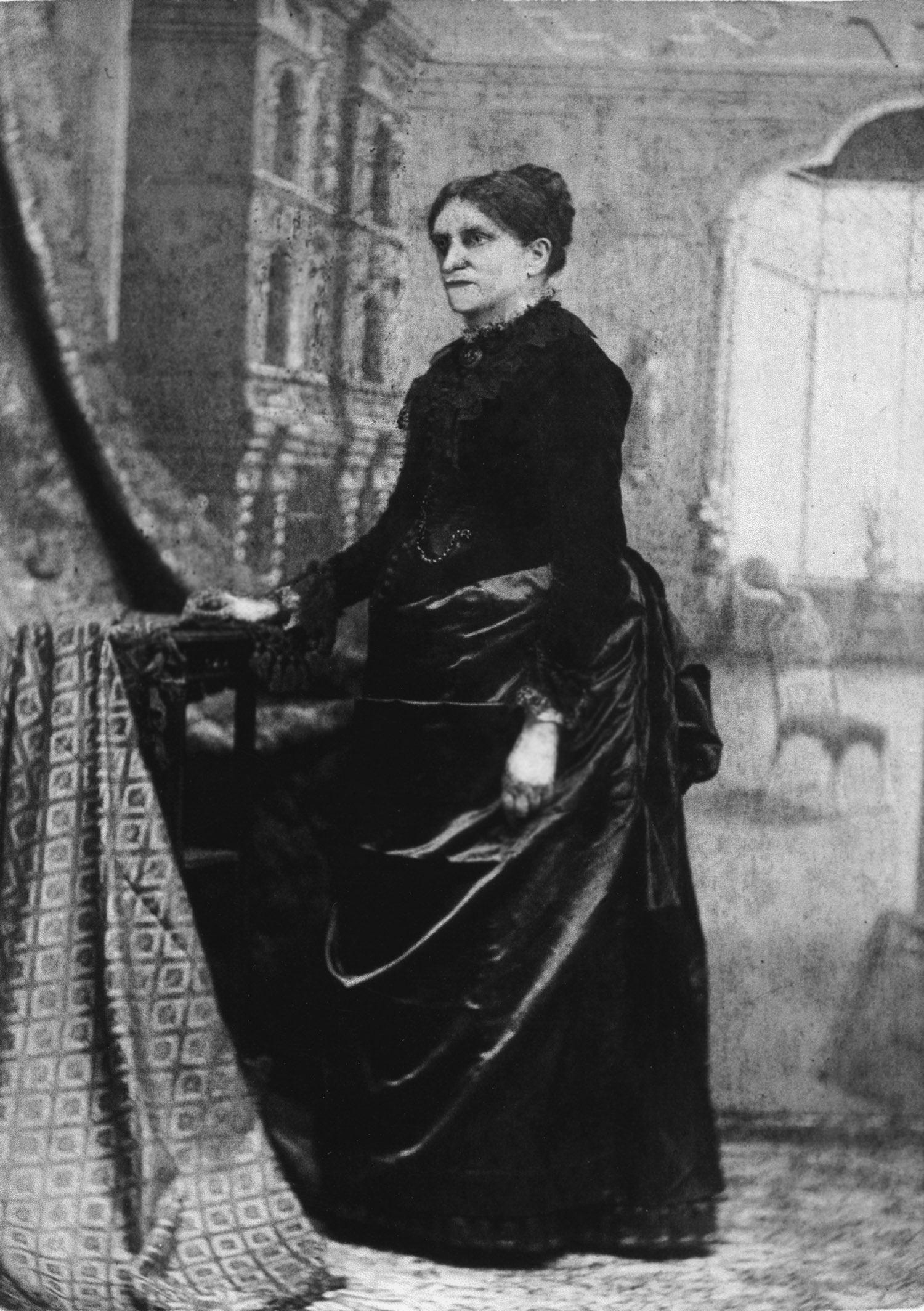 A renaissance woman of sorts, Laura G. Sanford threw herself into many creative and civic projects including embroidery, painting, drawing, and writing. She was the first female writer for the Erie Gazette newspaper and went on frequent mission trips to hospitals in Europe. Credit: Erie County Historical Society
In 1866, Laura's father Giles died. Around this time, Laura's philanthropic nature was apparent throughout Erie. In 1871, she was essential in galvanizing the creation of the Home for the Friendless (now known as the Sarah A. Reed Children's Center), a place for orphaned children as well as the elderly, along with Sarah Reed, Calista Gara, and William Arbuckle. Laura was credited with organizing 40 women in support of its creation, initially having "no money, no building, no furniture, only faith and a determination to make this thing a success."
Both Lavinia and Myron died within two months of one another in 1866. Laura, along with Myron's widow — Susan Lawrence Sanford of Philadelphia — continued their family's philanthropy, gifting a plot of land on the east side of Seventh and French streets for a public library to be built. According to Erie History - The Women's Story by Sabina Shields Freeman and Margaret L. Tenpas, while the city ultimately didn't raise enough money during this particular campaign, it jump started the movement for a public library in the city. When one was finally opened in 1899, she donated $2,000 (to put that in perspective, the average wage-earning adult male made slightly over $10 per week at that time). She and her sister-in-law would also be the largest private donors for the creation of a new library for the public schools.
After devastating flooding in 1893, she utilized one of her properties at 609 French St. to gather donations of children's clothing, a tradition that she kept up in subsequent years, keeping the property as a location for those who may be in need of essentials. In 1895, she gifted lots on both the east and west sides where six families in need could cultivate the land to grow potatoes. She donated meals to families each Christmas and financially supported the local YMCA and YWCA. To those who desired, she taught piano, chess, and her other skills.
By 1904, now a "quaint little old lady," she was becoming increasingly sickly. She died in 1907.
"Miss Laura Sanford made an imprint on Erie that will long be remembered as the record of one of the noblest women in the history of the city," the Erie Daily Times published following her death. "Of the many good deeds performed by her, only a few will ever be known in this world. She was idolized by all who knew her."
In 1931, the Business and Professional Women's Club of Erie sifted through 120 nominations to select 12 of the "greatest women" in Erie history for National Women's Week. These were women who, the club felt, were the most prominent in the "civic growth and progress" of the city during their lives. Laura Goodwin Sanford was among the 12 selected along with names such as Sarah Reed and Dr. Adella B. Woods.
"Erie is indebted to Miss Laura G. Sanford for the first authentic history of the county," the induction noted, adding that other histories had been written since, but all relied on and even borrowed from her meticulous research with none being "more authentic, or more complete" than hers.
"[I]t can be said truthfully that never was a long life better spent, never were 88 years devoted more unselfishly, more generously to the service of others," the Erie Daily Times wrote of her. "Erie is better for her having lived."
Beginning this month, an exhibit dedicated to Laura G. Sanford will be on display at the Hagen History Center located at 356 W. Sixth St.
Jonathan Burdick runs the public history project Rust & Dirt. He can be reached at jburdick@eriereader.com