Never Become Stagnant
The legacy of Erie's Vosburgh family
One of the better known residents of Erie in the nineteenth century was Albert Vosburgh, a prominent barber, businessman, and savvy real estate investor. Samuel P. Bates, in his 1884 book History of Erie County, Pennsylvania, described Vosburgh as an unmarried man of "ample means" who was a "zealous" Republican, uninterested in running for office, but deeply interested in the expansion of civil rights across Pennsylvania. He owned and lived in his family mansion at 314 French St. with his daughter and his sister's family — along with owning six other houses and ten lots of lands across the city.
Vosburgh was born in 1822 to Robert Vosburgh (born in Kinderhook, New York in 1778) and Abigail Tisdale Vosburgh (born in Taunton, Massachusetts in 1794). After a short time in Ohio, the couple arrived in Erie in 1818. They had nine children together: Robert, Henry, Israel, George, Richard, Albert, Susan, Charles, and Fritz.
The elder Robert was a barber by trade, operating a business on North Park Row with the assistance of his sons. He was active in the community and for causes of equality. He and Abigail were founding members of the Erie County Anti-Slavery Society, along with local figures such as Hamilton Waters, Daniel Dobbins, William Himrod, and John Dickson. He likely assisted those escaping enslavement with haircuts, new clothes, and assistance with safe passage.
As Albert entered adulthood, the family faced numerous tragedies. Richard drowned in a workplace incident in 1839. In August 1841, two more siblings were killed.
The steamship Erie, owned by the distinguished Erie resident Charles Manning Reed, ferried passengers across various Lake Erie ports between Chicago to Buffalo. The Erie was famous for its speed, having made it from Erie to Buffalo in a record-breaking five hours in 1838.
Two of Albert's brothers were employed on the steamship. Henry was a cook and Israel was a porter.
With as many as 350 people aboard, the ship was on its way from Buffalo to Erie with flammable chemicals aboard. The chemicals triggered an explosion only an hour into the trip, which set the ship ablaze. The fire was intense and spread fast. Henry, Israel, and over 250 others perished. It was an international story and remains one of Lake Erie's deadliest disasters.
"[A]ll was still except the dead crackling of the fire," it was reported of the scene within a few hours. "Not a solitary individual could be seen or heard on the wild waste of waters."
Later in life, Albert reflected on the loss of his brothers, saying that the city lost "some of its best young men." He hoped that they and the disaster would not be forgotten.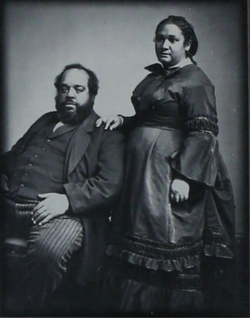 Robert and Abigail Tisdale Vosburgh (Source: Journey From Jerusalem)
In 1844, fire was again at the center of a Vosburgh tragedy. A massive fire swept through the northern end of Erie's French Street, burning to the ground a number of buildings that included the Vosburgh family home. Fortunately, everyone was safe and Robert rebuilt the home before dying in 1846, passing it on to surviving family members. Albert took over the family barbershop and dabbled in real estate. He joined the Pennsylvania Abolition Society. While few records of Erie's Underground Railroad exist, William J. Switala's Underground Railroad in Pennsylvania asserts that Vosburgh was almost certainly involved, as his father had been, working alongside Hamilton Waters, the St. James African Methodist Episcopal Church, and others to help those seeking freedom from slavery.
Meanwhile, sibling Robert was already living in Brooklyn, New York. He initially continued his family trade as a barber before operating a drugstore. In 1861, he was then appointed by Hiram Barney — himself an appointee of President Abraham Lincoln — for a position with the U.S. Custom House. This made him the first Black appointee, sparking outrage and racist, fearful commentary from many newspapers.
The New York Leader was infuriated that Robert had been appointed in the position that was held by a white man, condemning the choice and implying the imminence of race riots.
"Is this the beginning?" the editor questioned. "[I]f this report proves true, there will be a storm in this city. ... [T]he entire race of white men would rise in vindictive rebellion against it. ... This is to be the inauguration of the negro reign, is it? And Prince Vosburgh is to take the lead."
The Luzerne Union out of Wilkes-Barre, Pa. claimed that Robert's appointment would be the first of many for "lazy and barbarous negroes ... foisting themselves upon the sympathies of the community for support." The Lebanon Advertiser argued that the "liberal principles" of the Lincoln administration would lead to the replacement of white public employees by Black workers.
Despite the negative press and unapologetic racism, Robert was undeterred. He held the position for nearly four decades.
As for George, he moved to Cleveland for a job as a shipping master where he became known for his "powerful physique" and the respect he earned from his sailors. After retiring from that strenuous work, he was employed as an usher at a railroad depot restaurant. He was involved in the Underground Railroad as well (a monument to his contributions is currently being restored at Cleveland's Woodland Cemetery). Later in life, he recounted tales of using his ships as transport. He counted among his friends Frederick Douglass (George called him a man of "fearless courage" and "one of the great men of American history") and John Brown. Brown spent many nights at his home and, according to George, even told him about his plans for Harper's Ferry. As described in the Cleveland Leader, he simply seemed to be known by everybody in Cleveland — and had personally even met Presidents Lincoln, Ulysses S. Grant, James A. Garfield, and William McKinley on their visits.
Fritz, the youngest of the siblings, initially helped Albert with the family business after their father's death. Eventually, he moved to Oakland, California where he died of consumption in 1878 at age 47. This was only a year after the death of their mother Abigail. Charles, in the meantime, stayed in Erie. He died in 1880 at age 54.
By the time of Abigail's death, Albert had a young daughter: Florence Alberta Vosburgh, born in 1874. They lived in the French Street family home with his sister Susan, her husband, a gunsmith named William H. Dickson, and their daughters Henrietta ("Nettie") and Mattie. By this point, Albert owned a significant amount of property around the city. He gained a reputation for improving his properties. The Erie Morning Dispatch noted his enhancements to numerous cottages, writing that he did "good work which merits imitation by others."
While not interested in running for office, he was otherwise very interested in politics and was "influential in molding sentiment" and had "intense satisfaction [with] the great changes wrought in the fabric of society." Albert had a deep knowledge of history and he traveled extensively with Florence around the country and Europe. He helped form numerous organizations, including a local marching club with his good friend John S. Hicks, the well-known confectioner and ice cream manufacturer.
The younger Robert died in 1889, followed by Susan in 1890. This left Albert the sole surviving son of Robert and Abigail in Erie, with George, the only other surviving sibling, still in Cleveland. Albert continued to live with his brother-in-law and nieces. Following her mother's death, the older Nettie, who was both an artist and a teacher, took over housekeeping duties. Mattie focused on graduating high school. She was always very involved in school, participating in piano, violin, and vocal recitals and even being chosen to speak at her commencement ceremony. This ceremony took place at the Park Opera House on North Park Row. In her highly-regarded speech to an overflow crowd, she spoke of the "crank" — those people society often views as strange or unconventional in their thinking.
"[Crank is the] nickname for all who do not follow the fashions in dress, behavior, religion, politics, and education," Mattie said in her speech, perhaps having some of her own family members in mind. "Our great discoverers, reformers, ministers, leaders in civilization, men of perseverance and enthusiasm [were] cataloged as cranks. … There are cranks social, cranks religious, cranks orthodox, and cranks heterodox, all keeping other people stirred up and never allowing the pools of human thought to become stagnant. For this alone the cranks may be blessed."
Mattie then spent a year training to be a teacher. In 1892, Albert's daughter Florence, described as "a wonderfully brilliant musical scholar," left home to study music at Ohio's Oberlin College. At this point, Albert was slowing down significantly due to health struggles. Meanwhile, on Mattie's 21st birthday, new in her career as a teacher in Erie's public schools, tragedy struck the family once again.
"The report this forenoon that Miss Mattie Dickson, one of the most interesting and best of Erie's public school teachers, had shot herself, spread like wildfire and created a profound sensation in the city," reported the Erie Daily-Times on Nov. 10, 1892. Earlier that morning, Mattie had told her Uncle Albert, as he rested in the living room, that she had had a terrible nightmare about her father's revolver. He thought little of it until shortly after when he heard a loud noise. Unsure of what he'd heard, he went into the kitchen, before hearing two more cracks coming from upstairs. He called out to Mattie as he rushed to her room, the smell of gunpowder in the air. He found her lying on the floor.
The family and community were blindsided. Her funeral was described as being crowded with family, colleagues, and former classmates all in attendance with an abundance of flowers. In Sarah S. Thompson's Journey from Jerusalem: An Illustrated Introduction to Erie's African American History, 1795-1995, she highlights that the "outpouring of sympathy for this young woman is striking" and adds that it is difficult to not speculate what may have come of her promising life.
Albert lived a few more years, dying on January 1, 1897. He was 74. The Erie Daily Times eulogized him as one of the most highly respected citizens of Erie. That same year, his daughter Florence married a man named Rufus D.H. Baxter — who in 1903 became the first Black police officer for the City of Erie. They had three children. In Cleveland, George Vosburgh died in 1904, which the papers covered extensively. He was 84. Florence lived in Erie until 1946, dying at age 72. She, along with many of the Vosburgh family, are buried in the Erie Cemetery today, having lived lives in which they never became stagnant, for which they should be blessed, as young Mattie had once said.
Jonathan Burdick runs the public history project Rust & Dirt. He can be reached at jburdick@eriereader.com