New Album features Old Sounds
R.E.M.'s new album sounds an awful lot like their old stuff. And that's just fine with our writer.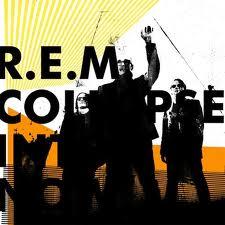 In 1985, John Fogerty was sued by his former record company, Fantasy Inc. The charge? Fogerty's solo single, "The Old Man Down the Road," sounded too much like his output with Creedence Clearwater Revival. He was being sued for plagiarizing himself.
On their new album "Collapse Into Now," R.E.M. is guilty of doing the same. With a career spanning 20 years, 15 studio albums and 64 singles, however, it's hard to conceive of the band producing an album that doesn't crib from their earlier work at least a little. And, while Michael Stipe and co. aren't kicking down doors and scaring parents a la today's shock pop, there is something to be said for intimating the most illustrious back catalog in modern alternative music.
"It Happened Today," the album's thematic centerpiece, with it's wobbling church organ, group handclaps and wordlessly-yearning chorus would fit comfortably on R.E.M.'s 1996 release "New Adventures in Hi-Fi" or their '80s rave-up "It's the End of the World As We Know It." The echo-driven, contemplative "Every Day is Yours to Win" (an ode to Mr. Sheen, perhaps?) easily could've been an unreleased track from the same sessions that produced 1998's "Up."
The emotional rocks of the album, though, are culled from the influences of what is considered R.E.M.'s finest work, 1992's "Automatic for the People." The back-to-back combo of "Uberlin" and "Oh My Heart" tug on the same breathless strains of southern-American Gothic (the painting, not the ill-advised high school fashion) as the hushed "Drive" and "Try Not to Breathe." With the intertwining, floating melodies of Michael Stipe and Mike Mills and the circulating chug of Peter Buck's acoustic guitar, these songs create an emotional levity that R.E.M. has lost in the last decade. It appears that through recalling their own triumphs over the last 20 years, they've managed to recover them.
The band won't be making any new fans with this album. There's no big radio single here, no breakthrough hit, no awards show fodder or possible MTV rotation. What it does have are 12 songs that will remind fans why they started loving R.E.M. in the first place and the sound that the world's first indie band has been writing and rewriting, perfecting, for two decades now. Perhaps there isn't any innovation here. Perhaps they're guilty of a little self-plagiarism like Mr. Fogerty. But when they're rehashing music this good, who cares?