New Major for Freshwater Studies
Gannon University adds a new academic major focusing on Lake Erie
February 10, 2015 at 2:04 PM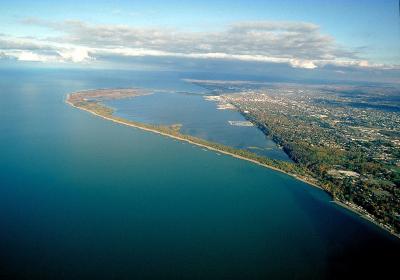 With 20 percent of the Earth's surface freshwater at our doorstep, and the Great Lakes, especially Erie and Ontario, facing numerous threats to water quality and biological communities, it only makes sense that a local educational institution offered a major in freshwater and marine biology. Up until now, though, none has. Which is kind of a head scratcher, if you think about it.
Gannon University has just announced the creation of a just such a major. Next tuesday, February 17, at 7 p.m. in Room 112 of the Tom Ridge Environmental Center, Gregory Andraso, Ph.D., a biology professor who has conducted research into several Great Lakes invasive aquatic species, will present an overview of the major, as well as talk about some of the hazards facing Lake Erie, including their biological and economic impacts. Read more about invasive species in the Great Lakes. 
He will also share some of the research he, his colleagues, and students have been conducting on invasive species. Learn more about Dr. Andraso's research.
Gannon's timing seems perfect. With the possibility that a NOAA marine sanctuary could be established here, having a ready research partner, with a full-blown program in place would make our application process that much stronger. They are well situated to make it happen, too. Gannon already owns — and has been conducting water inquiry aboard — the Environaut, its research vessel, and, as pointed out in the video at the web page describing the major, the campus is six blocks from the bayfront. There are no similar programs for freshwater studies in the greater region, either.
If we want to avoid "brain drain" and encourage young people to stay in the region, this is the best of news. With a ready supply of research opportunities and potential jobs based on the science of one of our most potent resources, Gannon's move seems like a firm foundation upon which to build a new Erie that acknowledges current local assets and makes the most of them. The benefits to Erie are a healthier lake, better recreation opportunities and economic growth. 
Dr. Andraso's presentation is free and open to the public with no registration required.