News of the Weird: September 2, 2015
Cecil Speaks, sort of, and more weirdness.
September 2, 2015 at 9:45 AM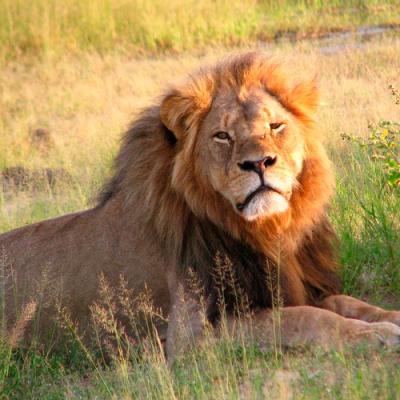 Cecil Speaks
The distress across the Western world in July over the big-game killing of Cecil the lion in Zimbabwe was apparently misdirected, according to veteran "animal communicator" Karen Anderson of Elk, Washington, who told Facebook and Internet visitors (www.AnimalCommunicating.com) that Cecil and she had discussed his demise and that he was over it. Also, Cecil apparently speaks in formal, graceful English, as Anderson quoted him (according to London's The Independent): "Let not the actions of these few men defeat us," said Cecil, "or allow darkness to enter our hearts." "I am," he added, "grander than before as no one can take our purity, our truth or our soul." (Anderson's usual fee to speak with deceased pets is $75 for 15 minutes, but she did not disclose whether she had a client for Cecil's tab.) [The Independent, 7-31-2015]
Chutzpah!
In May, three Santa Ana, California, police officers who had just raided the unlicensed Sky High Holistic medical marijuana dispensary were caught on the facility's surveillance video eating supposedly seized cannabis-infused chocolate bars, and an "internal affairs" investigation was opened. However, in August, the Orange County Register reported that the cops went to court to have the video suppressed. Their familiar legal argument is that the video violates their right to privacy — in that they had purposely disabled the cameras before they began munching the contraband and thus had the requisite "expectation of privacy" that triggers the right. (Possibly, they had missed a camera.) [Orange County Register, 8-3-2015]
The mother of three children in Grandview, Missouri, suspected that Dameion McBride, 22, had sexually molested her two daughters (ages 4 and 8) and son (age 3), but McBride indignantly denied it, claiming that he is a child-abuse survivor himself, and booked himself on the national "Steve Wilkos" TV show in May to take a lie detector test to clear his name. However, he failed the test as to each child and was subsequently arrested. (The Associated Press reported that McBride insisted on a police lie detector test — and failed that, too.) [WDAF-TV (Kansas City), 7-15-2015]
The Continuing Crisis
On Aug. 1, one of the world's weirdest border disputes came to an end, as India and Bangladesh exchanged more than 160 "enclaves" — sovereign territory completely surrounded by the other country's sovereign territory (in principle, making travel out of the enclaves impossible unless the enclave had an embassy or another office that issues visas). In fact, there was one Indian enclave (Dahala Khagrabari) completely within a Bangladeshi enclave that is completely inside an Indian enclave inside Bangladesh. [Washington Post, 8-1-2015]
The Litigious Society
The estate of Dr. Rajan Verma filed a lawsuit in July against the Tralf Music Hall in Buffalo, New York, after Dr. Verma fell to his death following a concert when he lost his balance sliding down the banister. The estate claims that there must have been a sticky substance on the railing. The estate's lawyers said that since alcohol was served at the concert, the promoters should have known to take extra safety precautions for banister-riders. [Courthouse News, 7-21-2015]
Who gets badly hurt playing musical chairs? Robin Earnest, 46, told an Arkansas claims hearing that she broke two fingers and was forced into "years" of surgery and physical therapy over a game that was part of a class at the College of the Ouachitas in 2011 and demanded at least $75,000 from the state. The July hearing was dominated by a discussion of the proper way to play musical chairs because the instructor had ordered three students to contest one chair — with Earnest asserting that everyone knows it would be two chairs for three people. [Arkansas Online, 7-10-2015]
News That Sounds Like a Joke
"Green-fingered residents" can show off their hard work each year at the Quedgeley Show in Gloucestershire, England, entering arrangements of colorful, plump garden-grown vegetables. However, attendance has been off in recent years, reported the Western Daily Press, leaving the show's future in doubt — until organizers announced that this year, to increase the number of entries, supermarket-bought vegetables could be submitted. [Western Daily Press, 7-24-2015]
"Number Two, Turn to the Right and Growl": Magistrates in Ceredigion, Wales, fined Edward Davies the equivalent of about $1,130 in June, finding that it was his dog that bit a teenage girl last October, sending her to a hospital with swelling and bruising. Aberystwyth authorities had set up a formal police lineup of dogs from the neighborhood, and the girl had made a positive ID of Davies' dog as the perp. [Wales Online, 6-4-2015]
Least Competent Criminals
Judge Roger Barto, of Waterloo (New York) Village Court, was convicted in August of staging a fake assault on himself to convince doctors to prescribe him pain medication. Officers arriving at the scene found Barto lying on the ground with a shattered porcelain toilet tank lid nearby from (he said) being smacked on the head by a mugger. However, doctors found an apparent flaw in Barto's ruse: He had forgotten to actually hurt himself during the "attack" — as medical personnel had found no mark, cut or bruise anywhere on him. [Syracuse.com, 8-10-2015]
Recurring Themes
Once again during a police raid of a suspected drug house (this time, in Wood River, Illinois, in July), with cops swarming the home and yard, confiscating evidence and arresting occupants, officers had to stop briefly from time to time to answer the front door (10 times during a 90-minute period) — as the dealer's regular (oblivious) customers continually arrived to buy more heroin. [KTVI-TV (St. Louis), 7-29-2015]
In the face of a declining military budget, the Defense Ministry of the Netherlands issued confidential instructions to commanders in July that during training exercises, to preserve dwindling ammunition, soldiers should simply shout "Bang, Bang!" instead of firing their weapons. Said a soldiers' advocate, "Even if you have no bullets, you (still) have to train with your weapon." [Reuters via RT.com (Moscow), 8-3-2015]