Next steps for the Erie Art Museum
Looking back and ahead after director's departure
January 29, 2020 at 10:45 AM
At the Erie Art Museum on Jan. 10, I admired art created by esteemed international artists and by talented members of the Northwestern Pennsylvania Artists Association.
My experience prompted me to ponder how we can best confront and then learn from the current controversy involving the Erie Art Museum — allegations by one woman in Erie and by eight women at the Philadelphia Museum of Art that the Erie Museum's ousted executive director, Joshua Helmer, engaged in inappropriate workplace behavior, including sexual harassment.
I went to the museum seeking interviews a few hours after The New York Times broke the story about Helmer, who became the Erie Art Museum's executive director in late May 2018. Helmer succeeded interim directors Susan Black and Donna Douglass. They had replaced John Vanco, who retired in August 2017 after 49 years as executive director.
I registered for the museum's monthly "Hands-On" program, which allows visitors to pick up and examine works by famous artists.
The program's name had elicited snarky comments on Facebook in light of claims in the Times' story that Helmer had promised promotions to coworkers he dated at the Philadelphia Art Museum, where he worked as assistant director of interpretation.
The Times also reported that Helmer had belittled a work-study intern at the Erie Art Museum after she declined his text invite to have coffee at his home's "cool back deck."
At the museum that night, I entered a realm that was more hands-off than hands-on. The employee at the front desk said he couldn't talk about the Times story and that no one from the museum was available for interviews. Nobody from the museum staff or current board has been available for interviews since then, either.
So instead of being a journalist, I simply became a museum visitor that night.
From the "Hands-On" table at the Founders Gallery, I could pick up art by Pablo Picasso, Andy Warhol, Joan Miro, and Alexander Calder. I could also handle a breezy letter, written in cursive and dated Dec. 10, 1956, from Georgia O'Keeffe to the late Jim Baldwin, an Erie art collector and Erie Art Museum benefactor.
I was content to look at the precious art, rather than touching it. Still, the magnifying glasses used to peer at these treasures made me think about the close scrutiny that the Erie Art Museum would undergo in light of the Times' revelations.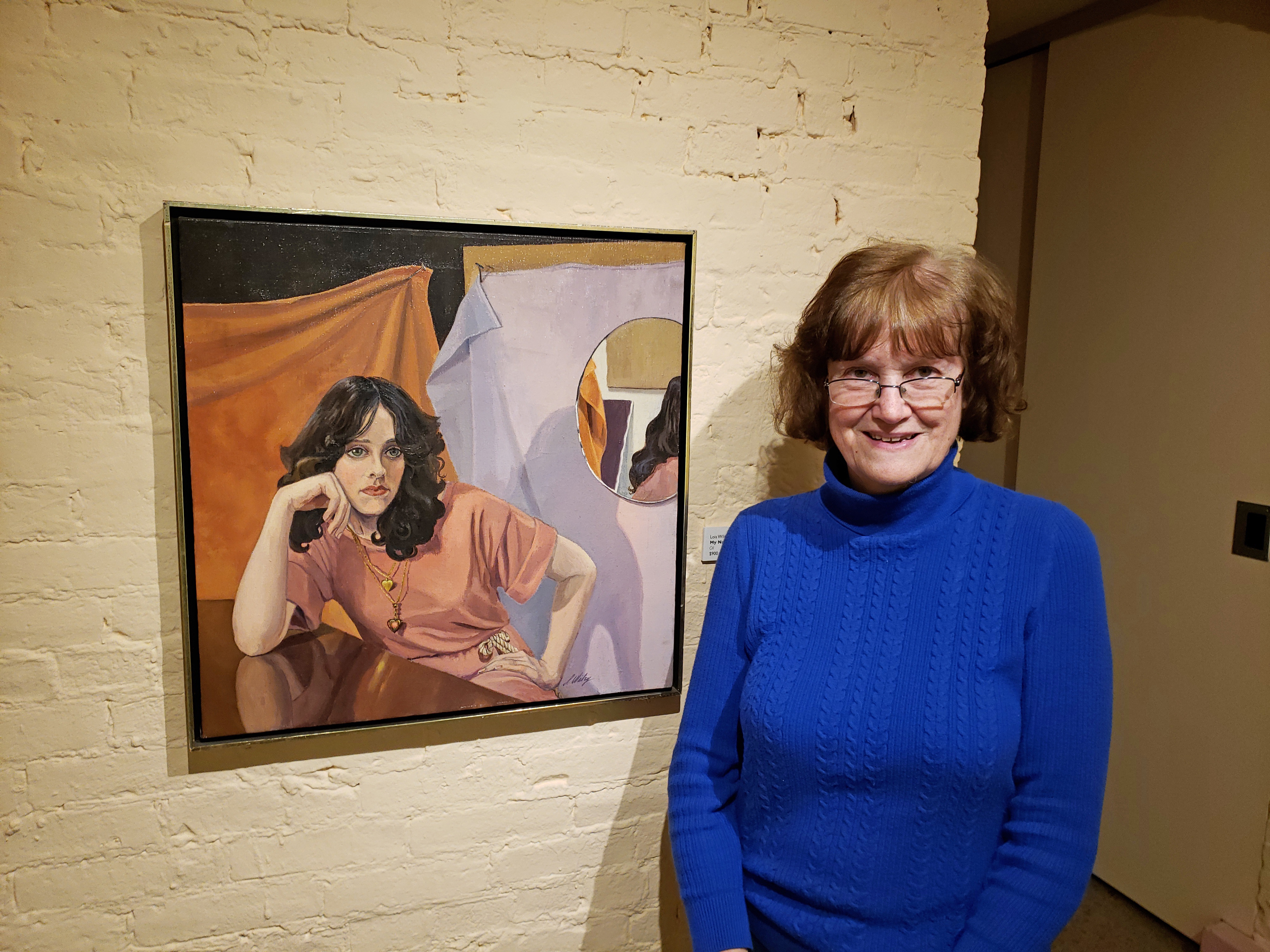 Liz Allen poses next to an an oil painting by Lois Wiley called "My Name is Liz."
Douglass, the Erie Art Museum's interim director from December 2017 until Helmer was hired in 2018, has also reflected on the lessons from the revelations in The New York Times. She is confident that the museum will be able to move forward, and she wants to set the record straight about what occurred in Erie.
When Black became interim director in July 2017, "Things were pretty dicey financially," Douglass said. "We were living on a shoestring."
The tight budget affected the process to find a new executive director. "We hired a headhunter … who specialized in nonprofits but not arts organizations," said Douglass, a member of the search committee. "(The recruiter) was who we could afford. The art museum was close to bankruptcy."
The top choice for director, a woman from Virginia, "decided she didn't want to live in Erie because of the weather," Douglass said.
Finding someone to lead an art museum in a smaller community can be difficult, said Henry Adams, an art history professor at Case Western Reserve University in Cleveland. Adams served as the juror for the Biennial Northwestern Pennsylvania Artists Association exhibit, currently on display at the art museum.
"Small art museums are difficult to run," said Adams. "It's a lot of work and you don't get a huge salary. To do it well, it's an interesting combination of knowing about art and knowing how to run a small business and how to reach out to the community."
After the top candidate bowed out, the committee interviewed two people. One applicant "seemed to be at the tail end of his career," Douglass said in a phone interview. "We wanted somebody who was going to stay for a while."
That would, of course, not be the case.
Helmer impressed the entire board when he interviewed in person. Steve Porter, board president, contacted the Philadelphia Art Museum. "We got the green light from there. They said there were no red flags about anything having happened there," Douglass said. The Philadelphia Art Museum described Helmer as "a hard worker, a bit of a handful, smart as a whip."
Meanwhile, in addition to its financial challenges, the museum's board was also restructuring.
In the fall of 2018, the board asked the Nonprofit Partnership to conduct a board education seminar. "It was recommended that we establish measures for the board to evaluate the executive director (since that had never been done in the history of the museum so no procedures were in place) and to revise bylaws addressing term limits and board size," Douglass wrote in a text message after the phone interview.
The board revised its bylaws so that members could serve only two three-year terms. With Porter going off the board, Douglass became board president in January 2019. Her two goals — to establish a significant endowment and to sell off unused real estate — were achieved, she said. She resigned from the board in June 2019 but remains a member and financial supporter of the museum.
Douglass also commented on reports about how the board handled the work-study intern's complaint against Helmer. He was 29 and the intern was 19 at the time of the incident, according to news reports. The interaction occurred in late summer or early fall 2018, Douglass said.
"The existing procedures for harassment complaints were appropriately followed by staff," she said. "The executive committee met with the intern and a university administrator and reported back that the intern was seemingly satisfied with the meeting. Several board members then met with Josh Helmer who was verbally reprimanded and warned against any repeat behavior, which to my knowledge there was none. It seems most of the egregious transgressions took place in Philadelphia."
Ryan Emmett, an Erie area native (and son of the late Edinboro Art professor Steve Emmett) who now works in the arts in Pittsburgh, is concerned that with Helmer's actions in the spotlight, people might overlook the hard work of other museum staffers.
"A lot of these employees are artists themselves. Stimulating the local art scene can only help feed the good energy at the community museum," he said. "Understand and speak up and respect the nonprofit workers. Demand higher wages for them. If we can support the arts by paying workers more, there will be a cultural return," he argued. "And just in general, you want to listen to people in positions of less power, especially women, and push for more diversity, where you are having this constant dialogue," he reasoned.
Art museums used to be "houses of artifacts," Emmett said. Now they serve to build communication "within your region and how your region is responding to the world at large," he explained.
I've always cherished the Erie Art Museum as a place that makes art accessible to everyone, from art connoisseurs to the regular folks like me. That's also why the Erie Art Museum was identified as one of nine lead assets that receive gaming funds through an endowment at the Erie Community Foundation.
I met Adam Carolus, one of those regular-guy visitors to the Erie Art Museum, at the NPAA exhibit. I was standing by an oil painting by Lois Wiley called My Name is Liz when we started chatting.
He told me that he and his fiancé had accompanied their daughter to the museum for photos with her friends before the girls' high school dance.
Carolus, a welder, was delighted by the entire NPAA exhibit and its setting in the historic Old Customs House but especially liked the mixed media sculpture Moving Slow, Nowhere to Go by David L. Seitzinger. Look at how the ants on the twisty metal pipe work as a team, he told me.
Until he pointed out the ants, I hadn't noticed them. And I loved his observation about teamwork.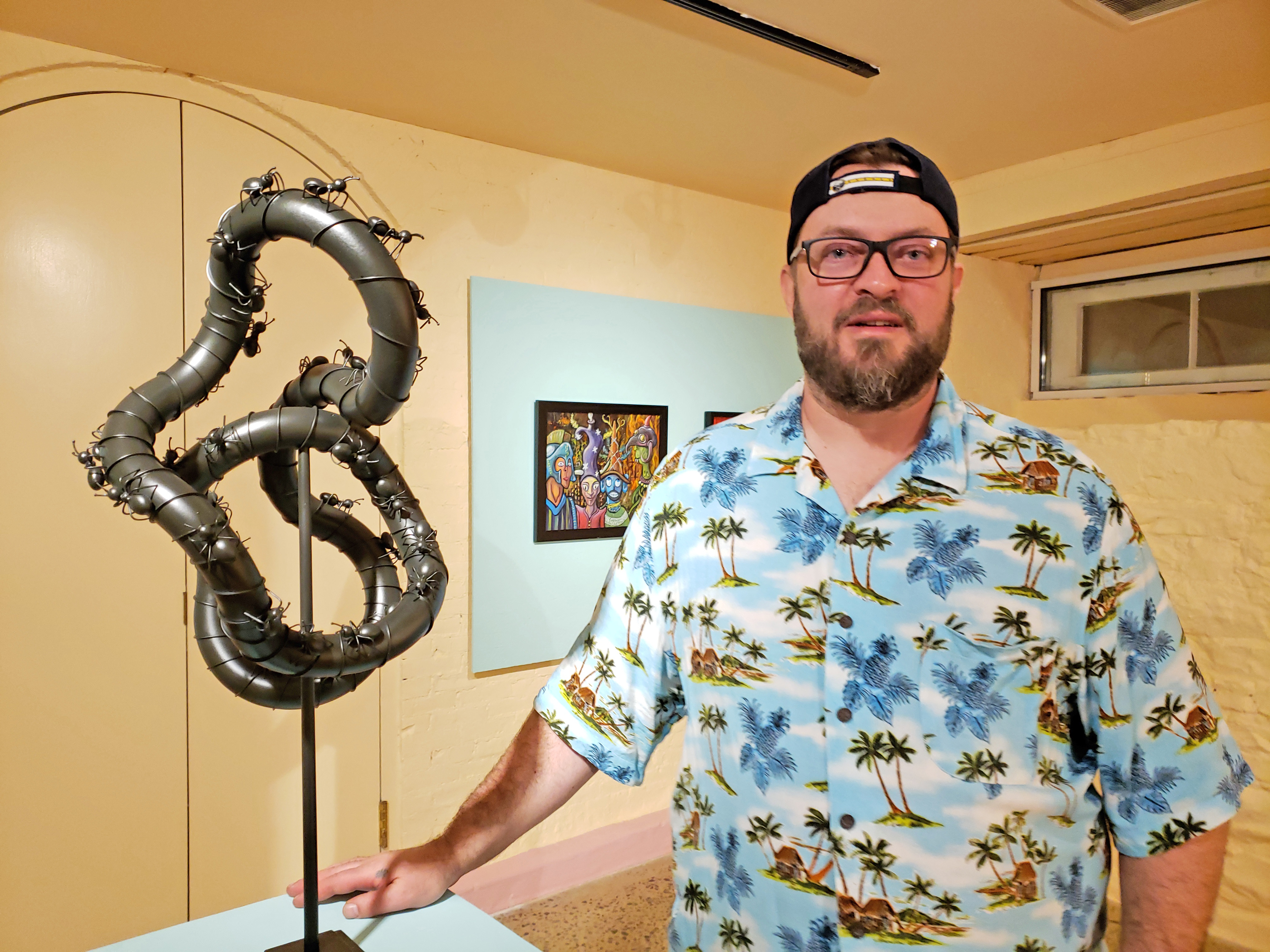 Adam Carolus
I was too busy working solo, writing down the names of some exhibit entries that seemed eerily relevant: the mixed-media Introduction, consisting of one word, "Hi," by Carol Griffiths; the acrylic on canvas, Lust Calls, Wisdom Guides, by Kathe Umlauf; the watercolor Toxic Masculinity Too, by Kris Risto; and the oil, Feeling of a Shared Memory, by Jan Lutz. I'm not sure if those titles would have leaped out at me if I weren't viewing them in the context of the Helmer story.
Not all of the pieces in the NPAA exhibit struck me as serious or weighty. There are also pieces that will transport you to beautiful places or make you chuckle or pull you back in time.
Adams, the show's juror from Case Western, said he is impressed with "how much creative stuff" is taking place in Erie. One of the purposes of the NPAA show is "to bring the community together," he said, calling it both "exciting and humbling" for artists when their work is selected for a museum exhibition. "It's not easy to make a good sculpture or a good painting," he said.
As for the future, the Erie Art Museum is now on firm financial footing, with the resources to follow an 80-page strategic plan which was paid for by a generous donor, said Douglass. She credits Helmer with bolstering membership, too. "He did change those finances. That was the first charge we gave him, get us out of this hole," she said.
"The museum can now afford to contract with needed expertise to get this beloved institution on track for the future, including ensuring a comfortable staff environment, training for board and staff to strengthen existing policies, and [providing] procedure documents and regular board training regarding best practices in the nonprofit industry," she said.
Liz Allen became a member of the Erie Art Museum at the October Gallery Night, when she realized that the $15 senior citizen rate was a bargain. You can reach her at lizallenerie@gmail.com.
Timeline
Jan. 10: The New York Times published a story by Robin Pogrebin and Zachary Small, reporting that women at the Philadelphia Museum of Art said that Joshua Helmer's behavior, including promises to make or break careers, created a hostile work environment. Helmer had worked at the Philadelphia Art Museum from 2014 until February 2018, the story said. He became executive director of the Erie Art Museum in May 2018.
Within hours of the Times' story, Kathleen DiPrinzio started a change.org petition demanding that Helmer be fired; the petition collected 3,023 signatures.
Jan. 13: PA Museums, Pennsylvania's statewide museum association, issued a statement saying that the association "supports those who have spoken up at the Philadelphia Museum of Art and the Erie Art Museum against this behavior. PA Museums strives to see a safe, inclusive and welcoming museum community that is free of bias and intimidation."
Jan. 13: The Erie Art Museum board announced that Helmer was no longer employed by the museum.
Jan. 17: Philadelphia Mayor Jim Kenney, an ex-officio member of the Philadelphia Art Museum board, called on that museum's board to strengthen its anti-harassment policy.
Jan. 18: The Erie Art Museum board of directors announced that beginning on Jan. 19, a committee would start the search for a new executive director, according to the Erie Times-News. Diana Denniston, owner and curator of D'Hopkins Denniston Gallery, is temporarily leading the museum, the Times-News reported. Denniston told me that she couldn't respond to questions until she talked to the museum board, which was scheduled to meet Jan. 27, after the Erie Reader deadline.
Jan. 22:  Timothy Rub, the Philadelphia museum's CEO, apologized to the staff at a closed-door meeting for the way the museum had responded to complaints about Helmer, according to The Philadelphia Inquirer.
— Liz Allen