Nice Work If You Can Get It Brings 20s Charm to Erie Playhouse
The 1920's have returned! 
February 3, 2016 at 2:45 PM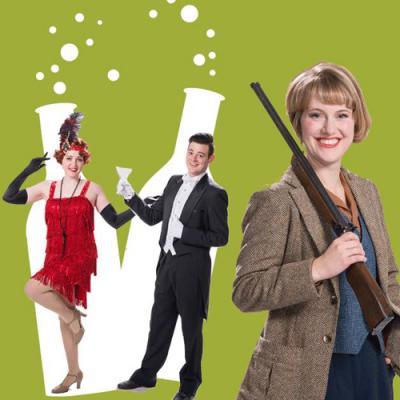 Friday, Feb. 5
Hot socks!
The 1920's have returned! (At least on the floorboards of a local landmark theatre.)
Erie Playhouse is presenting Nice Work If You Can Get It, a 2012 retro-nouveaux musical that's threaded together tighter than a flapper's dress.
"We decided to produce Nice Work as it is a mix of classic and new," said producing director Richard Davis via email. "A very funny new book by Joe DiPietro, which won the Tony award for best book, and the classic music of George and Ira Gershwin. We felt this was a show that would appeal to our audience."
Nice Work is based on the 1927 Gershwin musical Oh, Kay! and revamped by DiPietro. To know your onions before you get there, Nice Work tells of bootlegger dame Billie Bendix, who meets Jimmy Winter, a playboy egg with loads of mazuma who's soon to marry a bearcat of a modern hoofer, Eileen Evergreen.
Assuming that Jimmy and Eileen have taken a powder, Billie decides it'd be the cat's pajamas for her gang to hide their giggle water in the basement of Jimmy's swanky Long Island joint. But when Jimmy, his frau-to-be Eileen, and her Bluenose prohibitionist family show up at the mansion for the sockadollager event, rather than 23 skidoo, Billie and her Johnson-brother cohorts pose as slaveys, causing hijinks galore.
But don't worry; in the end, all'll be jake.
Beyond the pageantry, beautiful costumes, scenery, and outstanding performances that are expected of a Playhouse production, Davis pledges a pleasurable pain for attendees: "They also can expect to have their sides hurt from laughing," he said, "as this is a very funny show."
So get on the trolley and see Nice Work.
After all, it promises to be the bee's knees. – Gregory Greenleaf-Knepp
7:30 p.m. Fridays and Saturdays; 2 p.m. Sundays, Feb. 5-21 // Erie Playhouse, 13 W. 10th St. // erieplayhouse.org or 454.2852