Nickel Plate Mills
The century-old business continues to thrive on Erie's East Side.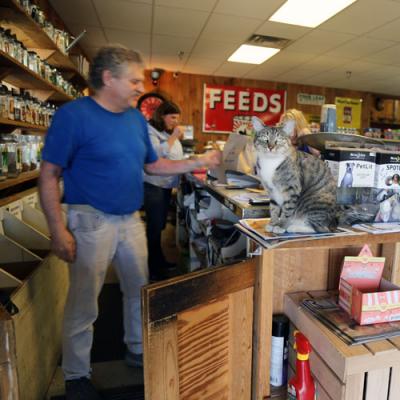 Just a couple of decades after the 19th Century took its pivot into the 20th, much of the City of Erie's East Side still looked, well, a lot less like a city.
Look at a map of the 1900 block of Parade Street from that period, and you'll see still countryside surrounding the sizable structure that's now, and was then, Nickel Plate Mills.
Since then, for better in some cases, and for worse in others, much has changed – physically and otherwise – in and around that spot on the map.
And in the nearly 100 years it's been occupying the same half-city-block-long space, Nickel Plate Mills has changed, too – but, really, not all that much.
Sure, the people there are no longer in the business of custom-grinding tons (and tons) of livestock and poultry feed and flour grains daily. But Nickel Plate still focuses a major portion of its efforts on selling feed – now, mostly, to holistic- and health-conscious dog and cat owners, many of whom are willing to go out of the way of the city's big-box strips to get what the store uniquely has to offer.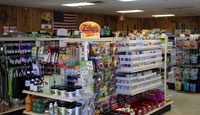 That's cool, but get this, too: The business, taken on in 1922 by brothers Phil and F.J. Schmid, has never left the family.
For Nickel Plate's current Schmid-family-descended owner, Gretchen Bonadio (who now runs the place with her husband, Bob) trying to dig deep for past glimpses of her few earliest experiences there brings "just little flashes of memory," she said recently.
Just seeing the mill itself back then: "I begged and begged [my father] to bring me in. It was huge to me as a child," she said – the old-school loading dock, for example, "looked like it was 10 feet high."
But, over the course of the years it was owned and operated by her father, Bill Schmid (after it had changed hands from her great-grandfather to her grandfather to him), Gretchen and her siblings got used to the place, got comfortable there, even got jobs there themselves.
Her brother, who had been Nickel Plate's next presumed predecessor, died young – at only 22 – and her sister, she said, simply "wanted to do other things" professionally.
So, Gretchen said, after also doing other things herself (years of work in sales, and the last of them not very fulfilling), "I guess I was it."
She's been right there, the whole time, along with Bob and their handful of employees – all relatives except one, who has her own generations-long family ties to working there – since 1994.
The business has grown and changed in more recent years to include a lush, full greenhouse and lawn-and-garden section along with its mainstay selling of hard-to-find-elsewhere lines of all-natural (really all-natural) pet foods. They also offer other pet-related supplies, and even have in-house canine obedience classes for beginners.
There's a lot of other learning that can be done there, too – about everything from the best-for-you seed varieties to how to best care for plants and the ground they're in.
And, in some cases, they're busting up preconceived notions, too.
"The east side of Erie has a bad reputation," said Gretchen. But "we're making a pretty good living here. If you have what somebody wants, they're going to come get it."
The business, taken on in 1922 by brothers Phil and F.J. Schmid, has never left the family.
Now, she said, and for a lot of reasons, "I think people are afraid to take a chance."
But "if someone asked me if they should start up a business on the East Side, I wouldn't hesitate to say 'yes.'"
Doing business in Erie, right there – in the very same spot for almost a century now – has sure worked out for the family at Nickel Plate.
Ryan Smith can be reached at rsmith@eriereader.com, and you can follow him on Twitter @ryanmsmithplens.