Night of the Gun
One more view of the law-making, crime-fighting, state legislators.
October 17, 2014 at 11:52 PM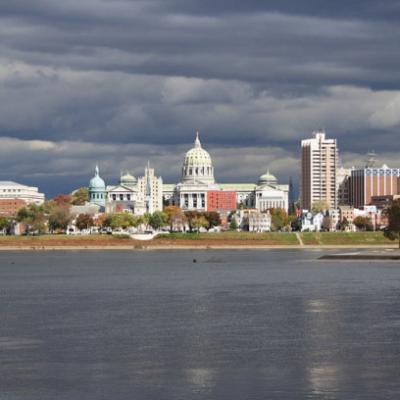 Tuesday began like any other day in Harrisburg.
Selfie. Coffee. Selfie. Committee meeting. Roll call vote. Selfie.
You get the picture.
Things were pretty routine in and around the Capitol.
Rep. Ryan Bizzarro, with his roommate and colleague, Rep. Marty Flynn (D-Lackawanna), walked to work as they often do from their residence a few blocks from work.
It's common for elected officials to 1) share rent 2) live close to work 3) walk to work when possible.
In Washington, D.C., Senators Dick Durbin and Chuck Schumer famously lived together on Capitol Hill in a rat infested "hovel" with two members of the House of Representatives.
Michelle Obama refused to visit her husband's multi-bureaucratic abode because of its less than rosy appeal.
I don't mean to suggest that Reps. Bizzarro and Flynn live in a shack down by the Susquehanna River. The neighborhoods surrounding the Capitol are historic and well-maintained. The digression is merely intended to illustrate the fratish nature of our elected officials' part-time homes away from home.
In Harrisburg, the 2012 class of elected officials was relatively young compared with the rank and file membership. The energy and vitality among the freshman lawmakers fostered a unique culture in the halls of the Capitol.  
"The freshman class we came in with has formed an abnormally close relationship," says Bizzarro when we spoke on Wednesday afternoon. "We've formed some kind of brotherly bond, including the female representatives. We're just a very tight group of legislators."  
So as the day passed and work wrapped up, the freshmen state reps. were hustling to make a fundraising event for a colleague. Committee meetings ran late, then a group, including Bizzarro and Flynn, headed downtown.
After a few hours of politicking and dinner, the two men walked a couple of colleagues back to the Capitol and headed for home, talking business, talking future.
Most people don't walk alone in downtown Harrisburg, especially after dark. It's part of the orientation presentation from party leadership.
The state capital is ranked in bottom fifth of U.S. safe cities. A person is seven times more likely than the national average to be the victim of a violent robbery in Harrisburg. The statistics are familiar to inhabitants of the city. It's a way of life, but it doesn't affect many folks' daily routine.
So there they were, Bizzarro and Flynn, taking the path they had taken many times before. Talking. Walking.
"Click-Click."
Silence.
They were about to become a statistic.
Bizzarro and Flynn had been rushed by a group of thugs looking for cash and using guns to limit the chance of their intent being lost in translation. The gunman had Bizzarro in his sights.
"They wanted my money," says Bizzarro. "I didn't have anything, but they weren't getting anything. I wasn't going to give these individuals anything."
Words were exchanged and before long the volley rolled from profanity to gunfire.
Like a scene from a modern day vigilante tale, Rep. Flynn -- a former prison guard -- drew the gun he's licensed to carry and traded fire with the assailants as the two groups dispersed.
When they returned home, Bizzarro and Flynn called 911.
Police found the three teenagers just a few blocks away. A fourth person was implicated in the crime and arrested later.
"I think they were a bit stunned that someone fired back at them. It made them a little sloppy in their game," concludes Bizzarro.   
Jamani Ellison, 17, Jyair Leonard, 15, Derek Anderson, 17 and Zha-quan McGhee, 15 were charged with, among other crimes, attempted homicide and aggravated assault. They're all charged as adults.   
"They didn't know what they were getting into. Certainly we helped clean up the streets Tuesday night," Bizzarro reflected between votes and the media circus that got folded into the daily ritual following the night of the gun.
Jim Wertz can be reached at jWertz@eriereader.com or you can follow him on Twitter @jim_wertz.