Nightcrawler: Frighteningly Good
As media satires go, it may not break any new ground, but it's a rare piece of work that brings a living, breathing, if somewhat derivative ferocity to a familiar concept.
November 24, 2014 at 3:13 PM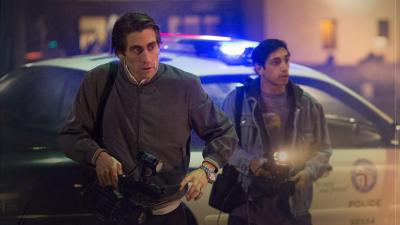 In the midst of a pack of Halloween themed horror movie atrocities (we're looking at you, Ouija), Nightcrawler is a movie that actually gives us something to be frightened of.
As media satires go, it may not break any new ground, but it's a rare piece of work that brings a living, breathing, if somewhat derivative ferocity to a familiar concept.
Jake Gyllenhaal stars as the film's lonely, sociopathic subject, Louis Bloom, a small-time thief turned "nightcrawler" (a term used to describe camera operators who go after the nastiest material they can find) after he witnesses a television crew getting up close on a gruesome car crash. Suspecting this line work may be for him, Louis promptly steals a competition-quality bike to pay for a camcorder, with which he catches a brutal carjacking that leaves a man dead and mangled. To Louis, it's nothing more than a thrilling display of horror, which he captures in graphic, law-bending detail.
A struggling Los Angeles news network predictably jumps all over it, recognizing both the macabre nature of Louis's work and its power to give their ratings a much needed lift. This marks the beginning of Louis's disturbing relationship with network news editor Nina (Rene Russo), who shares Louis's alarming eye for news nihilism that people consume like porn.
In this respect, Nightcrawler seems at first like a frustrating extension of a heavily-addressed theme -- the ways in which desensitization by media can lead to collective addiction to shock and awe, and also a gross disregard for human goodness. Nightcrawler, though, and to its credit, feels fittingly modern in its subtle but biting critique on the way media enforces racism and classism -- for obvious reasons, a story involving deaths of the white and wealthy at the hands of minorities will always sell faster than stories of urban crime. With this, the network enthusiastically spreads the fear of urban integration into the suburbs, and make us acknowledge buried prejudices that react so violently with the current state of news media.   
Thus, writer and debut director Dan Gilroy gives us something that is both a cuttingly honest update on a long-growing social phenomenon and its disconcerting connection to human nature. Though his movie sometimes stumbles on it's dramatic urgency and its mishandled suspense, it is altogether a piece of work that pulls off both an accessible pop appeal and a strong sense of its intelligent, far reaching purpose.
Russo works wonders with her supporting role as a relatably disturbed newswoman and career exploitationist, and accomplice to Louis's shocking disregard for all morality and humanity.
Above all, it's Gyllenhaal that makes Nightcrawler so good. As the film's deranged antihero, he lies, cheats, and celebrates the worst in human nature, all for society's sick pleasures. He maintains a front of purity and profession, and doesn't feel a thing when lives are ruined at his hands. His descent is our descent, a fact that is perhaps the most disturbing in a movie that thrives on disturbance. When he stands in a newsroom and smiles widely at the mention of all that is heinous being brandished on nightly television, you may want to look away in shame or embarrassment. My advice -- don't. Nightcrawler isn't pleasant, but there's a little bit of truth here for everyone.