OpenedEyes and Culturally Conscious
Growing organization promotes self-awareness, inclusion, and diversity
January 16, 2023 at 8:00 AM
When Brandon Wiley first came up with the idea for OpenedEyes back in 2014, it started as a dream. "I was finishing up graduate school at Gannon University and I literally had a dream about writing a book. The book was called What Are You — A Journey to Self Discovery, said Wiley. "When I woke up I was thinking why would I write a book and call it the question I hated the most, the question that caused so much pain for me? And after much reflection, what came to me was that I needed to let go and stop giving that question so much power over me, I needed to reframe its meaning."
That question, "What are you?" was first spoken to Wiley during the sixth grade at Our Lady of Fatima School in Farrell, Pa. He tells stories of growing up being of mixed race and how these early experiences led to feelings of isolation and deep depression. But many years later, this same question, and those experiences, would become the basis for OpenedEyes, a 501(c)(3) organization dedicated to educating and training in the areas of self-development, diversity, and inclusion. OpenedEyes promotes (at-times painful) introspection as a path toward greater self-awareness of problematic attitudes and behaviors, and as a springboard toward uncomfortable but meaningful conversations with perceived "others."
Practicing inclusion helped to create the growing organization. "I was talking to a friend and he said we should take the book idea and turn it into a leadership program, so I called people I knew in business and education for some support," said Wiley. "But what really teetered it over was the Trayvon Martin situation," said Wiley. "I said, OK, I definitely need to do this because there's a significant disconnect in communication that we have as people and it's literally impacting everything and I've known about this issue since I was born, so that's when we started building the concepts and curriculum."
Wiley began to see the question in a more empowering perspective. "'What are you?' is more of a self-reflective concept, it's about challenging ourselves entirely and asking ourselves how do we identify — and it's not about sexuality or race, but who are we, what are we, what are we made of, what does it mean to be a human being, to fulfill those basic human needs, and to reach self actualization, because we are always in a constant state of growth," said Wiley.
Although the idea for the organization initially came about because of his own personal struggles, Wiley believes this could be the conduit or bridge to help more people find themselves. "It's not just about race, although my story is about race. But OpenedEyes has really evolved into a more humanistic organization — ageism, ableism, mental health, trauma, how to work cohesively — because diversity is part of everyday life," said Wiley. "How to communicate effectively, what does it mean to be an active listener; those are skills. That's the culture we are trying to create."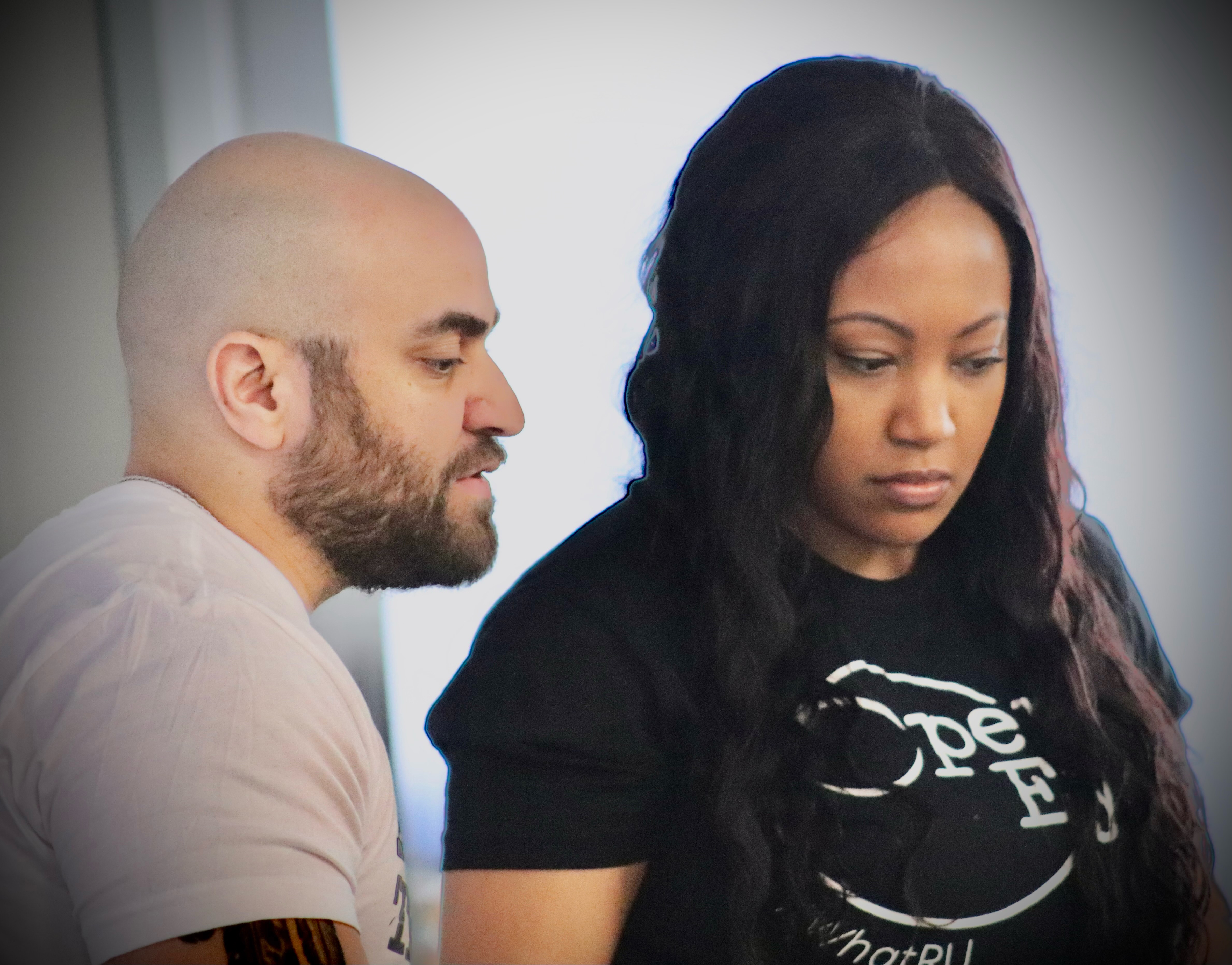 Brandon Wiley (left) and Shannon Stewart are both licensed clinical mental health counselors for OpenedEyes, a nonprofit dedicated to education in the areas of self-development, diversity, and inclusion.
"OpenedEyes has culturally conscious conversations; it's not a training where you just check a box to say you've done it. It's about personalizing people's emotions and digging into your story, because everyone has a story. So what OpenedEyes has evolved into is that force that creates an environment that even though the conversation might be uncomfortable, it's needed. We've had people shed tears, and open up about things in front of their coworkers they never thought they would. It's a beautiful thing," said Wiley.
Wiley says what's most unique about the organization is how they talk about diversity from a mindfulness-based standpoint in regard to culture and organizational DE&I (diversity, equity, and inclusion). This past year alone, OpenedEyes has not only worked locally with organizations like Erie Insurance and the Erie Chamber of Commerce, but they have expanded their reach into Pittsburgh, worked with 160 school counselors in the Columbus City School District in Ohio, and presented in Texas to more than 200 medical professionals. They also participate in the NWPA State Education Association training, where they present on a different topic every month to representatives from more than 50 school districts in NWPA.
Wiley, a licensed professional counselor, has partnerships and collaborations with dozens of local businesses and organizations (not to mention a spot in the 2016 class of Erie's 40 Under 40). His nonprofit has also worked with the NWPA Area Labor Federation, Erie County PA, the City of Erie Police, Erie Coalition for a Trauma Informed Community, PA Cyber, Americorps Vista, Farrell and Mercyhurst Prep high schools, and Edinboro, Gannon, Slippery Rock, and Penn State universities.
Recently, Wiley was awarded the Erie Spirit Award from the Erie Regional Chamber and Growth Partnership. "I was super excited about it and how they were talking about how OpenedEyes was contributing to our community. I've always wanted to create something that was effective and that people actually found value in," said Wiley. "I want to help foster change. We are consulting with people, we are trying to identify the gaps, we are doing needs assessments, post assessments, post follow-up consultations, recommendations, next steps for the company or school district, and providing all of the information necessary because we want to set people up to succeed. We are invested in creating that culture of change."
The organization is also expanding Lens, their youth program that focuses on perception, prejudice, active listening, and resiliency. "We created the program two years ago for PA Cyber. We're going to be doing a lot more youth programs this year with the Erie School District," said Wiley. "I want to create that culture of connectedness and interconnectedness and pass that onto the next generation. Diversity is not just race or identity, it's everything. I want to take diversity out of the box we put it in and put it more on a universal basis. We are giving people an opportunity to be uncomfortable but to be comfortable being uncomfortable," said Wiley.
"If we can create a culture where we can find that element of healthy communication with each other, then we will advance the community, and the community will grow. There's not one person or organization that is going to do it all. We have to work cohesively. And that's what I want for the Erie community and beyond."
OpenedEyes can be found on Facebook at facebook.com/openedeyesnonprofit, on Instagram @oe_whatru and their website: opened-eyes.com
Amy VanScoter can be reached at avanscoter@gmail.com