Otters on Brink of Elimination
Erie struggles for the third straight game against the Spitfires.
March 30, 2011 at 10:56 PM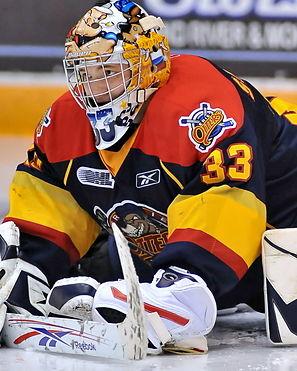 By ALEX SIBLEY
ASibley@Eriereader.com
Ramis Sadikov's confidence is as low as it's been all season.
He's a shaken goaltender that has all a sudden went from the Otters' biggest weapon to a question mark between the pipes.
Sadikov allowed two goals on the first two shots he faced in the first period as the Windsor Spitfires defeated the Otters 7-4 in Game 4 of the OHL's Western Conference quarterfinals at Tullio Arena. Windsor now has a commanding 3-1 lead in the best-of-seven series and can end Erie's season in Game 5 Friday on home ice.
"If I don't pick it up, we're going to lose the series," said Sadikov, who was replaced for the second time in as many games by rookie goaltender Chris Festarini. "I don't know what's wrong with me right now."
He looks like a defeated goalie. He sounds like a defeated goalie. It's an unfortunate turn for the second-year goalie that ranked second in the OHL with 36 wins.
It's not just him though; the team itself has lost the swagger that, before the playoffs started, made many believe that they would compete for a title.
Now, this team is looking for answers. It's the first time they have lost three straight since October, and one more loss ends the season.
"It's hurt," overage winger Shawn Szydlowski said about the team's confidence. "We have to get back to playing out hockey; we haven't been doing that."
Windsor quickly quieted 3,316 fans that were fired up as the puck dropped, as Tom Kuhnhackl and Alexander Khokhlachev scored twice in the first 3 minutes, 52 seconds of the game to quickly put Erie in a hole.
Coach Robbie Ftorek pulled Sadikov after the second goal and used his timeout to try and weather the storm that was brewing on the visitors' bench.
"We had a bad start," Ftorek said. "We became a bit unraveled. Most of all, we just lost our edge a little bit."
After the timeout, defenseman Tyler Hostetter, a Philadelphia Flyers prospect, went coast-to-coast and beat Windsor goalie Jack Campbell over the glove for his first of the playoffs to cut the deficit to 1.
That's a trend the Otters would stick with throughout the game, as Erie would move within one three times in the contest but could never get the equalizer.
That comes from not only extremely good goaltending, something Campbell has given his squad through the first four games, but also from experience.
Windsor is a group that has won back-to-back league and Memorial Cup titles, while the Otters are a roster with just two playoff wins in three years.
"We've had a lot of ups and downs in the second half of the season, but we fought through it as a team," said Windsor forward Zack Kassian, who finished the game with a goal and an assist. "We're playing for each other in the playoffs. There's a bunch of guys in our room with experience; it's just coming together as a team."
Windsor's Stephen Johnson and Erie's David Shields would trade goals late in the first to send the Spits to a 3-2 advantage after 20 minutes.
It wouldn't take long for the Spitfire lead to stretch back to two, as Kassian stuffed a wrap-around through the legs of Festarini 47 seconds into the second period. That goal ended Festarini's night, as he stopped 9-of-11 shots in 16:55 of playing time.
Despite the change to bring Sadikov back into the contest, he allowed two more goals in the second, which came after Greg McKegg once again got the Otters within striking distance with his second goal of the series. Kuhnhackl, who missed the majority of Game 3 with an undisclosed injury, put the eventual game-winning power-play goal past Sadikov at 8:33.
Just over five minutes later, Jake Carrick put his team-leading third goal of the series past the Russian goaltender to make it 6-3 after 40 minutes.
Sadikov, who missed six games with a leg injury late in the season, appeared to be as healthy as ever when postseason began.
Ftorek thinks otherwise.
"Rammer hasn't been exactly the way he's been since he got hurt," Ftorek  said. "He's just a touch behind, but you have to find a way to get those things back."
Mike Cazzola would add a goal on a 5-on-3 power play in the third, just to see it answered by Khokhlachev a minute later to round out the scoring.
Every head was down when the Otters skated off the ice. They're a fragile team with the most adversity they have faced all season looking right at them.
They have to win three straight, two of which would come in Windsor, or it's another disappointing end in early April.
"It's one game at a time," Szydlowski said. "It's not like we haven't won three in a row before. We haven't been playing together and a lot of frustration. But it's not like we haven't won three in a row before."

Tuesday's results
Niagara 5, Brampton 1 (Niagara leads series 3-0)
Owen Sound 5, London 3 (Owen Sound leads series 2-1)
Kingston 7, Oshawa 4 (Oshawa leads series 3-1)
Mississauga 4, Belleville  0 (Mississauga wins series 4-0)
Sudbury 5, Ottawa 4 OT (Sudbury leads series 3-0)
Wednesday's results
Plymouth 6, Kitchener 5 OT (Plymouth leads series 3-1)
  
~Alex Sibley covers sports for the Erie Reader. You can contact him via e-mail at ASibley@Eriereader.com, or you can follow him on Twitter @ErieReaderSport.