Otters Win Game 1 in Windsor
The Otters draw first blood against the Windsor Spitfires in Game 1.
March 24, 2011 at 10:41 PM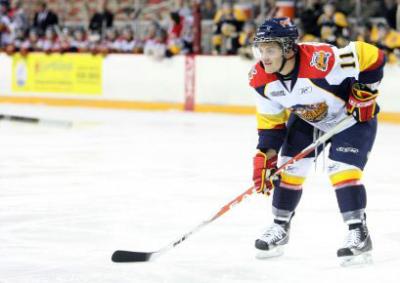 From Erie Reader Staff
WINDSOR, Ont., -- The Erie Otters didn't earn home-ice advantage in the first round of the Ontario Hockey League playoffs, meaning they would have to travel to Windsor for the opening game.
Even with staying in a hotel the night before and enduring a six hour bus ride, the Otters looked right at home Thursday in the WFCU Centre.
Phil Varone scored short-handed late in the first period and Anthony Luciani scored the eventual game-winning goal 1 minute, 20 seconds into the second period as the Erie Otters stole Game 1 of the Western Conference Quarterfinals 2-1 in front of 5,524.
It was the first road victory in the playoffs since a double overtime victory against Kitchener March 25, 2005.
In a rematch of last year's opening round, where Windsor swept Erie on its way to a league and Memorial Cup Championship, the Spitfires at times scored at will on Ramis Sadikov.
It was a different story this time around, as Sadikov stopped 40-of-41 shots for his first career win in the playoffs.
His only blemish came 3:10 into the second period as Stephen Johnston scored on the power play to cut the Erie lead to 2-1.
Power plays were something the Otters were handing regularly Thursday night.
The Spitfires had 11 chances with the man advantage, the most the Otters have allowed in a single game this season.
Erie played the majority of the third period a man down, as Windsor was granted four power play's in the final period. The Otters had three all game.
With less than four minutes to go in the third, the Spitfires were granted a five-on-three advantage for 1:14 as Brett Appio went to the box for goaltender interference, while Shawn Szydlowski was whistled for a high sticking infraction.
It didn't seem to faze the Otters, as the penalty-kill unit that finished the regular season ranked second in the league made it difficult for the Spits to set up and made it even more difficult to generate quality chances.
Even with the loss, Windsor goalie Jack Campbell played well enough to win, as he stopped 35-of-37 Erie shots. It was the first time since Feb. 26 that the Otters were held to just two goals, as they averaged 5.4 goals a game in the final seven games of the season.
Varone ended the night with two points, while Brett Thompson collected two assists.
The Otters will look to take a 2-0 advantage in the series as they will host the Spitfires in Game 2 at Tullio Arena Saturday evening. The game is scheduled for a 7 p.m. start.
~For full coverage on the Otters playoff run, follow Alex Sibley on Twitter @ErieReaderSport.
Other results from Thursday night
Niagara 7, Brampton 1 (Niagara leads 1-0)
Oshawa 7, Kingston 3 (Oshawa leads 1-0)
Mississauga 4, Belleville 1 (Mississauga leads 1-0)