Our Erie
Downtown Y Teen Center blazes new trails with Composition and Film School
November 8, 2017 at 12:15 PM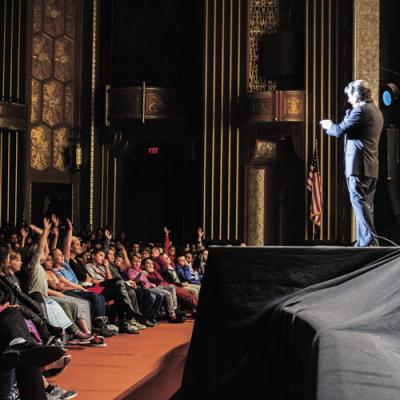 Picturesque, majestic countryside as far as the eye can see? Been there, done (and/or developed) that. Galaxies far, far away? We'll get around to them, but it's going to be a while. Until then, music remains the ultimate frontier.
The Erie Philharmonic's 2017-18 Youth Concert program began with Aaron Copland's "Hoe-Down" (from the ballet Rodeo) and ended with John Williams' Star Wars theme, two pieces that evoke grandeur, wide-openness, and the awe of discovery (of the Old West and outer space, respectively). The bookend performances were cogent replies to the query framing the program: "What makes our music sound 'American?'" Some 6,000 area students gathered at the Warner Theatre over the course of two days, eagerly listening for the answer.
That answer can be summarized as thus: "the opportunity to make it your own." Whether American composers were rewriting lyrics to old standards (Francis Scott Key's "Star-Spangled Banner"), radically re-harmonizing the works of their European counterparts (Duke Ellington and Billy Strayhorn's "Toot Toot Tootie Toot," a jazzy reworking of Tchaikovsky's Nutcracker suite), penning a Broadway musical (Meredith Willson's The Music Man), or scoring film (Williams), they each left a lasting imprint in their respective disciplines because they followed their muse wherever it took them. It is in that spirit that the Downtown Y Teen Center's Composition and Film School was founded.
"In the public schools, they're bound to a curriculum," says Corey Cook, program director at the Teen Center. "They don't have a lot of leeway [in getting] away from that curriculum. Here we try to keep up with changes, to teach the kids what's going on now in the music industry on both the performance side and studio side."
With financial aid through the David Matthews Memorial Fund and Erie Arts & Culture, the Teen Center was able to implement a full recording studio, which consists of industry standard hardware (Apple computers and MIDI-capable instruments) and software (Logic Pro and Finale). Utilizing both the gear and their inborn gifts, the students embarked on a 10-month journey toward a fully original composition for symphony orchestra titled "Our Erie." The experience was documented on film by a group of students from Westlake, Strong Vincent, East and PA Cyber School under the directorship of John C. Lyons (Lyons Den Productions). Both "Our Erie" and the accompanying documentary premiered at the Warner on November 1.
"I think this five minute video serves as a nice introduction to this new cool YMCA program and the first 'class' of students," says Lyons.
The entire process consisted of 21 sessions, 15 of which were planning/recording sessions and the other six of which were workshops with Philharmonic members. The students chosen to collaborate on the piece generally had some concept of music theory, says Cook, but their appreciation of how everything fits together was "definitely enhanced" through the program. Cook laid the groundwork of the piece, and from there the students added the pieces on top of it. The Philharmonic musicians were particularly helpful in explaining the role of each instrument family (brass, strings, woodwinds, percussion, keyboards) in the orchestra.
The finished product is mainly piano-driven, with the strings providing texture and a glockenspiel standing in as a melodic voice. A pop/R&B influence is evident in the chord progression and the bass drums introduced in the latter portion of the composition. Asked what the sound of the piece conveyed about Erie, Cook responded with "optimism." It is one thing to want to create something, but to actually do it has boosted the confidence and instilled a sense of belief in all involved.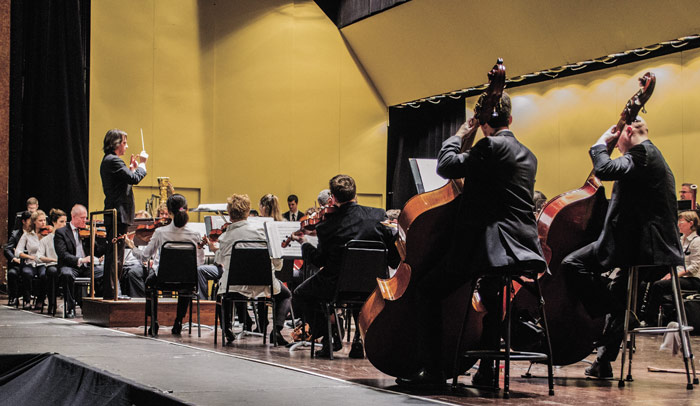 "The most rewarding part of it for me was to see kids who were passionate about [musical] skill, being able to come in [with] a little knowledge of it … and [leave] the program inspired and hopeful about one day making it a career," says Cook.
Lyons and his filmmaking students were also uplifted by the experience. "One [of them] knew some of the fundamentals but perhaps not the motivations as to why a shot is framed a certain way and how that can not only look better, but subconsciously affect the viewer. I think they will all definitely watch movies a different way now and appreciate the art form. I was really quite impressed by this group of students. I really hope they get involved in the Film Society as they grow up and hopefully now have the confidence to pick up a camera or a phone and just start making their own films here in Erie."
He continued: "My wish is that in another year or two I can come back and we will revisit the music composition school as a filmmaking class and document again — and more thoroughly — how the program has grown from this first year."
In music and in Erie, there is plenty of territory yet to explore.
Matt Swanseger can be reached at mswanseger@eriereader.com