Our Podcast Picks of the Year
Five of our writers highlight their defining audio offerings for 2020
December 16, 2020 at 1:15 PM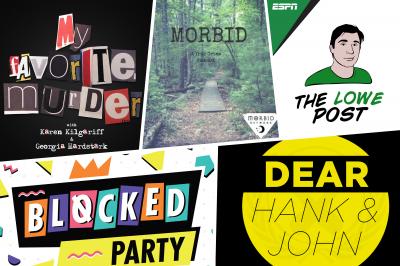 The rise of podcasts as a medium has only gained momentum this year. Familiar voices gave us comfort, as we continued to binge on endless hours of audio delights while we stayed home and collectively got through the year together. Here are some of the feeds that helped us weather it the best.
Blocked Party
Between the pandemic and the most tumultuous election in recent memory, 2020 was a year to be online — or not, depending on your threshold for mental punishment. Regardless of which camp you fall into, Blocked Party is here to recap each week in Internet news (and specifically, Twitter drama) so you don't have to experience it firsthand. 
Hosted by Vancouver comedian John Cullen and leftist Twitter personality Stefan Heck, the podcast bases each episode upon their guest's story of being blocked by someone — whether they happen to be famous or an ex's dad — and revels in the silliest hurt feelings produced on the world's most mindless app. Fortunately, for those who couldn't care less about Twitter, the show never stays in one place too long; random top three lists, hot takes, and the best of the worst of the Cameo app keep this podcast moving along at a light-speed pace. The show also gets bonus points for continually producing some of the absolute best live shows via Zoom for fans during quarantine and raising money for great causes in the process. — Aaron Mook
 blockedparty.com | @blockedparty | Apple Podcasts | Stitcher | Libsyn
Morbid
Morbid Network
Nothing takes the mind off a global pandemic, presidential election, and all the other horrors 2020 has thrown our way quite like Morbid: A True Crime Podcast. With tales of the most prolific killers, hosts Alaina Urquhart (an autopsy technician) and Ashleigh Kelley (a hairstylist) break down the details of these cases and the psychology that vanquishes any fragment of humanity from these killers.
Similar to shows like Dateline or Criminal Minds (but not fictional), Morbid breaks down the stories scene by scene, giving details like how 19-year-old victim Jessica Chambers was burned so badly that the first responders threw up while testifying at trial, and how John Wayne Gacy took the clothes off of his victims and donated them to The Salvation Army so other people would wear them.
Blood and gore aside, Ash and Alaina discuss how horrendous these crimes are, bringing an ounce of justice to the victims. Through thoughtful, in-depth research, Morbid raises awareness about the victims, while providing offbeat humor to offset the absolutely macabre nature of the murder stories that might easily wrap listeners in a cocoon of paranoia otherwise. It goes without saying that this podcast isn't light listening material that you turn on when cooking dinner or doing your hundredth self-care coloring book for the week, but if you're looking to escape your own reality for a couple of hours each week, Morbid is the most memorable and intriguing form of entertainment you could ask for. — Chloe Forbes
morbidpodcast.com | @AMorbidPodcast  | Apple Podcasts | Stitcher | Spotify
The Lowe Post
ESPN
Guiding hoops heads through quite possibly the strangest time in basketball history (between the Orlando "bubble," the 8-week chaotic offseason, and the now-standard superstar movement), writer Zach Lowe offers up his brand of eager wisdom and well-curated guest spots. On the subject of the latter, most notable is Lowe's devotion to basketball writers, both at his ESPN home and beyond. He's obviously interested in the finished article, but more importantly, he's not afraid to dig into the unglamorous "nuts and bolts" of journalism during these talks. 
 Meanwhile, his recurring mentions of the Toronto fanbase's "Fox Mulder" disposition, the "What Up Beck" intro for frequent guest Howard Beck, and the light ribbing he gets from Rachel Nichols keeps the program from getting too academic. Other highlights include his informal polling of front offices, along with his willingness to stop talking about overanalyzed teams (at some point last year, he just couldn't stomach Philadelphia 76ers discussions).
 Always look out for episodes featuring the Kevins (Arnovitz or Pelton), Chris Herring, Twitter's favorite sideline commentator Doris Burke, and Bill Simmons. If you're looking for Simmons' fastball, it's here that the two recapture some Grantland magic. 
The 2020-21 season starts shortly; he's the best basketball mind you could follow. — Christopher Lantinen
espn.com | @ZachLowe_NBA | Apple Podcasts | Stitcher | Spotify
My Favorite Murder
Exactly Right Media
In the past decade, "true crime" as a genre in media has become staggeringly mainstream. With more shows, movies, and podcasts gaining popularity by the day, it is no surprise that one of the best podcasts of the year centers on the subject. A once taboo topic, it is now difficult to go about your day without seeing true crime in some form or another in popular media. Launched in early 2016, My Favorite Murder is the perfect example of society's obsession with the unspeakable: 34 million monthly listeners of the podcast prove that it isn't a niche venture.
At a Halloween party in 2015, comedian Karen Kilgariff met and befriended television host Georgia Hardstark, and the rest, as they say, is history. Bonding over their mutual interest in the unsettling and disturbing reasons people are motivated to commit murders, the two decided they would begin weekly discussions of their "favorite murder." What began as two new friends chatting about the murders that most interested them has grown tenfold in the years since its inception. Branching out to other forms of true crime — attempted murders, survivor stories, and missing persons — Kilgariff and Hardstark have created a media empire.
Each story is bookended by social commentary and a few laughs here and there — mostly at their own expense — making for a seemingly irreverent combination; a disclaimer set forth by the hosts in many episodes and live shows states that they are not making fun of the crimes but instead utilizing comedy to balance the bad with some good.
With hilarious Hollywood stories and honesty about mental health and social issues, Kilgariff and Hardstark rarely shy away from uncomfortable or embarrassing situations, instead addressing them head-on. Ending episodes with small moments of celebration from their weeks and fan-submitted hometown stories — which began as hometown murders and has now branched into anything from ghost stories to tales of Bigfoot — this podcast has a little something for every true crime enthusiast. — Ally Kutz
myfavoritemurder.com | @MyFavMurder | Apple Podcasts | Stitcher | Spotify
Dear Hank and John
Complexly and WNYC Studios
Between brothers Hank and John Green, no side of the Internet has been left untouched. Together and individually these content creators have written, hosted, and produced young adult novels (like John's recent Turtles All the Way Down and the landmark The Fault In Our Stars and Hank's most recent A Beautifully Foolish Endeavor), YouTube channels (Vlogbrothers, Crash Course, SciShow), VidCon, Project for Awesome, studio albums — the list goes on. 
So, it came as no surprise to their online community, Nerdfighteria, when the Green brothers launched a weekly advice podcast, Dear Hank and John. True to its tagline "a comedy podcast about death," the two 40-somethings offer "dubious" and humorous advice to questions sent in by listeners. Since its 2015 inception, the podcast has expanded to more than basic life-advice. Today, John and Hank answer a wide array of questions, big and small (Could Elsa solve climate change? How do you unfriend someone IRL?), with thoughtful analysis, personal experience, and, of course, joking wisecracks. 
Endearingly sincere, the brotherhood of John and Hank finds a compelling balance between John's realistic cynicism and Hank's unwavering optimism as they attempt to help their audience navigate life in the 21st century. Simple in format, the podcast typically runs 40 minutes long before ending with the latest news from each brother's passion, the planet Mars (Hank) and the English football club AFC Wimbledon (John). 
After 5 years of recording, the podcast remains a reliable, tried-and-true listen. There seems to be no shortage of queries for the Green brothers as they contemplate what Danish people call Danish pastries and if the North Pole is a continent or island. — Hannah Wyman
wnycstudios.org | @dearhankandjohn | Apple Podcasts | Stitcher | Spotify