Overnight Oatmeal
Quick. Easy. Delicious. Read for yourself and see.
January 26, 2012 at 9:00 AM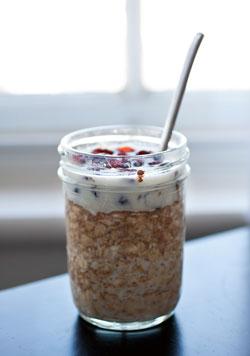 I'm sure that many of you out there are just as guilty as I am when it comes to skipping breakfast in the morning. It's supposed to be the most important meal of the day, but sometimes I'm just not hungry yet. Other times I feel uninspired by what's been lurking inside my pantry. But more often than not, I'm usually running way too late to stop and make myself something to eat. The result usually involves getting run-down part way through the day and then over eating at lunch, or even worse, scarfing something, like say a donut, as a midmorning snack.
Well, I have a solution for the frequently forgotten morning meal that's quick and easy to make, tastes great, and is way healthier than a donut. Not to mention that this is a heat-free recipe, which means that cleanup is kept to a minimum. It's called overnight oatmeal, and it's exactly what it sounds like.
Oatmeal is a breakfast classic. We all know how to make it, and we all probably have some oats sitting in the cupboard right now, but even the most basic hot oatmeal takes some time. Overnight oatmeal is easily prepared the night before in less than 10 minutes, so all you have to do the next day is grab it out of the fridge and enjoy. It takes less time to add a splash of milk and some maple syrup to this cold rendition of  oats than it does to make a piece of toast. The best part is that if you prepare your oats in a container with a lid, you can run out the door with them if need be. I do however recommend giving yourself enough time to sit and enjoy this recipe because it really is that good.
The base of this recipe calls for ½ cup of oats, ¼ tsp. of vanilla extract, ¼ tsp. of cinnamon, ¼ cup of milk, and ¼ cup of water. This makes a perfect morning portion for one person. (I would recommend that healthy growing boys double this recipe or they will probably not feel satisfied.) Soaking the oats over night in milk along with the water gives them a creamier texture. If you are sensitive to dairy, a substitute like soy or hemp milk can be used instead. If you don't care for the creamier texture, you can just use ½ cup of water and no milk at all.
You can play with this recipe quite a bit, substituting part of the oats for things like oat bran or psyllium husk for extra fiber, or you could try using almond extract in place of vanilla. There are a lot of different combination possibilities for this recipe, making it easy to try a few out and find one that's perfect for you.
Prepare the oats the night before by combining all of the dry ingredients along with the vanilla. Next, mix in the milk and the water, stir everything up making sure all of the oats are covered by the liquid, and then cover the mixture and place it in the fridge overnight. This recipe can also be achieved with just a few hours of refrigeration, but overnight really is better. I like to store the mixture in small mason jars with lids because they are easy to grab if you are in a rush and it doesn't waste on Saran wrap.
Morning has arrived and the oatmeal should be completely set with no standing liquid on the surface. Just before serving the oats, give them a quick stir to loosen things up. Then top everything off with a drizzle of maple syrup or honey and a splash of milk. I like to add dried cranberries or fresh sliced banana to mine. You can try any dried fruit, fresh blueberries, shredded coconut, chopped walnuts, or even chocolate chips. The options are endless. All that's left to do after deciding on a wonderful topping is enjoy.
With the tiniest bit of preparation the night before, this breakfast really is a healthy time saver. Overnight oatmeal also makes for a great addition to a brunch menu. You can mix and match flavors, seal them up in pretty jars with labels, and impress your friends with your newfound morning ingenuity. It's healthy, it's easy, it's something new, and like I said before, it's way better than a box of donuts.