OVO Brings Spring to a Chilly Erie November
A presentation from Cirque du Soleil warms up the imagination.
November 9, 2016 at 3:00 PM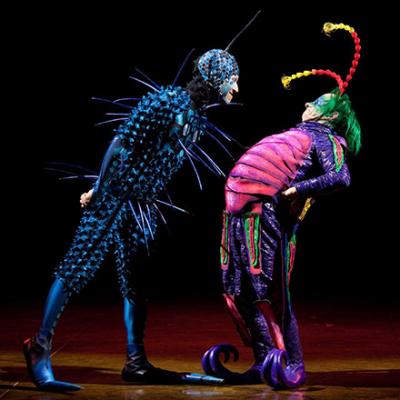 Nov. 17 – 20
Seasons march forth in a progression of life, death, and rebirth. As the year wanes, many look inward, pondering changes, becoming a little older. This fall, such sentiments are encapsulated in the cornucopia of color and imagination called OVO by Cirque du Soleil, which comes to the Erie Insurance Arena Nov. 17 through 20 for six performances only.
OVO means "egg" in Portuguese – the universal symbol of new life. This production differs from others by Cirque du Soleil in that "some shows are written and presented more in a dark atmosphere," says Nicholas Chabot, part of the company. "This – OVO – is super bright and super colorful … it has a defined, super easy story to follow." 
The story opens in a magical, colorful world presenting many quirky and animated insects with nuanced lives of their own: the bright red ants who strive to gather food (juggling their edibles with their feet and, playfully, each other); the graceful dragonfly who balances and glides among the plants; the diablos, who send fiery spinning spools around the forest. The realm is also home to a daring spider (played by the contortionist), acrobatic fleas, a ladybug, a slinky-like insect, trampolining crickets, and many other animated characters. 
Suddenly, a mysterious egg appears in the creatures' world. At the same time, a newcomer to the colony – a blue fly – arrives and disrupts the peace. He falls for the glamorous ladybug, and has to prove to the community that he is deserving of the ladybug's love.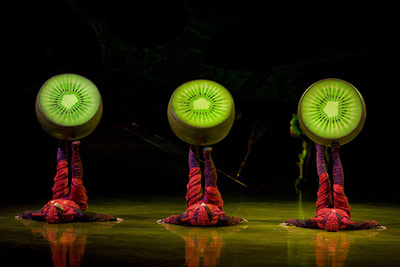 Through amazing physical feats, the ensemble present themes of love, energy, and life's cyclical pattern. "It's an easy story for kids," explains Chabot. "There is also plenty of humor for adults, and everyone will enjoy the mesmerizing acts." 
Many innovative elements come together to make OVO, including costumes, music, lighting, and the physical prowess of the performers. The aforementioned egg is enormous and, at the beginning, covers most of the stage. Set designer Gringo Cardia took his inspiration from real-world insects, and creates a habitat that is a forest, a cave, and also resembles a house. The music has a funky bossa nova feel with electronic elements and lots of percussion, played by a seven-piece band and vocalist. And the costumes, designed by Liz Vandal, took inspiration from real insects; the concept was to "connect with the feeling of being face to face with a spider, a cockroach or a butterfly," but also to give the costumes a "superhero" aura. Finally, the cast is comprised of 50 actors from 12 different countries. 
Chabot would describe OVO in three words: "impressive, colorful, and energizing."
OVO is Cirque du Soleil's 25th live production and was first performed in Montreal in 2009. Audiences should leave all expectations at the door when they come to the Erie Insurance Arena, Chabot urges. 
"Put your problems and worries aside and really get into the bug's world," he says. "Don't question what's before your eyes. Jump in – expect to be impressed and to wonder how the performers do it." – Miriam Lamey
Thursday, Nov. 17 to Saturday, Nov. 19 at 7:30 p.m., Saturday, Nov. 19 at 4:00 p.m., Sunday, Nov 20 at 1:30 p.m. and 5:00 p.m. // Erie Insurance Arena, 809 French St. // cirquedusoleil.com/usa/erie/ovo/buy-tickets