Paint that Talks
Ron Bayuzick brings a grand gesture to the Erie Art Museum.
January 18, 2017 at 1:45 PM
The lines in Ron Bayuzick's "Three Blue Dots" do not sit still. They dash horizontally and diagonally across the paper, spinning around a vertical spine of black paint like dervishes of frenzied color around a totem. They have much to tell. But to hear the stories in Bayuzick's Mood Swings Review in the Ronald E. Holstein Gallery at the Erie Art Museum, you only have until Feb. 11.
All 30 pieces in the show, both paintings and sculpture, begin with a scribble, says Bayuzick. "Then, I have to contain the scribble, work out the problem the scribble presents." What this means for him is reaching into his bag of artistic tricks to pull a piece together.
Although many would be tempted to seek out some semblance of reality in these abstract constructions, and the titles may lead a viewer in a particular direction, it's not fair to "see" something in his works: a watery horizon, say, or a building. Bayuzick's first instincts are to go with the abstract language he has constructed. Each piece stands on its own merits and doesn't need to become something else. The viewers are, of course, invited to interpret for themselves.
Bayuzick's vocabulary is both simple and complex and clearly developed over years of practice. The strong diagonals that pull sides together, the upswells and blocks of color, compartments of contained energy, and the tendrils of paint connecting diverse elements. But his works are not just exercises in arranging formal components for their own sake. They represent the artist's thought process, the distillation of all he absorbs and then assembles with his hands.
In them, one can find "the underlayment of life," as he calls it. "There is a way down under of life," he tells me, "there is always something underneath." Bayuzick likes to bring all those unseen and wandering connections to the surface, perhaps revealing the network of our own disorderly cogitation, or the firing of synapses that connect us to, but also sever us from, the world. Either way, it's an uncontained energy.
One can see the busy, hidden circuitry he mentions in "Boss Cuts," a mixed media wall assemblage made with paper, paint, cloth, string, nails, and wooden dowels. A fine incision in a vast field of green makes its way down into the belly of the piece, where its trajectory is picked up by a ball of string that eventually untangles itself, heading off in different directions. The line plunges and climbs, floats above the surface, falls and recovers, then splits into fragments making their own way. At points, nails hold it down. It could be the path of one's own life, a failing here, a victory there; a place where too many routes confuse; times when the world is crushing and, again, standing aside as you soar.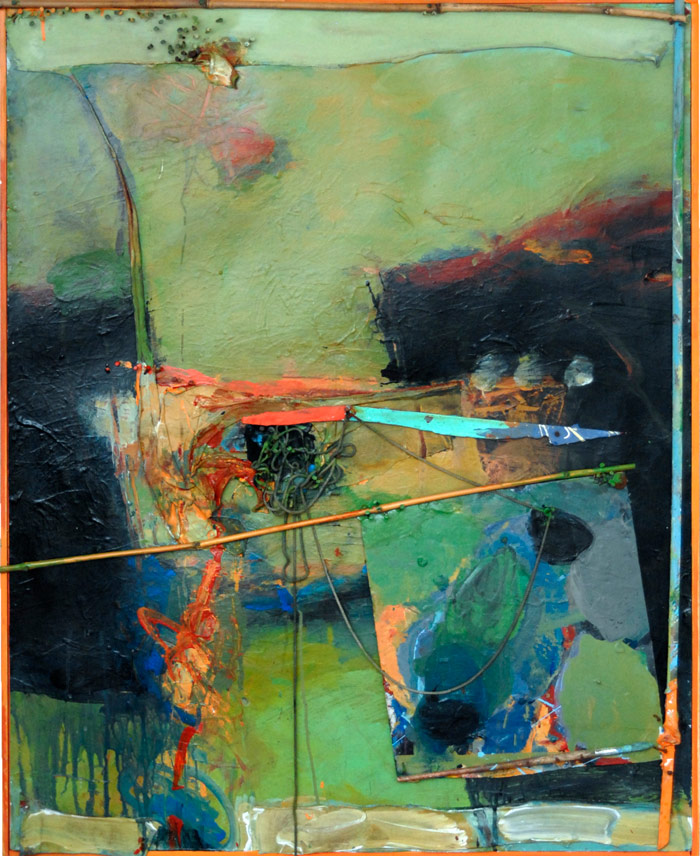 Bayuzick's paintings like "Boss" are what capture this eye and heart. His small, assembled sculptures carry the same gestural lines and rough composition, but the elements never really sprint the same way they do in his paintings. One exception is "Puddle Jumper," a twisted construction of rusted wire rising in an arc from a dark base. The skeletal organic form is all energy and emergence, reaching its taut limit against an unseen force aiming to keep it down.
This energy and, indeed, exuberance is clear throughout the gallery. Bayuzick's abstraction may seem, at first glance, undecipherable or even reticent to share its knowledge. With careful study, though, a viewer will come away having had a meaningful dialogue. When Bayuzick tells me "I can make paint talk," I believe him.
Mary Birdsong can be contacted at mBirdsong@ErieReader.com, and you can follow her on Twitter @Mary_Birdsong.