Paolello and Gone Open Blues by the Barrel
Paolello and Gone's Blues by the Barrel is worth a look and a listen
March 28, 2018 at 9:15 AM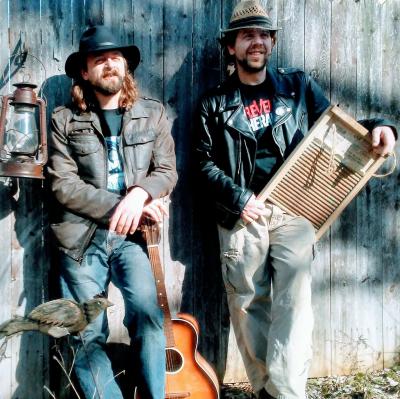 Friday, Mar. 30
As soon as James Paolello introduces the first song of Blues by the Barrel, "Dirt Farmer Blues," you know you're in for an intimate recording. Paolello's slide guitar sucks you in immediately and you have no choice but to sway your shoulders from side-to-side, as Josh Gone joins in on electric bass to fill out the rich yet streamlined sound. The duo's first album captures a lot of feeling, from foot-stomping shuffle to lamented lumber.
For the album's release party, they'll be at Room 33, and the combination is an exceptional pairing. The recently opened bar on 11th and State Street styles itself as a Prohibition-era speakeasy, while Paolello and Gone find themselves very comfortable with the sounds of that very same 13-year span. Imagine walking into a juke joint and hearing someone like Robert Johnson or Blind Lemon Jefferson (both active during that time), then giving a password to sip on some freshly bootlegged liquor. Just beyond the bookshelf at Room 33's entryway, you'll hear music that will find you transported to a different time.
The duo formed in the fall of 2016, after the two met doing some guitar repair. Paolello, an accomplished luthier and instrument repairman has been helping local musicians for years out of his home workshop, while Gone has long been entertaining Erie audiences in rock and punk bands like Detroit Red and Diesel Houdini. The two became fast friends and decided to team up.
Paolello remarked that he "got into traditional Delta and country blues after a long hiatus from not performing, and just researching more [about] traditional American roots music." In his words, he had "always enjoyed playing slide guitar, but decided to try and a take it to the next level when I got back into playing." With its 10 tracks recorded at Left Of The Dial Studios with Kevin Brown, and featuring layout and art from Gabe Poland and McKenzie Sprague, the record is worth a look and a listen, and from the sound of Blues by the Barrel, the two are certainly at that next level. — Nick Warren
7 p.m. to 10 p.m. // 1033 State St. // facebook.com/paolelloandgone