Perry 200 Commemoration Community Sail Winners Announced
Did you win? Read this to find out!
September 18, 2012 at 1:44 PM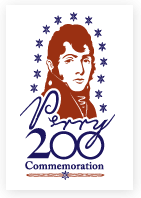 Earlier today, the Perry 200 Commemoration held a drawing to see who the 30 lucky winners of a pair of tickets for the Community Sail aboard the U.S. Brig Niagara would be. Are you one of them?
Jaclyn Gentile
Doug Thurston
Mary Stephany Theiss Lyons
Richard Crishock
Selena King
Juliann Zawadzki
Scott Ellington
Yukiko Maeda
Daniel S. Wetmore
Kathy Sue Schloss Oliver
Gary Firster
Dawn Blackburn
Rebecca Pratt
David Sherman
Walter Shultz
Bob Hand
Kim Kennedy
Constance Griffin
Cynthia Pelkowski
Stephanie LaJohn
Marion Barnes
Timothy Kalinowski
@HStempka (Heather Stempka)
@stevepush (Steve Puskar)
@LyonsDenProd (Lyons Den Productions)
@page4jesus (Abby B. Conley)
@BC_Erie
@2PartySystem (2PartySystem)
@howtaki (Marianne Bierend)
@MarkIrish2 (Mark Irish)
From the Perry 200 Commemoration Commission:
"Congratulations to the 30 Niagara Community Sail winners! To confirm your seats on the sail, please call or email Perry 200 Headquarters at the Jefferson Educational Society by 5 p.m. Thursday. Failure to do so will result in the forfeiture of your tickets. After confirmation of acceptance you may pick up your tickets at the Jefferson Educational Society, located at 3207 State St., by 5 p.m. The JES can be reached by phone at 814.459.8000 or via email at breese@jeserie.org."