'Peter and the Starcatcher' flies onto the Erie Playhouse stage
Both hilarious and inspiring, Peter and the Starcatcher will touch the hearts of young and old as it lets your imagination fly.
February 26, 2016 at 9:39 PM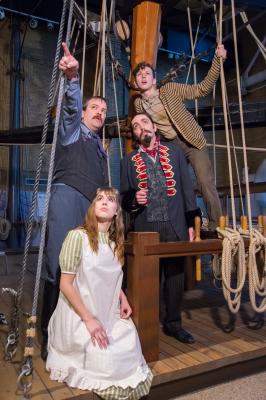 Perhaps it is because I am studying psychology, but I often watch movies and wonder, "How did those characters become the people they are?" And yes, I do this with books and cartoons as well. So, imagine my glee as The Erie Playhouse begins its run of Peter and the Starcatcher. I can finally see what traumatic life events make Captain Hook the bitter villian that he is. Perhaps I can also gain insight into Pan's need for incessant childhood.
Don't be mistaken: The play, a prequel to the J.M. Barrie classic, is not a retelling of Peter Pan, but rather a back story to the well-known tale. The book on which the show is based was written by another famous Barry, Dave Barry, and his co-author Ridley Pearson. 
Director Kate Neubert-Lechner says, "Since this is a 'prequel,' they're playing the pirate Black Stache, a bipolar, vicious pirate who is bored of just pirating and is searching for a hero to make him complete. His first mate is Smee, who, while not the smartest, is certainly the most loyal; and also an orphan boy who just wants to find a home and a family. Without spoiling anything, the audience may see the characters begin to show shades of who they'll become in the Peter Pan canon. But much like Gregory Maguire did with Wicked, this story takes the source material and just sprinkles in small bits to provide familiar context to the story being told."
So, what can we expect from Peter and the Starcatcher? Not the iconic characters that we know from Pan, but the beginnings of the familiar characters. Plus, an introduction to some new friends, who provide a funny and inspiring journey into a whimsical world of pirate ships and mystical islands in an imaginary sea. Called a grownup's prequel to Peter Pan, the show is sure to enchant all ages.
Still, Neubert-Lechner clarifies, "Audiences may be a little taken aback when they enter the theatre and see an empty stage, save a ghost light and some ladders and props. But with the help of lights, actors, some ropes, boards, and imagination, the audience will journey to locations all over two ships, go overboard, see a ship break in two, and travel all over a tropical island, to the top of the mountain, into the jungle, and onto the beach."
So, get ready to let your imagination take you beyond the realm of time.
The show features the acting talents of Jenna Suleki, Zak Westfall, Patrick Thiem, Domenic Del Greco, Richard Davis, and an ever-changing ensemble consisting of Jerry Gill, Ian Brady, Ross Fagan, Ken Falkenhagen, Brendan Daugherty, Michael Nasca, and TJ Faulkner. Directed by Kate Neubert-Lechner, with musical direction by Andrew Rainbow, costumes by Ryan Ingram, and set and lights designed by Christine Carmichael, Peter and the Starcatcher promises to be a richly imaginitive adventure. 
Peter and the Starcatcher makes its debut at The Erie Playhouse March 4. All tickets are only $15.50 on March 4 and 5. The show continues its run March 10-13 and 16-20, with Wednesday-Saturday performances at 7:30 p.m., Sunday performances at 2 p.m. Tickets are $15.50 and $22.50 for adults, and $14 for students.