Photo Installation Moves Viewer to Khan Gravestone
Phil Buehler's immersive cyclorama transports Arlington to PACA.
October 26, 2016 at 2:30 PM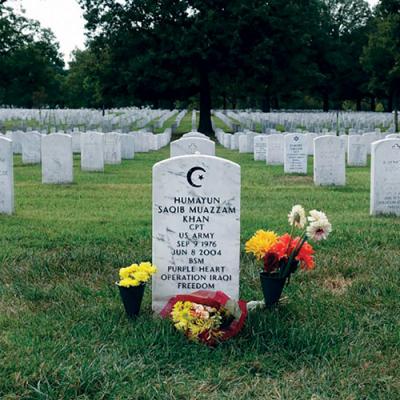 Thursday, Oct. 27 to Saturday, Oct. 29
Imagine standing directly in front of Captain Humayun Khan's headstone. You see flowers, a teddy bear, and letters left for Khan's Gold Star parents, Khizr and Ghazala. When you look further, you'll see a funeral procession with a horse-drawn carriage and a sea of headstones.
The scene, which is created from 1,000 photos, honors the Gold Star Khan family.
Renowned photographer Phil Buehler will debut his cyclorama, a walk-in photograph of Arlington National Cemetery, in Erie at the Performing Artists Collective Alliance (PACA) from Thursday, Oct. 27 to Saturday, Oct. 29. The cyclorama is comparable to the one in Gettysburg. The scene, which is created from 1,000 photos, honors Gold Star families like the Khans, or those who have lost immediate family members during wartime.
The Brooklyn photographer, who is considered the founder of "modern ruins" photography, has been taking photos of abandoned places for more than 40 years.
"Sometimes I feel like a time traveler visiting the past and returning with a piece of endangered history," Buehler writes on his website, modern-ruins.com.
He began as a senior in high school, when he rowed to Ellis Island to make a film with his friend. Since then, this graduate of Carnegie Mellon University has traveled around the world taking photos of abandoned places, saying he's inspired by this not-so-well-known verse of "This Land is Your Land": "As I went walking, I saw a sign there / And on the sign it said, 'No Trespassing.' / But on the other side, it didn't say nothing / That side was made for you and me."
Buehler has won multiple awards for his work, and his photographs have been exhibited in art galleries and museums, including the MoMA and the Bronx Museum.
The cyclorama is brought to Erie as an Eyewash Exhibit. Founded 20 years ago in an apartment in Williamsburg, Brooklyn by Larry Walczak, Eyewash Projects is now covered by The New York Times, The New Yorker, CNN, and NPR; and receives other national and international coverage, as well. In only three years, it became a "migratory gallery/project specializing in emerging and mid-career artists from Brooklyn and elsewhere and focusing on group theme shows and experimental exhibitions." – Tracy Geibel
Noon to 8 p.m. // 1505 State St. // paca1505.com or 434.0687 // larryeyewash@gmail.com or eyewashart.com/home