Pick of the Week: pARTy on the Patio
Fifth Street between State and French streets shuts down Friday, June 29 for Erie Art Museum's biggest fundraiser of the year.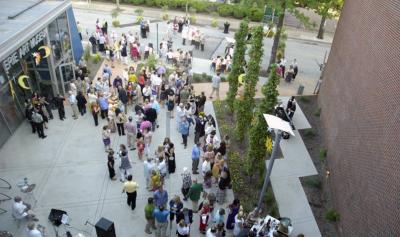 After the opening of the new wing and entrance of the Erie Art Museum in the fall of 2010, Erie needed a way to acclimate to the new space. From the outside looking in, the open patio invites guests through the tall glass doors and into where the largest collection of art in Erie resides. Off to the side, a wild flower garden connects the space between the museum and the expERIEce Children's museum—space available and open for the public to enjoy.
"This is just different," Carolyn Eller says with a soft smile on a sunny Thursday morning at the Erie Art Museum. "The museum is not a stuffy place. We don't just celebrate visual art. We love music, we love dance, we love other cultures—we have so much programming that's geared to different cultures and ethnicities in our community, and this is a fun way to tap into that."
While the block on Fifth Street between State and French streets will be closed off for a party, this is not a Block Party. This is the Erie Art Museum's pARTy on the Patio, a night for Erie to wash off the dust of daily life from its soul and drink in arts, culture, and entertainment.
The museum's biggest fundraiser of the year, pARTy on the Patio premiered last year as a means of accentuating the new space at the museum.
"We felt like last year would be the perfect time to do a big outdoor party and utilize our beautiful patio out there, utilize Fifth Street since that's our new entrance," says Eller, director of marketing and public relations for the museum. "We've thrown some awesome fundraisers before—the museum is really known for throwing these fun parties, but we never really had the space to have an on-site party outdoors until we opened the new wing."
Boasting more than 500 attendees, last year's party introduced Erie to the outdoor space and the museum's new look and feel. Eller looks forward to building on its success while also expanding the offerings in hopes of creating a more diverse evening for all attending. Local band Mambo provides the bridge from last year to this year, as they return to open the evening with live jazz.
"This year we wanted to bring them back since they were a huge crowd pleaser and talented musicians, but we also wanted to shake things up a little from last year" Eller says. "That's where the second half of the night comes in with the DJ and the dancers."
The Lake Erie Ballet Company will provide the segue between live jazz and a DJ, as the Company will offer a modern hip-hop performance. But music and performance art aren't the only forms of expression to experience at pARTy on the Patio.
"Last year was more of a summer outdoor party," she explains. "This year, we're really tapping into some different artwork that we have in the city."
To embrace art expressed through various media, Eller invited local artist Tom Ski to this year's event. Ski, known for his graffiti art inside the crooked i and on various buildings in the city, will select an artist from the museum's permanent collection and then paint a graffiti representation based on that artist's style, which will then serve as one of the backdrops for the patio. During the night, he will paint another canvas while a breakdancers perform.
In addition to the urban feel created as graffiti artists paint while breakdancers move and groove to the beats of DJ Phil Da Bass, a community board will be available for those looking to embrace their inner graffiti artist—that is, when hands aren't occupied with beer, sangrias, Smith's hotdogs, or food from Make It Fabulous catering, all included with the price of the ticket. Patrons will also have the chance to explore the museum's entire space, since all exhibitions will be open to the public that night.
"We wanted to make it incredibly accessible to all age groups," Eller says. "We want to have people who are 21 and people who are 91 so we think that this party hits all of the age groups.
"We want people to come in and experience the museum in a different way, maybe learn some of what we do, some of what we offer. We're not just a place to come and look at art."
Aside from being a place to look at art, the museum offers studio art classes, hosts film screenings, live music and performances, and outreach. The museum hosts one of the summer's biggest music events: The Blues and Jazz Festival.
"We want to showcase who we are and what we do and all the funds that we raise will come back and support the museum and our programming."
And tickets for this entire experience only cost $25 in advance.
But at times, Erie's often painted as a 'free'-loving, walk-up crowd—a crowd that balks at the notion of having to pay for entertainment. Imagine, for a moment, a city without such a place. A city without a place to walk through, room by room, and be swept away with the beauty found there. A city where no space exists to share a moment of awe, a moment of expression, a moment of reaction. 'Free' can't sustain a place to house such experiences, and unless we want that city without such a place, we should be able to leave our grumblings at home for the night and instead gather friends and family who have never experienced such a place or night and embrace the sights and sounds of a city that has/that's come alive with art.
"If we can extend our reach and see some new faces among the familiar faces," Eller says last, "then that's what we'd like to do."
pARTy on the Patio begins at 7 and ends at 11 p.m., rain or shine. Tickets can be purchased online at erieartmuseum.org or by calling 459.5477. Attendees must be 21 years old. Tickets sold at the door are $35.

Ben Speggen can be contacted at bspeggen@eriereader.com