Planning Underway for Perry 200
"Don't Give Up Ship" will be flying high the next two years.
July 21, 2011 at 12:00 AM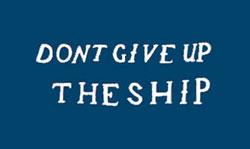 Around a hundred and fifty of us pile into a conference room at the Sheraton Erie Bayfront Hotel the morning of June 30. The windowed wall faces the city, and the sun's reflection bounces off the deep blue of the lake and in through the windows, lighting the room.
We're shaking hands, and the Dixie Doodlers are piping out patriot tunes behind us. Next, we're eating. Instead of handshakes, we're chatting—various tables of eight or so—after we all skim the folder's worth of material we've received, still listening to the Doodlers. The trumpet player takes the mic. He sings a couple tunes, gives us some history to the songs. And then we're on to what we came in for as we get down to business: the business of planning since we're here for the Perry 200 Organizational Luncheon to hear what's happening with the Perry 200 Bicentennial Commemorative Commission headquartered at the Jefferson Educational Society.
Any self-respecting Erieite knows, whether they have a flag or not: Don't Give Up the Ship. Although Perry said it a hundred or so miles west of here where Lake Erie laps Ohio's shores, it means more to the Gem City than so much else. We rally around the motto and hold it near and dear to our collective sense of self, as almost to say, "yes, Captain, we won't, Captain—we never will, Captain—we won't let you down, ever, Captain." And now that it's time to celebrate Perry's significance, it's time to either stand behind our words or choke on them.
Dr. William P. Garvey, general chairman of the Commemorative Commission talks about past celebrations. In 1913, they raised the U.S.S. Brig Niagara from Presque Isle's Misery Bay to display and restore it. Citizens celebrated with five parades, an illumination of Perry Square, and fireworks. Yes, fireworks. In 1963, they celebrated with 600 actors who delivered a performance of Erie's history and culture, culminating with a recreation of the Battle of Lake Erie, complete with fireworks. Yes, fireworks.
At the podium, General Chairwoman Joyce Savacchio promises something for our celebration: "You know there'll be fireworks involved," says, Savacchio, who, to warm reception, proclaims herself as a fireworks kind of gal. Which is good news to our ears since Garvey wants this celebration to blow the others out of the water. And fireworks are good news for a city that's gone too long without a major firework celebrating the Fourth of July.
Garvey's not alone in his hopes for the success of this event. Honorary Chairs Tom Hagen, Barry Grossman, and Joseph Sinnott all voice the possibilities this celebration offers the city since this kind of thing comes around only 50 or 100 years.
But Erie's different, and Erieites know that. Sometimes our littleman mentality brings out the defeatist in us, and County Executive Grossman captured it his speech. An Erieite through and through, Grossman begins by talking of his days spent as a Boy Scout down near the bayfront. But fast forward a few years or so. Grossman tells us of a meeting he was holding not too long ago, a think tank in the very building we're sitting in now. Grossman, suave and seamless, compares himself as well as his meeting partners, to "tomcats, moaning in a back alley" over things gone sour. Then—after a round of laughter from us—Grossman tells us they stop mid moan. The Niagara's sailing by and they all notice her. Suddenly, he tells us, the tenor of the conversation changes and they're billowing with pride for the city because, well, good things are happening here.   
"[The Perry 200 Commemoration] gives us a chance to parade our pride," says Savocchio. "Anyone who comes to Erie knows that there is something happening, something going on."
And something is going on here. But as is the case with a lot of programs in Erie, youth involvement can be hard to find.
"We need [the bicentennial celebration] to be a community event," says Mayor Sinnott, as a call-to-arms for all Erieites to get on board. And he believes we can showcase what we have as a city that all too often people fail to see.
But this will take money, time, and action.
Garvey estimates this celebration north of $1 million. But as the group unveiled, they're already half way there with $525,000, with $85,000 each coming from the city and county, $100,000 the state, and $250,000 organizations and industries.
The event is spread of two years with two phases: 2012 focuses primarily on education with lectures, symposiums, publications, and more, with a re-introduction of Erie history into area schools at the forefront. And then 2013: celebratory events starting Memorial Day and spread through the summer. Celebration after celebration, as the possibilities can be endless.
So the money's started and there's time, both for planning and celebrating. So now comes action. And as nearly every speaker pointed that, that can't just come from those who were around for the 1963 celebration.
Great things are happening in our city right here and right now. The music scene's booming, the art scene is flourishing, and people are staying, returning to, and moving to this city. So it seems like we're on the brink of a breakthrough. "Don't Give Up the Ship" is going toe to toe with whatever it is that's held us back. What we need now is see the Niagara, see our potential, and follow Grossman and company's lead and stop our moaning. And maybe, like Garvey hopes, we can say that the Erie Renaissance began with the Perry 200 Commemoration when we celebrate our history by showcasing our potential.