Playhouse Brings Much-More-Than-OK Oklahoma! to the Stage
Broadway smash hit Oklahoma! debuts on the Erie Playhouse stage.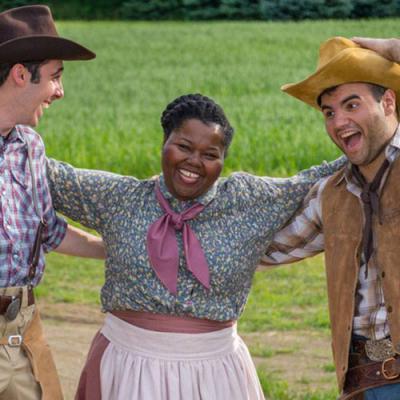 Friday, July 7
From the moment Oklahoma! debuted in 1943 on Broadway, the Rodgers and Hammerstein collaboration was a smash hit. Set just after the turn of the 20th century, it tells the story of Curly, a self-assured cowboy set on wooing the beautiful farm girl Laurie Williams, whose independence of mind and spirit only further inflames Curly's determination. Oklahoma! joined the elements of music, lyrics and book in such sublime fashion that it ushered in a new era of musical theater, one from which current audiences still benefit, whether it's under the bright lights of Broadway or in a converted warehouse with a rudimentary stage.
The Erie Playhouse clearly veers more closely toward the Broadway/bright lights side, and there has never been more reason to celebrate the manifold gifts this community theater has brought to the Erie area. Now in their 100th year of operation, The Playhouse closes its 2016-17 season with the watershed musical Oklahoma!, beginning July 7 at 7:30 p.m. and running until July 23.
There is an exciting newcomer to the stage; Anthony Kirby makes his Playhouse debut as the male lead, Curly. Likewise, the comical Aunt Eller will be brought to life by Playhouse stage freshman Delthia Nolan. Filling out the rest of the main cast are Playhouse veterans, with Maeve Kirby as Laurie, Brendan Daugherty as the lonely, obsessive Jud Fry, Lydia Lent as the flirtatious Ado Annie, and Luke Weyand as her hapless suitor, Will Parker.
The Playhouse website declares, "Oh, what a beautiful musical!" Perennial favorites like "Oh, What a Beautiful Mornin'," "People Will Say We're in Love," and, of course, the titular "Oklahoma" are sure to remind audiences why this Rodgers and Hammerstein classic has endured for over 70 years. — Cara Suppa
7:30 p.m. Thursday - Saturday; 2:00 p.m. Sunday; see erieplayhouse.org for the complete list of showings. // 13 W 10th St. // 454-2852 // $16.40 (students) - $24.90 (adults/seniors)