'Plenty' to See
And even more to think about at the Erie Art Museum
April 13, 2016 at 3:15 PM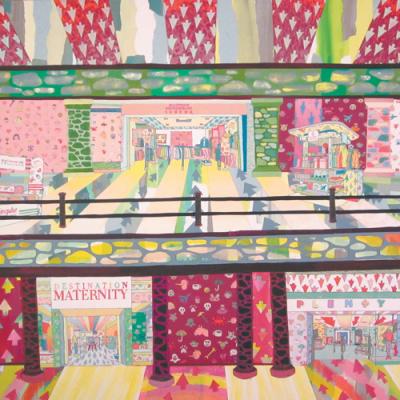 Many of Dan Schank's mixed media paintings in Plenty show us who we are. We may not like what we see.
Built of cut paper, gouache, pencil, and India ink, the works offer shifting spatial planes and layered implications about the worlds we create, both real and virtual. The message is most strong and undeniable in Schank's most recent, multi-colored works in which the viewer experiences an overload of contemporary, consumptive iconography all placed in the artificial setting of a standard suburban mall. He shows how, in all of the places we visit – whether they are actual commercial settings or online storefronts – we are being urged to go, do, and – most importantly – buy.
The majority of these works are dominated by pink, with green, yellow, and grey undertones. Here, like in real malls, the plants are artificial, the standard mall fountain makes an appearance, and the seating areas are welcoming, yet impersonal. In other words, the common features of public spaces chosen to make us feel comfortable. But Schank's shifting angles and highly active patterns in the floors, ceilings, and walls are dizzying to the eye, and reveal how marketing salvos have wormed their way into every inch of our public and online lives.
In "Common Ground," arrows push us into the visually deeper retail spaces, emoji wallpaper distracts the eye, while cotton candy colors mollify. We're clearly in an artificial world, one designed to "satiate as many human desires as possible," as Schank says in his artist statement. Here, he is illuminating our appetites and suggesting the commonality between marketing a product (such as sneakers) and a way of belief (such as religion). Both purport to offer us salvation of some kind.
Everything seems vacant, unoccupied, abandoned.
Schank's earlier pieces in the show, from 2012 and 2013, share a more muted palette of black, grey, taupe, and blues and a more subtle vocabulary. The settings are outdoor this time and filled with stylized clouds and plants, utopian architecture, and brooding sensibilities. Like the later works, he utilizes vertiginous angles and repeating patterns to create visually busy surfaces.
These works are more fantastical, and remote iconographically; they are dreamscapes of an imagined splendor cut short. Walls crumble, vegetation overtakes buildings, tattered flags fly over shaky-looking structures. Everything seems vacant, unoccupied, abandoned.
"The Pier" offers cantilevered slabs of concrete, jumbles of boxy, run-down structures and several towers racing back to the horizon. At their feet is a hodgepodge of taupe and tan vegetation, overhead is a black sky studded with sharp-edged unnaturally shaped clouds. The decay reflects the built and then abandoned places humans have wrought. It's not a typically welcoming space, but it does invite a certain archeological curiosity.
Interestingly (or not), there are no humans inhabiting Schank's paintings. No one walks the mall concourses in "Operating System" or lounges on the deck chairs in "Ride Lonesome." Every work is hauntingly empty. All are about the spaces we make, the mark we put on this earth. Our habits and desires. Those things are in there, but we are not. Except, of course, for us, the viewers. We are left to ponder our yearnings and the works of our own hands.
Through May 7 // Holstein Gallery of the Erie Art Museum // 411 State St. // erieartmuseum.org
Mary Birdsong can be contacted at mBirdsong@ErieReader.com, and you can follow her on Twitter @Mary_Birdsong.