Podcast Picks: Flagship Stories
October 20, 2021 at 12:30 AM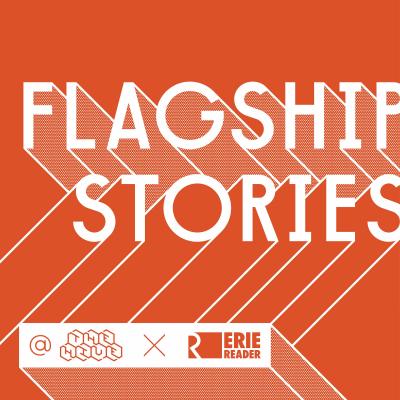 Hosted by: Christopher Lantinen with Nick Warren // ​​anchor.fm/flagship-stories 
We are proud to introduce a brand new podcast from the Edinboro Beehive in conjunction with the Erie Reader. You probably already know that Erie is an ever-changing, ever-evolving and altogether fascinating city. On Flagship Stories, we look at the people who are guiding us along in that journey. Together, we try to figure out what makes Erie, Erie. It's the essential stories of the Flagship City. 
Chris Lantinen serves as the show's main host. Digital Media Coordinator for the NWPA Innovation Beehive Network at Edinboro University, Chris is at home behind the microphone, having hosted the long-running Modern Vinyl Podcast. Joining him is Nick Warren, the managing editor of the Erie Reader (artist, musician, and amateur podcast enthusiast). 
An interview-based documentary podcast, Flagship Stories strives for high production values and warm listenability. 
The show's first episode features Laura Domencic, the new executive director of the Erie Art Museum. Laura talks about her history as both an artist and curator, as well as the museum's plans for the future. Hear about some of Erie's upcoming exhibits and events, and find how Domencic — a recent transplant from the Pittsburgh area — is adjusting to life in Erie. 
Episodes will be released monthly, so stay tuned for the next one, as we talk to John C. Lyons about his films, as well as the Eerie Horror Fest.