Porngate PA
What's with all the porn in PA? Seriously.
October 23, 2014 at 11:28 PM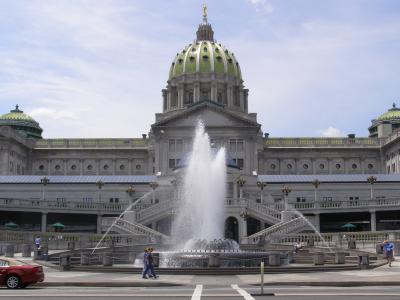 Most political sex scandals include some sort of gratuitous sex act involving a politician. Bill Clinton rattled Monica with a Cuban cigar in the Oval Office during a federal work stoppage; Andrew Weiner sexted college coeds from the congressional locker room; and Eliot Spitzer needed an escort to find his way back to Albany.   
Sex scandals in Pennsylvania, however, just involve overaged frat boys emailing workplace fantasies from YouPorn to one another from their state.pa email addresses.
I'm not sure whether to feel aroused about the Commonwealth's surreptitious entry into the national sex spotlight, or to retreat into seclusion with my lubricating tears of shame.
An investigation by Pennsylvania Attorney General Kathleen Kane's office identified 30 individuals previously affiliated with Governor Tom Corbett's office when he was Attorney General, prior to 2010 when he led a team that was apparently doing anything other than prosecuting Jerry Sandusky.  
Many of those individuals either followed Corbett to the Governor's office or were appointed to statewide leadership positions, including the Commander of the Pennsylvania State Police and the state's top environmental officer, where the porn kept-a-rollin'.
Subject lines included "Chin Strap," "Cigar," and "Golf Ball Washer," according to Reuters.
Emails also contained parodies of those ubiquitous motivational posters, the ones with the rock climber and text reading "Devotion." Only in these posters the rock climber was replaced by images of secretaries engaging in workplace acts of..."devotion" toward their bosses, according to the Philadelphia Daily news.
Fear not conservatives, this is a bipartisan scandal and there's plenty of misogyny to go around.
Earlier this week the Chief Justice of the Pennsylvania Supreme Court, Ron Castille, a Republican, outed Associate Justice Seamus McCaffery, a Democrat, as a member of an email inner circle with more than 200 contributions to Supreme Court servers.  
McCaffery argues that Castille is out to get him. Maybe so. But he isn't denying that he sent aand received lots of porn in the workplace, which has led to his suspension while the matter is probed by the judicial review board.
The outcome of the McCaffery review is likely being watched by "workplace privacy" advocates because it seems that there is no shortage of penchants for porn in Pa. or elsewhere.
Several academic studies of search engine queries found that the twenty-five most frequent search terms and phrases were related to pornography and sex. Topping the list: sex, nude, free, pictures, new, university, women, chat, gay, girls, xxx, sexo, porn, nude, lolita, games, spice girls, beastiality, animal sex, SEX, gay, titanic, and bestiality.
So it seems that there is an epidemic at hand which only swift release of megabits can cure.  
I do wonder, if Justice McCaffery can call the transmission of 234 pornographic emails from his Court email account a "lapse of judgement," what can the rest of us get away with at work, legally citing McCaffery as precedent? Ponder that. I've got to go clean out my inbox.
Comments, but no porn, can be sent to jWertz@ErieReader.com or tweeted @jim_wertz.