Portman pushes role to the edge and back
Nominated for five Academy Awards, Darren Aronofsky's latest film "Black Swan" will leave you haunted.
February 17, 2011 at 7:22 PM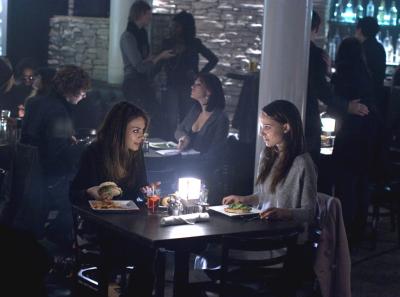 After New York Times dance critic Alastair Macaulay was criticized for writing that a ballerina "looked as if she'd eaten one sugarplum too many," he wrote in response: "If you want to make your appearance irrelevant to criticism, do not choose ballet as a career.
"I am severe—but ballet, as dancers know, is more so."
Darren Aronofsky could have written those final words. The director of the Academy Award-nominee "Black Swan" has a reputation for asking a lot of his actors. The already svelte Natalie Portman and Mila Kunis both lost about 20 pounds while training for "Black Swan," an undertaking that had Portman en pointe, doing lifts and even sustaining injuries.
However, in her portrayal of the fragile Nina Sayers, the ballerina chosen to dance the dual-role of Swan Queen in "Swan Lake," Portman demonstrates that one can push too far—even to the point of madness—to achieve perfection.
At the beginning of "Black Swan," Nina finally graduates from the corps de ballet to dance the Swan Queen. The balletmaster (Vincent Cassel) isn't sure she can handle the part of the passionate Black Swan, but her flawless technique and naiveté are perfect for the White Swan. Nina's uncertainty about the role slowly makes her paranoid that Lily (Mila Kunis), a new dancer, is trying to sabotage her. Portman's tightly wound Nina begins to unravel.
Like Nina, ordinary scenes feel ready to break if handled too roughly. The company warms up at the barre. Nina and her mother (Barbara Hersey) score the bottom of Nina's pointe shoes and sew on the ribbons.
And then Nina finds a strange rash on her shoulder. Mirrors betray her as she sees herself reflected hundreds of times, some of those reflections moving independently. She finds herself in darkness both physically—she practices so late they turn the lights off in the building—and metaphorically.
Much of what Nina sees isn't real. Kunis' Lily could be trying to loosen up their tense friendship, or she might be trying to steal Nina's role by taking her to a bar one night. Nina's mother might be coddling her daughter, or she's trapping her out of jealousy. As we see everything through Nina's eyes, there's no way to know how much of what happens is real or whose intentions are good.
In a similar fashion, the insular world of ballet rarely explains itself to outsiders. Perhaps it's because ballet is one of the highest arts. Or, perhaps it's because what Aronofsky brings to light actually hides in the shadows of tutus and toe shoes. Many dancers battle eating disorders, usurpation by younger dancers and the scathing barbs of critics like Macaulay. Perhaps Nina's paranoia is not so unwarranted and vying for a principal role is a cutthroat business.
Though the truth about ballet—both in the film and out—is vague, what is certain is Portman's commitment to her role, down to the most skin-crawling of scenes. In both "Closer" and "Anywhere But Here," Portman plays characters feigning degrees of innocence and ignorance, qualities she draws out in Nina Sayers. This commitment—most physically evident in her gaunt cheekbones and obvious ribcage—proves she has something in common with Nina, however frightening that might be.
Portman's performance would not have been possible had she not pushed herself through strenuous training, learning skills that take professional ballerinas years to learn. It seems both Nina and Portman face a harsher critic than Macaulay or Aronofsky could ever hope to be: the mirror.