Pressing Ahead
Why we need robust student journalism
Looking forward to my 50th school reunion at Marquette University this June, I thought about two celebrated alums from my alma mater: New York Times columnist Gail Collins and Pulitzer Prize winner Jacqui Banaszynski. I spent most of my career in Erie, not in high-profile news roles like these women did, and we graduated in different years — Collins in 1970, Banaszynski in 1974. But we share the same journalistic values — telling stories to put the news in context.
Two of their pieces seem especially relevant now, as journalists face hostility and encounter violence and as LGBTQIA+ rights are under attack. In her Dec. 14, 2022 column, "When Allen Ginsberg Came to Town," Collins wrote about the time she and other students invited Ginsberg to speak at Marquette after meeting him at a University of Illinois event.
"The whole thing was set up when suddenly the (Marquette) dean of students, Father Richard Sherburne, got some background information on Ginsberg that he apparently didn't like and announced that the reading had to be canceled," Collins wrote. "The reasons were a little unclear. To be fair, Ginsberg had a history of drug use and of taking off his clothes in public, at least once. But the fact that he was gay did seem to be the real problem."
In 1988, Banaszynski won the Pulitzer Prize for Feature Writing for her three-part series, AIDS in the Heartland, in which she chronicled the final days of an AIDS activist who lived on a Minnesota farm with his partner.
In a 2016 interview in the St. Paul Pioneer Press, Banaszynski said that initial reader reaction to her AIDS series was mostly negative. "The revulsion and fear around HIV and gays was so strong," she said. "The hateful mail we got was astonishing."
Today, when fearless journalism is more necessary than ever, it is no longer astonishing that journalists are being reviled. But it's shocking that this occurs even at the high school level.
I wanted to write about the state of student journalism after learning that the Merciad newspaper at Mercyhurst University would be "taking a hiatus to re-evaluate student-led media on campus," according to a May 3 advertisement in the Erie Times News. I first read about the Merciad announcement in a Facebook post by Bill Welch, my friend and former newsroom colleague. If you can get news through social media, why bother with high school or college journalism, in print or online?
Yet student journalism serves multiple functions and various audiences, including faculty, staff, and the community. Now is no time to take a breather.
"Scholastic journalists are the only authentic reporters who live daily in the culture where they learn," said Jane Blystone, a North East resident, retired high school journalism teacher, and college professor who advised student publications, including yearbook, newspaper, and literary magazine staffs for 28 years. In 2022, the National Journalism Education Association gave Blystone its highest honor, the Carl Towley Award.
Welch, a teacher in the Mercyhurst Intelligence Studies program and former Merciad advisor, said that those with journalism backgrounds make promising intelligence studies candidates, because intelligence professionals must ask good questions and write reports that "come very close to traditional journalism writing," he said.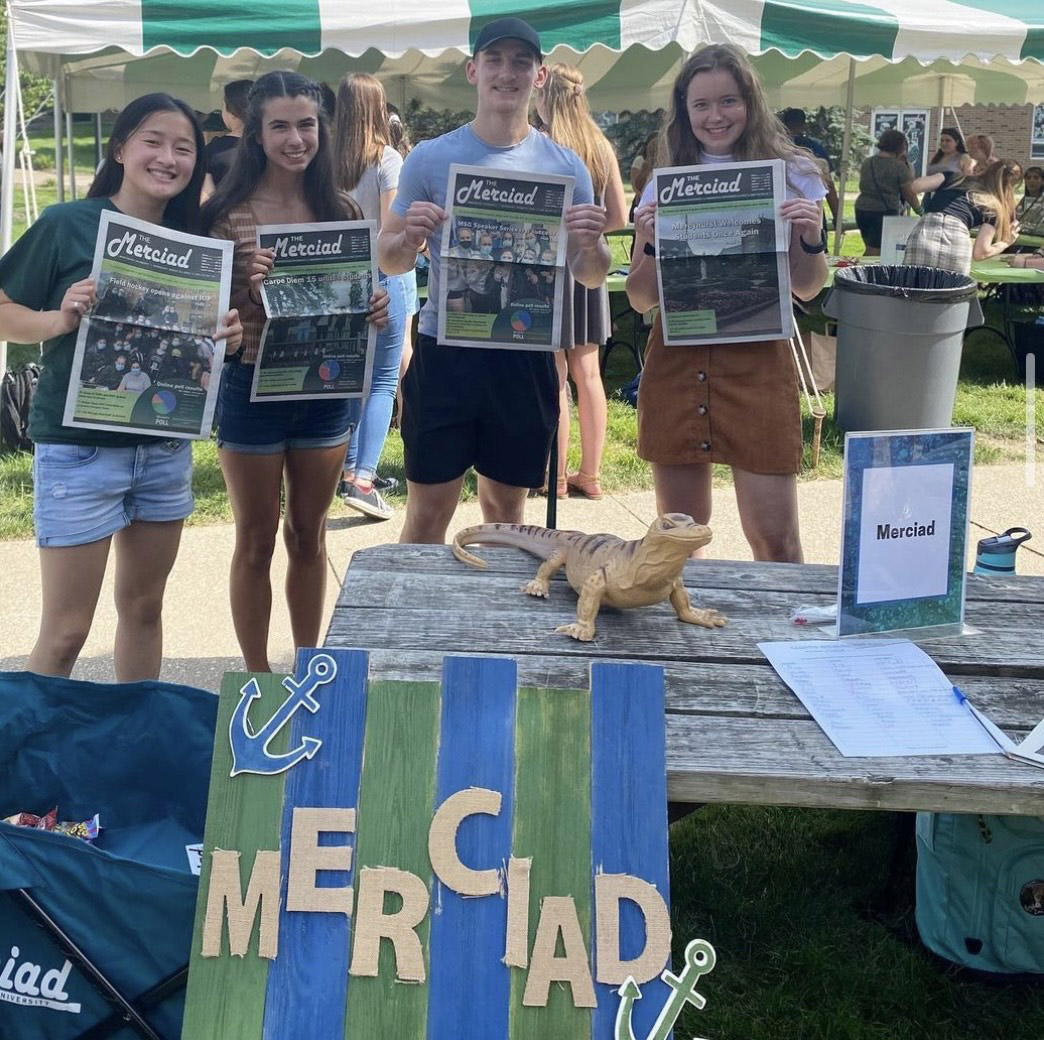 Mercyhurst University newspaper staffers (left to right) Gillian Mazur, Sydney Dietz, Zach Dumais, and Samantha Weber display copies of The Merciad at the 2021 student involvement fair. The Merciad is now on hiatus.
At the Behrend Beacon, published weekly when school is in session, staffers learn to seek out and review public records, including campus police reports, and they are the watchdogs of student government, said Robb Frederick, Penn State Behrend's associate director of news and information. "It gives them good practice in asking hard questions," Frederick said. In turn, student government leaders learn how to respond to news media questions, he said.
Teen journalists for Saegertown High School's Panther Press in Crawford County are forging ahead with hard questions and deep-dive reporting, even though Stacey Hetrick, American literature teacher and newspaper advisor, is on medical leave because of backlash she has been subjected to due to student coverage of school board meetings, political campaigns, threats to LGBTQIA+ rights, and a new library policy in the Penncrest School District that allows books to be challenged, reviewed, and possibly removed.
"In a participatory democracy we want people to be informed," said Hetrick. She revived the dormant Panther Press in 2006 at the request of Randy Deemer, Saegertown principal at the time, and with the enthusiastic support and technical assistance of the Meadville Tribune and its publisher, Jeanne Yount.
The Panther Press is an elective, meeting five days a week; students receive credit for a computer course. The print newspaper publishes six to eight times a year and students update the website, TikTok, Twitter, Instagram, and Facebook posts daily. The Meadville Tribune still prints the student paper and provides "continued mentorship in design, principles of reporting, and journalism ethics," Hetrick said.
In 2009, Hetrick was named Pennsylvania Journalism Teacher of the Year and in 2011, the Panther Press won the first of many Student Keystone Awards from the Pennsylvania News Media Association. In 2015, Hetrick was asked to serve on the Pennsylvania School Press Association's executive board. Her immersion in journalism education is "the greatest learning activity in my life," Hetrick said.
"In order to be a journalist, you have to be interested in things that might not ordinarily interest you. You have to be willing to do research and understand what's important to the public," she said.
In 2014, when librarian positions were cut, student journalists decided to cover every school board meeting, both the work sessions and the voting ones. They learned where to find and digest board agendas. "That is public information. It should be available and seen," Hetrick said. "I've had kids dive into the budget. These people are making decisions that impact them every day."
But as her students covered the news, including recent controversies, school directors became "uncomfortable" with "this level of engagement from students," Hetrick said. "They are not as receptive as they should be to questions from student journalists." In January, the school board approved a new policy covering "inappropriate materials," allowing anyone to challenge library books and have them reviewed.
Panther Press staffers reported that the list of more than 100 books under review included The Absolutely True Diary of a Part-Time Indian by Sherman Alexie, the Captain Underpants series by Dav Pilkey, The Bluest Eye by Toni Morrison, The Kite Runner by Khaled Hosseini, The Hunger Games by Suzanne Collins, The Perks of Being a Wallflower by Stephen Chbosky, To Kill a Mockingbird by Harper Lee, The Glass Castle by Jeannette Walls, What My Mother Doesn't Know by Sonya Sones and Speak by Laurie Halse Anderson.
In February, using information obtained through a Right-to-Know request by a community member, Brennen McWright, Panther Press editor-in-chief, published a spreadsheet with an alphabetical list the books pulled for review, as well as their "rating on Book Looks, age recommendation, and star rating from Common Sense Media, Amazon age rating and any awards the book has won," according to McWright's story.
"I cannot stress enough how important it is that children and teenagers do their own research and form their own opinions on issues," McWright explained in an email. "The benefit of research is twofold: First, it allows a student to educate themselves and enables them to make informed decisions and secondly, it encourages students to engage with the world around them. These are qualities that are a necessity as a journalist, and these activities should be encouraged by the adults that surround our youth, such as parents, teachers and other role models."
In March, Zorian Edwards, multimedia and features editor for Panther Press, did a Zoom interview with Halse Anderson, whose novel Speak was pulled from Penncrest libraries for review but later returned.
"I have many feelings; the most important one is, I'm so frustrated," Halse Anderson told Edwards. "This book has been out since 1999. It has been used in curricula in the United States in grades eight through 12 — it was also taught in colleges since 2001 when it became available in paperback," Edwards reported. "People have written their doctoral thesis on whether using Speak helps students reject rape mythology. You don't have to read all 300 pages of the dissertation; the answer is yes. Speak is used, like all great literature is used, as a way to open conversations. Sexual assault is prevalent in every school in America."
Edwards, who is in his freshman year, will continue next year. "I fell in love with journalism," said Edwards, who is transgender. "What I do is important. I will carry my experiences with me for the rest of my life. I want to make a difference. In a way, I already have. I want to continue to tell the stories that need to be told."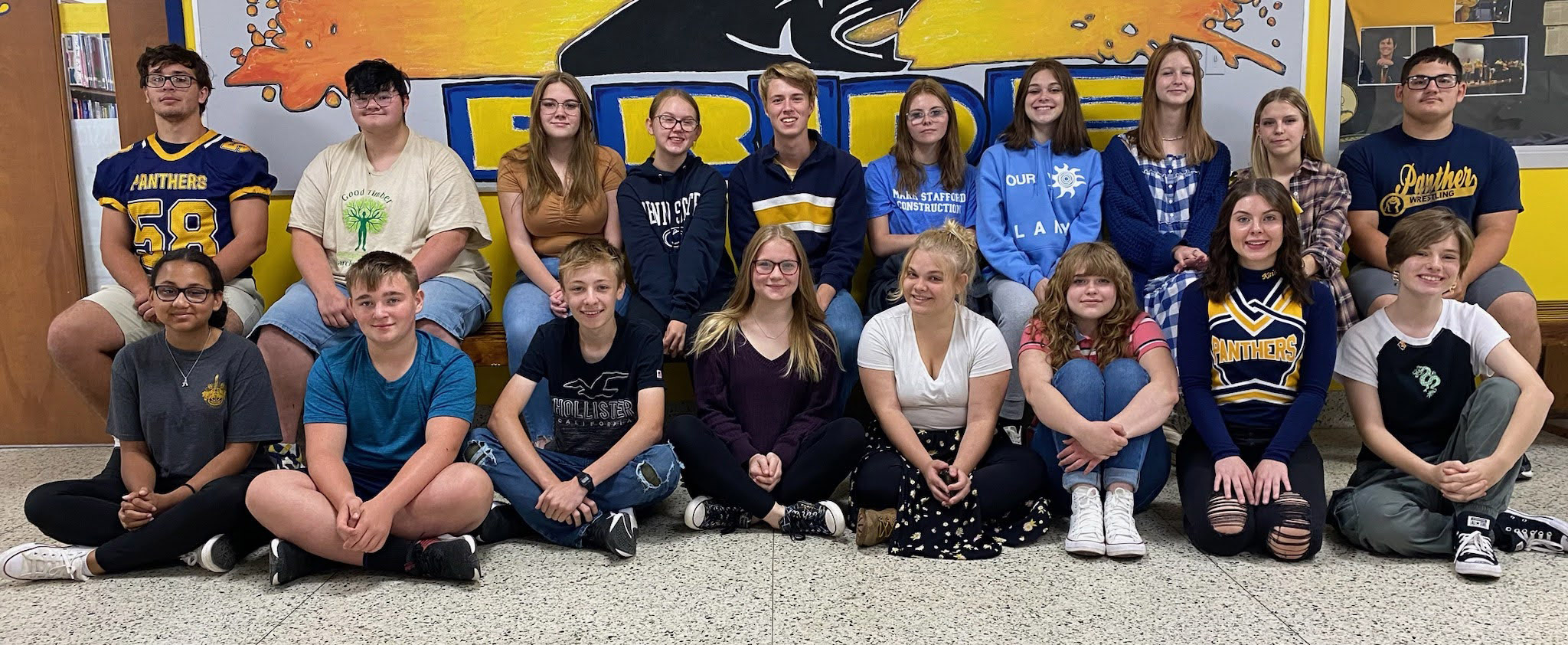 Panther Press staffers pose together for their Volume 17 2022-2023 edition.
But it's getting more difficult for student journalists to tell stories the way they need to be told.
"In many districts, journalism is the sad stepsister in the curriculum that is often sequestered to the back room because administrators are intimidated by the fact that student journalists do know what is going on inside and are reporting the truth for the public to see," Blystone said. "Students reporting on school issues make them watch dogs, more than any parent or community member can."
Blystone continued: "I have worked with student journalists in three school districts across the commonwealth, as well as in three other states, who have stood tall when being intimidated and censored by administrators and bullied by members of the public. This is the sad state we are in today, adults telling students to tell the truth, then chastising them when they do."
Hetrick, who is undergoing mental health treatment for the "threats, intimidation, and harassment" she has faced, is proud that her students continue to produce great journalism during her absence, including organizing a forum for school board candidates before the May primary, where the students "did not softball" any questions. "I am so proud of them," she said. "I'm gone and they're doing it. They have not quit for one second."
Rick Green, Meadville Tribune editor, is impressed by the Panther Press journalists, too. "I think it's instrumental to train the next generation of journalists to be the watchdogs of the community," Green said. Not many high schools offer the level of training available at Saegertown, he said. "Big things can happen in small places. You might not think of rural Crawford County as a training ground for aspiring journalists but it happens," he said.
By the way, it can take a long time for that knowledge to sink in. In her Ginsberg column, Collins wrote that when she returned to Marquette as a guest speaker years after graduation, an elderly Jesuit approached her. "I've been retired for a long time," he said, "but I came tonight to find you and tell you … that you were right and I was wrong."
That aging priest was the former dean, the Rev. Richard Sherburne.
Liz Allen, who recently reconnected with her high school journalism advisor, Sister Josette Marie Goncella, SSJ, can be reached at lizerie@aol.com.
Did you know?
Gannon University stopped print publication of the Gannon Knight in 2020 but students publish news, sports, opinion pieces, and reviews every Friday at gannonknight.com, where you can also find the Under the Arch student podcast.
At Penn West University Edinboro, student media has been in flux due to the pandemic and the "integration of our university with Clarion and California (Pa.)," said Ronald K. Raymond, associate professor in the Department of Communication and Journalism. "Our branch website for campus media, edinboronow.com, was put on hold until further notice and our newspaper staff began contributing to The Clarion Call," he wrote in an email. "The content remained Edinboro focused, but it was being published on clarioncallnews.com," he said.
Edinboro is in the process of updating edinboronow.com and hopes to have it "back in place sometime this fall so that the students writing about the Edinboro campus and community can contribute again to our unified PennWest Edinboro campus media website," he wrote in an email.
Sydney Dietz, who majored in graphic design and integrated media and strategic communications at Mercyhurst, graduated in December and is sad but not surprised that the Merciad, the student newspaper, is on "hiatus."
Still, she is confident that her work as the Merciad's sports editor will help her land a full-time job in sports or communications. She especially enjoyed covering the school's D-1 hockey teams and interviewing players. Seeing people read and react to her stories was almost as rewarding as reporting and editing, she said.