MIAC 2014-2015 Preview
A look at the upcoming season, including performances by Anais Mitchell, Ben Sollee, and Jose James.
September 3, 2014 at 7:30 AM
Venues to see live music and performances in Erie come and go. Sprouting up one by one, some wither, some survive, and others thrive – all for various reasons.
After some pruning and cultivating in 2011 when the performance house on the hill transformed from the Mary D'Angelo Performing Arts Center into an Institute with an academic component, the Mercyhurst Institute for Arts and Culture finds itself in the latter grouping as it continues to blossom.
Under the new leadership of a familiar face – Christine Olivier – MIAC is growing and expanding programming for its 2014-15 Live Performance Series, bringing in acts that will satisfy those looking for classic performances as well as those looking for the  relevant, they're-hot-right-now artists.
That is, both those reveling in the established and familiar goodness of internationally recognized acts like Yamato and those looking to see the next Snarky Puppy can delight in both types of acts this year.
Olivier, an Erie Reader 40-Under-40 alum who was named the programming director in early 2014, came to Erie three years earlier during that transition, when she served under then-director Jamie Grady. With Grady's departure, Olivier stepped up to helm the arts organizations' programming, making this year's lineup her debut solo season.
The season kicks off with William Close & The Earth Harp collective on Sept. 5 and concludes on April 2 with Chris Brubeck's Triple Play – a clear example of the diversity found amongst the thirteen acts spread out over just eight months and four venues.
In order to help you best plan your calendar, here you'll find a lineup of this year's performances featuring: The skinny, why these acts are on the radars of people-in-the-know, and the reasons why they're worth seeing.
William Close & The Earth Harp Collective
09.05 // Mary D'Angelo Performing Arts Center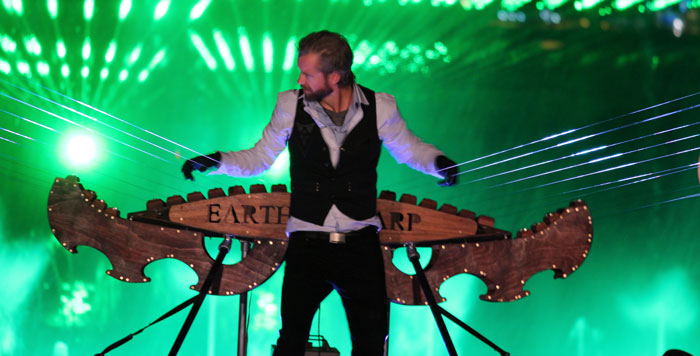 The skinny: Rolling Stone called this act "one of the five coolest things about Coachella," but to be more specific, it's the marriage of music and architecture that's given birth to the world's largest string instrument that produces cello-esque sounds in an avant-garde performance that's truly an aural experience for the audience.
On radars because: This inventor and musician finished third on NBC's America's Got Talent back in 2012, garnering him national acclaim for his inventions and talents.
Worth seeing because: The Mary D'Angelo Performing Arts Center won't just serve as the stage for instruments and performers – it will be the instrument, with harp strings streaming up from the stage to the PAC balcony.
Anais Mitchell
09.30 // Erie Art Museum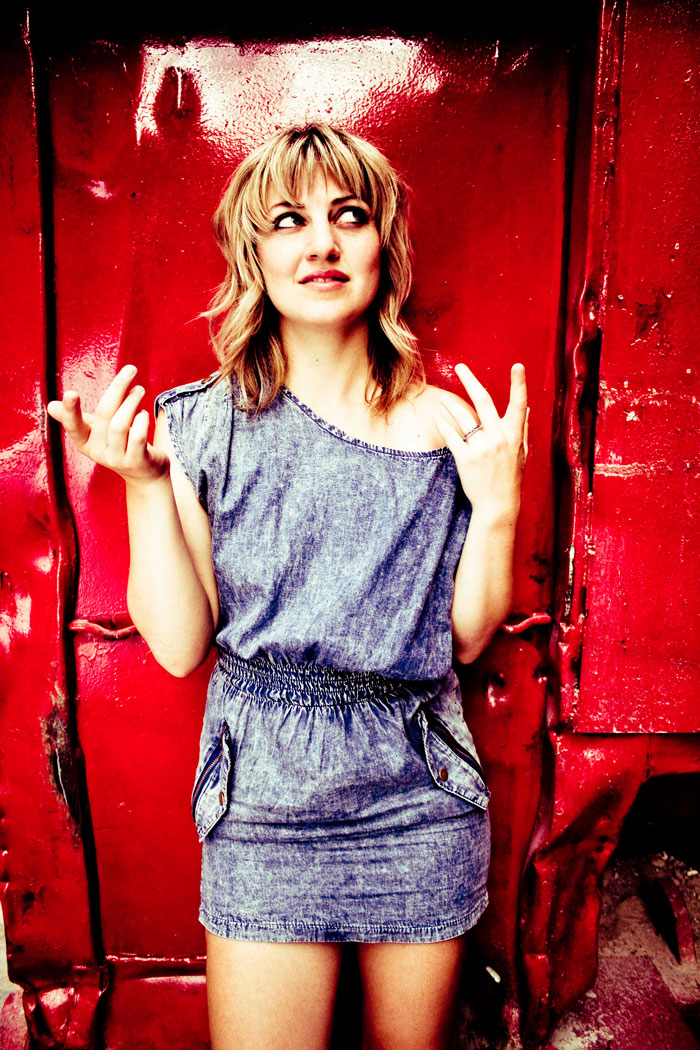 The skinny: Prolific and powerful, this 33-year-old singer-songwriter hails from Montpelier, Vt., but travelled extensively in her youth, to which many credit her vivid and distinct storytelling ability. A true folk artist, she's released six full-length albums, of which it's difficult to pick just one standout, each varying in its approach and delivery but all remaining bold, poignant, and relevant.
On radars because: Aside from being an NPR and Pitchfork darling, she's opened for the likes of Bon Iver and released several records on Buffalo-based Ani DiFranco's Righteous Babe Records label.
Worth seeing because: Her latest effort – Child Ballads – features folk ballads she along with Jefferson Hamer, arranged from a collection by the same name from American folklorist Francis James Child, which results in smart, fun, thoughtful and thought-provoking narratives.
Mercy Killers
10.02 // Taylor Little Theatre
The skinny: Timely and on-point, Mercy Killers is a one-man political-drama that turns one man's American Dream on its head as he wakes to find his wife diagnosed with cancer and without health insurance.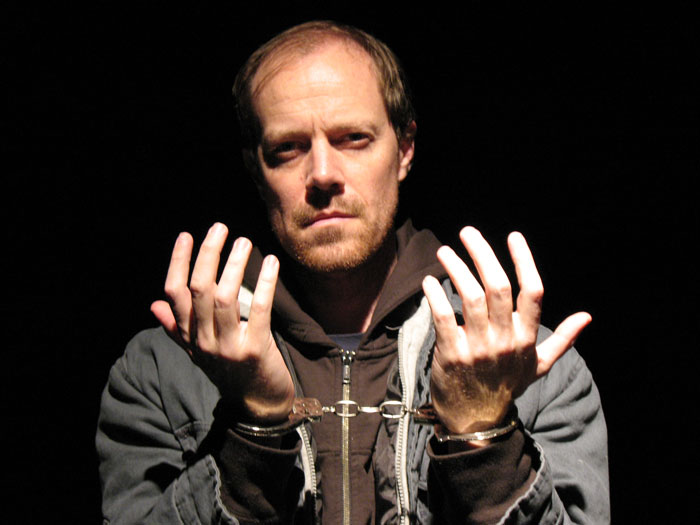 On radars because: Writer/director Michael Milligan – a Julliard product – received national and international accolades after presenting this story in theatrical form at the Edinburgh Fringe Festival, for which it notched the 2013 Fringe First Award.
Worth seeing because: Whether you believe health care is a privilege or a right, this production will leave you with questions about your own politics, the American system, and what the future of our health care system should be. To boot, Mulligan will be joined by a panel of public health officials after the presentation to potentially provide some answers to those lingering questions.
The Official Blues Brothers Revue
10.22 // Mary D'Angelo Performing Arts Center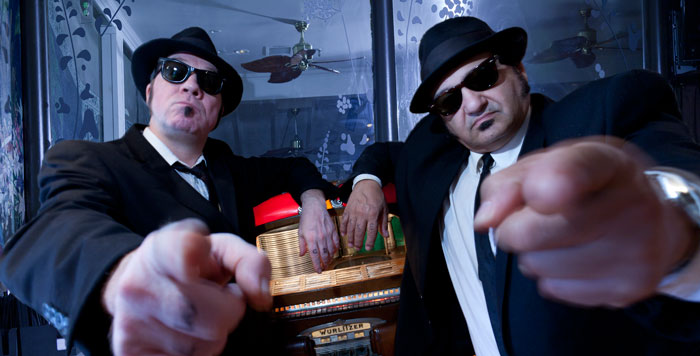 The skinny: Wayne Catania and Kieron Lafferty team up to don the hats and the sunglasses and rock the essence of swagger and American Cool into two of our favorite bluesmen: Jake and Elwood Blues.
On radars because: Unless your address directs people to a dwelling situated beneath a solid, mineral-based structure, you're familiar with John Landis' hallmark 1980 flick starring John Belushi and Dan Akyroyd, which followed numerous SNL sketches years earlier. This is that – live and on stage.
Worth seeing because: There's only one Blues Brothers duo sanctioned by Dan Akyroyd and Judith Belushi – and this, ladies and gentlemen, is it. And they really know how to rock "Soul Man."
Samite
11.14 // Walker Recital Hall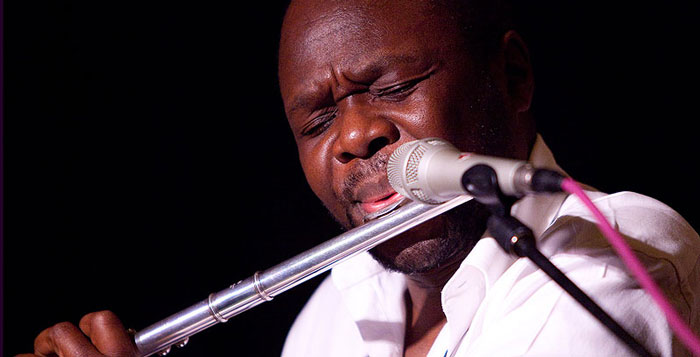 The skinny: When he was just twelve years old, Uganda-native Samite – after years of playing traditional African flutes – curled his fingers around and pressed his lips to a western-style flute. Quickly he became a national phenom in his home country, but political unrest forced him to immigrate to Kenya in 1982 and later the United States in '87, where he brought his musical genius.
On radars because: Samite established Musicians for World Harmony, a nonprofit organization that introduces music to African orphans.
Worth seeing because: Samite's performance concludes a weeklong artist-in-residency program in Erie. And he'll be teaming up with Northwest Pennsylvania's own Grammy Award-winning David Cullen.
Ben Sollee
11.20 // Mary D'Angelo Performing Arts Center 
On Stage performance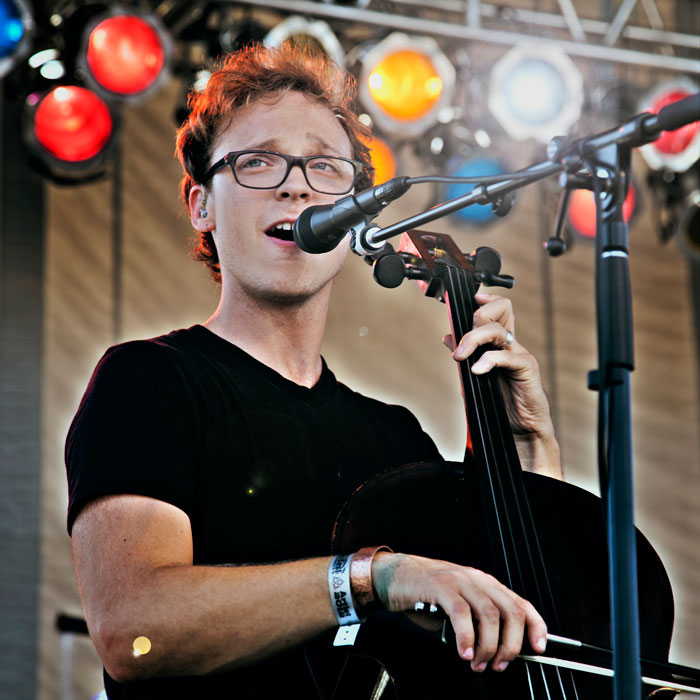 The skinny: Not to say that the cello isn't cool, but the thirty-year-old composer really makes the cello cool. It's probably because genre-bending and genre-stretching are his thing, easily navigating from the world of classical music to bluegrass and folk to jazz and R&B.
On radars because: An NPR darling – Morning Edition, All Things Considered, and Mountain Stage have all lauded him – the Lexington, Ky.-native teamed up with Casey Driessen, Bela Fleck, and Abigail Washburng in 2005 to form The Sparrow Quartet. After the group's 2008 debut release, he released his first solo EP and first LP and hasn't slowed down since, headlining solo tours and collaborating with the likes of bands like My Morning Jacket.
Worth seeing because: Off the heels of his breakout performance at Carnegie Hall, Sollee will perform on stage with the audience – as in, the audience will be seated right along side of him, making for the most intimate of MIAC performances this year.
Moya Brennan Christmas
12.12 // Mary D'Angelo Performing Arts Center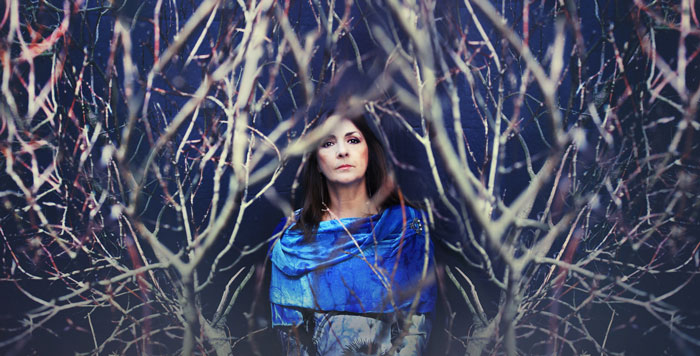 The skinny: The Irish folk singer harkens back to traditional Irish music while exploring contemporary forms, giving her performances a fresh yet educated and influential feel that have landed her gigs in front of Presidents and Popes alike.
On radars because: This Emmy Award winner's also garnered Grammy Award nominations. She's the vocal powerhouse behind Clannad, which has also featured fellow singer – and sister – Enya.
Worth seeing because: Her live performances – particularly her solo efforts – are an engaging blend of visual and aural exhibition.
Diavolo
01.13 // Mary D'Angelo Performing Arts Center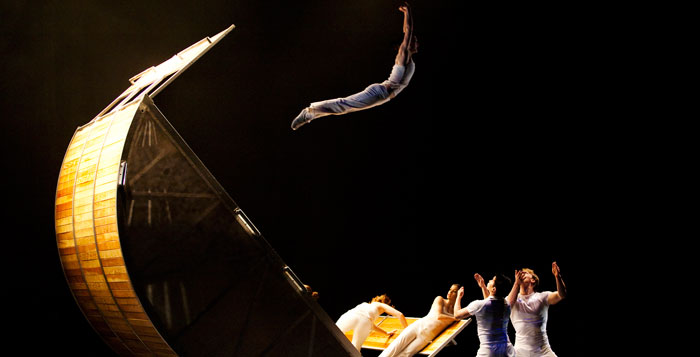 The skinny: Renowned choreographer Jacques Heim sets architecture into motion with two distinctly different performances: Trajectorie and Fluid Infinities in one night.
On radars because: This performance has a very Cirque du Soleil-feel for good reason: Heim worked with the troupe known for not-of-this-Earth blending of acrobatics, exotic costuming, and fairytale-inspired storytelling before founding Diavolo in 1992.
Worth seeing because: Trajectorie captures the undulation of the human experience awash in a sea of emotion charted for destiny and destination, while Fluid Infinities probes perseverance of life beyond space and time. Both feature marvelous aerobatics that augment – not distract – from Heim's rich storytelling.
José James
01.23 // Mary D'Angelo Performing Arts Center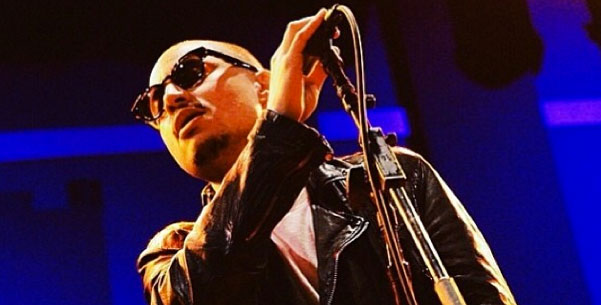 The skinny: The NYC-based vocalist isn't bound by genre, flowing seamlessly from jazz to hip-hop to neo soul. A product of the prestigious New School for Jazz and Contemporary Music, James expands on a rich history of soul-based artists while experimenting with genre-mixing to create a product all his own.
On radars because: From performances on The Late Show with David Letterman to heavy praise from NPR Music, James' innovative stylings make him a distinct yet accessible artist who demonstrates both originality and respect to those who influence him.
Worth seeing because: An artist on the rise, Jose James draws comparisons to the likes of Miguel but perhaps more of-the-moment, and fittingly, Frank Ocean. For his PAC performance, James will pay homage to Billie Holiday
The Intergalactic Nemesis: Target Earth – A Live Action Graphic Novel
02.04 // Mary D'Angelo Performing Arts Center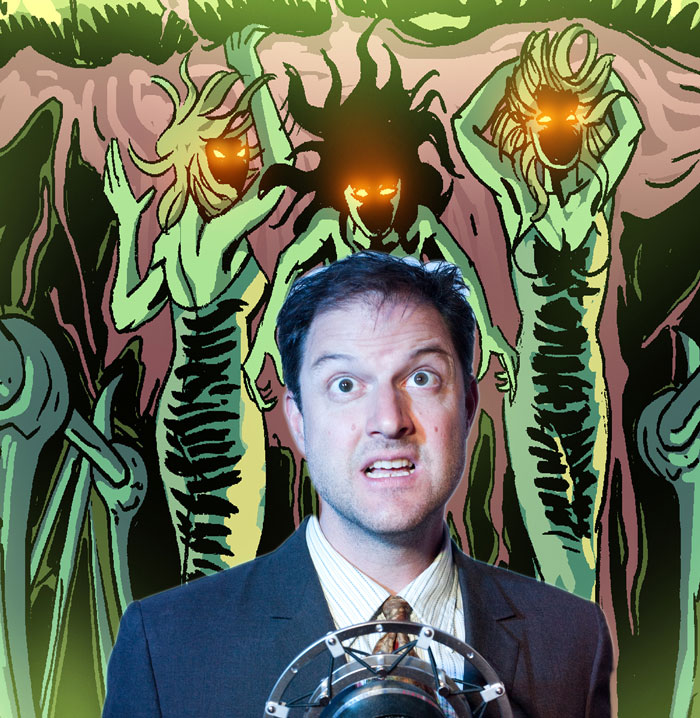 The skinny: It's as if a radio-play met a comic book for drinks in a theater and together they spawned an entirely new art form via an all-ages adventure story – behold: The live-action graphic novel. More than a thousand full-color, hi-res comic book panels capture the sci-fi story on a movie screen while actors voice all of the characters, special effects pipe in via a Foley artist, and a cinematic score accompanies the plot on piano.
On radars because: From the Wall Street Journal to PBS to The New York Post to dozens of other media outlets, this new show has just about everyone who's anyone in showbiz talking.
Worth seeing because: Odds are, you haven't seen anything like this before. Ever.
Martha Graham Dance Company
03.04 // Mary D'Angelo Performing Arts Center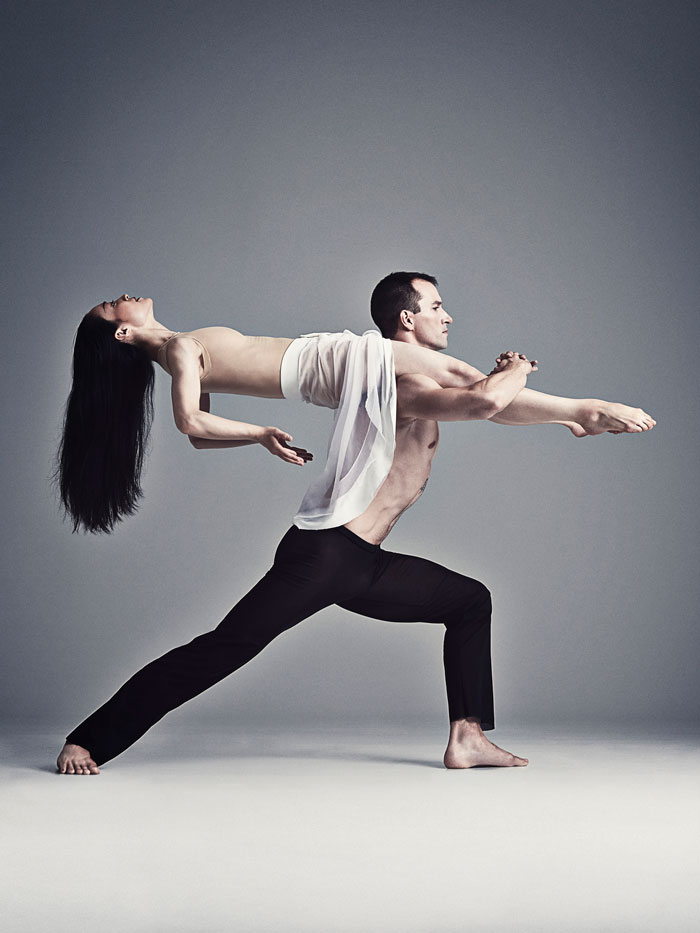 The skinny:  The renowned dance company that bears the name of a woman synonymous with the art of dance will present a ne
w work by Andonis Foniadaki revolving around the myth of Narcissus and Echo with beautiful storytelling through movement, demonstrating just what gifted, athletic, and creative bodies can do and tell.
On radars because: The Martha Graham Dance Company is the oldest – and arguably the most celebrated – modern dance company in America.
Worth seeing because: This new work doesn't just hash out the same old story, but instead breathes a contemporary relevance into it to create Myth and Transformation – which also features an original score by longtime Foniadakis' collaborator Julien Tarride.
Project Trio
03.28 // Walker Recital Hall
The skinny: The Brooklyn-based trio of flautist Greg Pattillo, cellist Eric Stephenson, and double-bassist Peter Seymour leaves no gap between classical music, jazz, hip-hop, rock 'n' roll, Americana, and bluegrass unfilled and unexplored, and after a week-long artists-in-residence program here, they're performing two concerts – one in the afternoon, and one in the evening.
On radars because: Both the art of combining the elements of cello and bass with a beatboxing flautist and a knack for social media groundswell have resulted in this act tallying up more than 70 million views on YouTube and more than 70,000 subscribers to their channel, FreedomWorksFilms, making them one of the most viewed chamber music ensembles on the Internet.
Worth seeing because: The fusion of classical music with hip-hop has never been cooler than with a beatboxing flautist and a cello and double bass.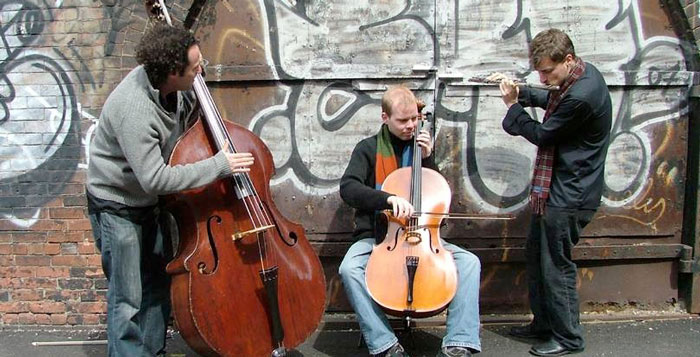 Chris Brubeck's Triple Play
04.02 // Mary D'Angelo Performing Arts Center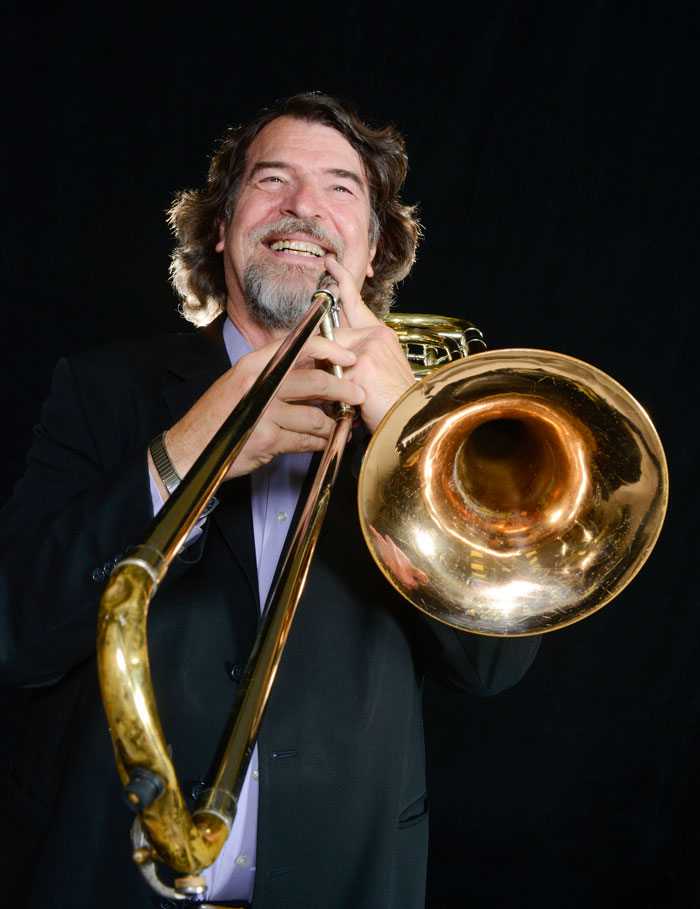 The skinny: Prominent American musician and composer Chris Brubeck plays a lot. But in Erie, he'll bring his Triple Play, which features a swinging Louisiana style, where classical jazz, blues, and funk flirt with contemporary interpretation and the vibes interplay in a fusion delight.
On radars because: Chris's father, the legendary jazz pianist and composer Dave Brubeck, took to the PAC stage six years ago. Chris joined his father in '72 – along with brothers Darius and Daniel – to form The New Brubeck Quartet. Later, he and his brothers charted out sans dad with The Brubeck Brothers Quartet.
Worth seeing because: The Chicago Tribune calls Chris "a 21st Century Leonard Bernstein," which is high – and accurate – praise, making this a performance for those digging the classics while wanting to dabble in the future.
Ben Speggen can be contacted at bSpeggen@ErieReader.com, and you can follow him on Twitter @ERBenSpeggen.