Primal Instincts and Parks
Erieites look for solace in local green spaces
April 14, 2020 at 1:02 PM
Coronavirus is forcing humanity to shed layers of societal and capitalistic needs, though the fulfillment of such is usually a main preoccupation in the lives of Americans. Now instead — as schools, workplaces and public spaces are closed — we are seeking out green spaces for something to spend our new-found time on, and to feel the solace of nature that has long been lyricised in literature. 
"The Nature Lover is not looking for mere facts but for meanings, for something he can translate into terms of his own life," wrote John Burroughs, an American naturalist and nature essayist. 
Erie is not exempt. It is a city of people, just like every other city, who are searching for serenity and peace — and maybe, if they're lucky, something more — that nature provides. 
What is it about the over 50 parks and green spaces in Erie that draws people? Are more people coming now (that outdoor exercise is one of the few things to do) than ever before? And if so, are there consequences to these actions, or will we see the lasting effects for years to come?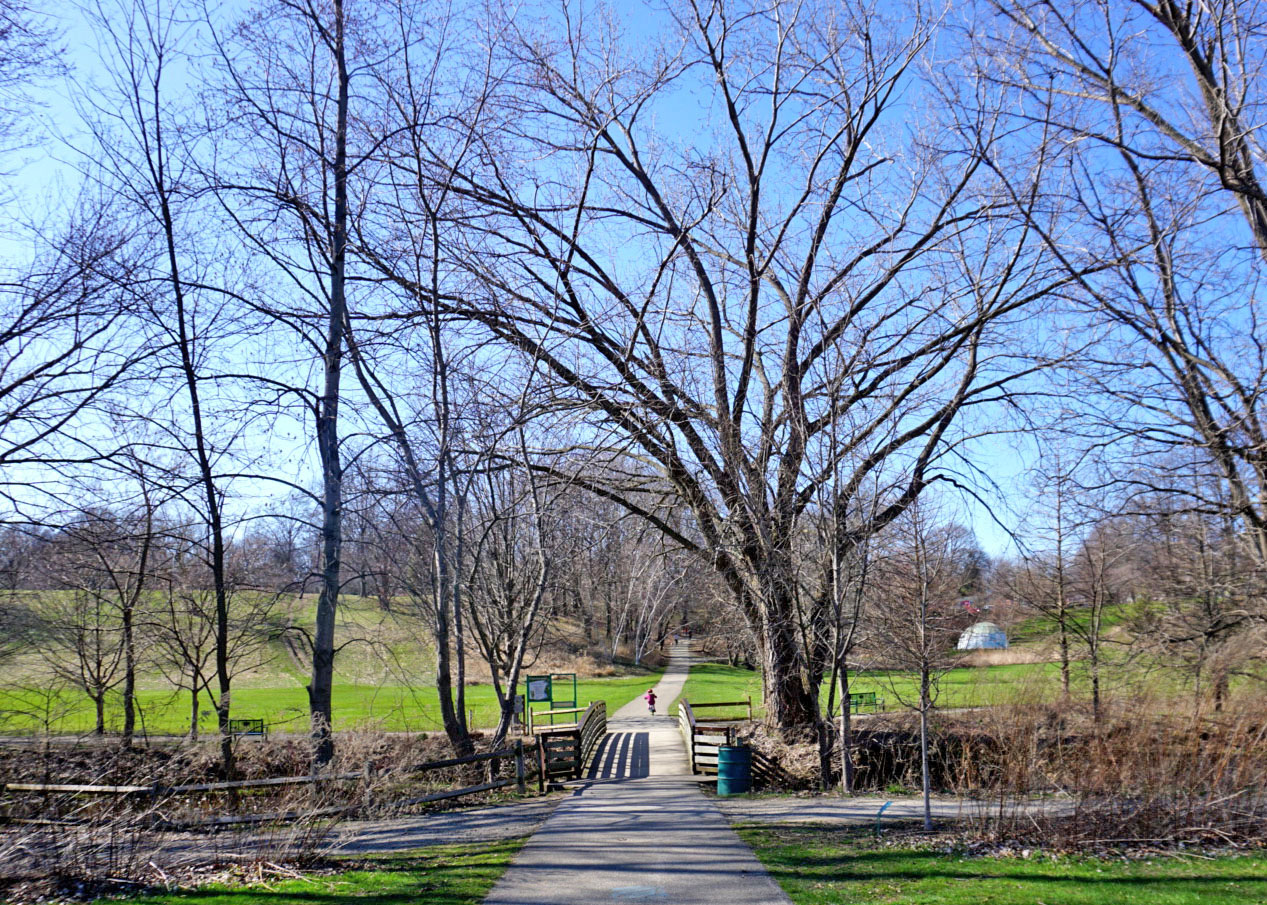 People in the Parks
Through careful analysis and conversations with state and local officials, it was determined that there was no way to accurately predict if more people were visiting local parks during this lockdown than before. In Erie County, parks are owned and operated by the municipality in which they are located. Meaning there is a different office recording (or not) foot traffic in the parks, and to compare them would be nearly impossible, Joy Fronzoli of the Erie County Planning Commission said. 
The best way to tell if the park near your house is seeing more visitors would be to go and take a walk yourself. 
Are you someone that visits the park regularly, but suddenly you're seeing neighbors that you've never seen before? Or are you one of the many whose schedule now allows for more time outdoors than previously? Look for the other walkers, hikers, bikers who may be looking around in awe at the beauty as you are. 
For state parks, it is a different story. 
Throughout Pennsylvania, there are 121 state parks. "And what we're seeing — not to just at Presque Isle — but at other State Parks, (especially) those close to large population areas," Press Secretary for the Department of Conservation and Natural Resources (DCNR) Terry Brady told Erie Reader. "We're seeing a tremendous visitation rate. Some are higher than others, but … [it] brings with it certain problems."
Increased foot traffic means more people coming into the park, bringing food and therefore trash. It also creates parking problems, Terry said.
Then there's the issue of social distancing.
"You have officials advocating not traveling long distances, and people advocating not traveling at all. But that said," Brady continued, "we know that people are seeking out the refuge and the solitude of open spaces."
Across the state the DCNR is seeing a trend. These people are congregating in common areas of the parks; near parking lots, on popular trails, and at picnic areas. 
The DCNR advises that if you're hankering for a trip to a state park this spring, refrain from traveling outside of your county. And should you visit your local state park, try to explore less-visited areas. 
"So I'm not a health professional," Brady said, "but there's a problem (with) people congregating regardless of where they're congregating."
The Love of Parks in Our Bones
Perhaps it's our lonesomeness spurred by nearly three weeks of self-isolation that is causing people to congregate at parks. Or maybe it's just human nature. 
Either way, it seems human nature in its most primal forms is at the center of our love of parks. 
"Well, I think as humans — despite what we want to think — we're a part of nature. We're not separate from nature," said Sarah Peelman (nee Galloway). She is the Arborist and Sustainability Coordinator for the City of Erie. "So we build houses to create shelter, and we have to go to places to work because of our society, and make money and buy the things we need. But really, we're still a part of nature. No matter what we need, somewhere it has to grow. There's still farmers that are growing their food. There's still nurseries that are growing. The trees — whether it's for lumber or for paper or for apples and pears and peaches — we still rely on them because we're still a part of nature. And so I think we crave that."
Researchers at the University of Illinois College of Agricultural, Consumer and Environmental Sciences (ACES) observed that "people need trees. They need to see leaves from their windows, to sit in green spaces, and to play in the shade. Trees draw people out from behind walls of brick and glass, and in coming together, neighbors forge relationships, nurture children, and build a sense of community." 
The 1999 study noted: "The inner city has all the ingredients of an incredibly mentally fatiguing environment. The crowding, noise, violence, and other factors just drain a person."
"And trees are important because they help," these things Peelman said. "They help keep the temperature of the city cooler; They help absorb stormwater runoff; They make your neighborhoods more beautiful; They help clean the air, they absorb noise and dust; They just do all kinds of wonderful things for our community."
The ACES study concludes that, "When the research team made 100 observations of outdoor common spaces in housing developments, they found adults and children gathered more often in spaces with trees, compared to spaces with no trees. By drawing people out of their homes, the trees created an opportunity for neighbors to interact and develop community relationships … noting that other studies have shown strong neighborhood ties contribute to better physical and mental health."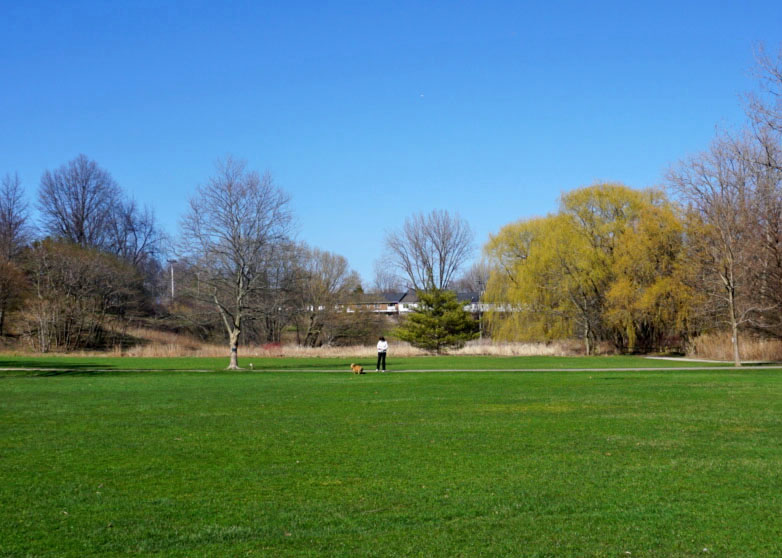 Parks Post-COVID
Parks in the region are closed until further notice. For municipal, private and state parks, this means that the facilities — such as play structures, restrooms and educational facilities — are closed, though trails and public areas remain open for use. 
"We also posted basketball courts, but many of our parks are still open," Peelman said. "Most of them have sidewalks … and some of our parks have trails. A lot of our wooded parks have undeveloped trails and McClelland Park has a half a mile of fully ADA-accessible trails that go down in the woods and through the wetlands, through meadow areas and so on … And our dog park is still open, the gate to the driveway is locked, but you're still allowed to walk in to use that facility."
"The Bureau of State Parks and Bureau of Forestry are all already looking ahead," Brady told Erie Reader. "There were some seasonal workers who are being called back … There are going to be distinct obstacles, if you will, in reopening state parks facilities that have been closed for what's going on weeks now. So yes, there's definitely a mindset of, 'Let's start looking beyond this crisis to how we get them open.'"
Hannah McDonald can be found working from home like many of you and looking forward to her solitary afternoon walk from the moment she wakes up. She is also on Twitter and can be reached at hmcdonald@eriereader.com.