Pure Potential: Matthew McManus
With talent this good, Matthew McManus can't be kept a musical secret.
April 20, 2011 at 12:08 AM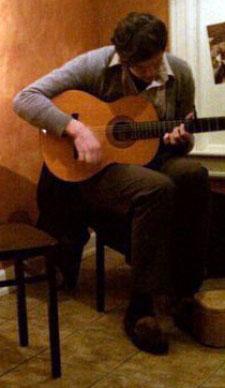 Pure Potential: Matthew McManus
There is a new face on the Erie music scene that is too good to be kept a secret. Matthew McManus doesn't have an album out or any high profile gigs to promote but his talent is worthy of note even at this early stage.
The 25-year old has a unique musical style he expresses on guitar and banjo, but it is his songwriting that deserves all the early and well-deserved praise.
"Everything I write is inspired by something," the tall and lanky McManus said. "I write about real things that happen. When I was younger I remember trying to write to the essence of songs, trying to sort of make things sound poetic and sort of sound how lyrics should sound. Really just forcing it out. Now it is just a comfortable place where I can sort of express how I feel about things."
His ability to express his thoughts and feelings through lyrics is a gift. Pure and unadulterated. Perhaps someday it will turn to craft, but for now it seems the muses are content to give freely of their inspiration to the songwriter.
McManus has been playing guitar since the age of 13 and picked up the banjo a couple years ago to augment his musical quiver.
"First thing I played was the piano," he said. "I started teaching myself in elementary school. I would fake sick and stay home and play keyboard. I'd learn songs and start recognizing patterns learn tonalities."
He came to his musical tastes honestly, like any wholesome American boy.
"My dad is a huge huge Motown fan," he said. "So I was always listening to Motown music basically. Beyond that as a kid I remember dancing around in my living room to Boyz II Men and Ace of Base.
"When I first started playing guitar the only other musicians around had a thing going where they were basically covering a bunch of Metallica songs," he said. "So I bought a guitar and a big amp and I was like 'yeah let me play with you guys.' So that's where I started learning those songs and all the solos and stuff. Learning really technical Metal stuff. Outside of that I was into Dashboard Confessional that got me into playing and writing acoustic solo stuff. Then I got into Dylan. "
In describing his songwriting, McManus almost makes it seem too effortless. Seemingly undercutting his own talent.
"Right now I write," the musician began saying nervously clicking his thumbnail against his finger. "I get really uncomfortable sometimes when I write with other people. Not in the sense that I don't like what they're doing but in the sense of I'm more nervous about what they're thinking. It's like… nerves get to me. I'd really like to play with other people. It's hard to find other people that I'm comfortable with and also can hold their own musically."
It is a fault of many artists with talent: never thinking you are good enough. For McManus his nervous nature seems to be in direct correlation to his immense talent. He doesn't offer a lot of banter between songs and is satisfied to let his music speak for him.
"I don't really write songs for an audience," he freely admitted. "As far as the musical aspect I don't want to plateau. Lyrically I guess I write in a way of creating a journal, in the sense of when I go back to certain things… like how you can feel like its summer when it's winter if something reminds you of that."
There are benefits to his shy, self-doubting nature. He is always pushing himself to try more and expand his musical gifts.
"Every song that I write, the way I write my music is I find something that I can't play," he said. "I mess around and find something that's weird but my fingers can't really do it. But being that I can't play it, that's how I keep myself going, keep learning keep advancing my abilities. I feel like every new song I write is better than the other ones, or I like it better than the other ones."
McManus made his main stage debut at the recent Arts N Drafts Festival but has mainly been playing open mic nights to unfurl his lyrics into the ether. This will not last long. He is too good to be shuffled into open mic decks without getting a break. He is rather lucky to be breaking into the music scene at this point. There is a current musical community willing to foster such a fantastic songwriter who before may have been ignored or given up due to lack of opportunity. This is a perfect situation for the withdrawn McManus, who could just as easily be overwhelmed by quick, yet deserved success, and fall into temptation and not recover.
In the present everything is wine and roses. He is an incredible lyricist with matching musical ability at the beginning of a very promising vocation. McManus should be pursued and sought out for his abilities because chances are he won't freely admit how good he is.
"I don't really want to plateau with learning," he said. "I just want to be able to keep pushing things. Right now I feel like I have a lot of space to improve with words and music."
Michael Bennett can be reached at mbennett@eriereader.com