Purrista Cat Café Opens in Downtown Erie
Founder Dena Rupp teams up with Because You Care to launch an Erie first
March 8, 2022 at 11:14 AM
Erie's mew-est café has much more to offer than just their coffee, tea, and delicious snacks. Purrista Cat Café officially opened their doors at 30 W. Eighth St. on Valentine's Day. Since then, they've been leaving visitors feline good after supporting and playing with adorable, adoptable cats.
Walking into the modern cat-themed café, you may not notice anything different at first. But as you sit down to enjoy your purchases and glance across the room, you'll see a large glass partition. Peep through and you'll discover an entirely new room with other patrons playing with lovable cats and kittens — all available for adoption. The cat lounge is designed especially for their comfort with a large wooden cat tree in the center and plenty of spaces for jumping, lounging, and playing.
Erie's first cat café offers a relaxing social environment serving fine espressos, specialty coffees, flavorful teas, and tasty treats while also allowing visitors to interact with the cats in a clean, stress-free, relaxing environment.
Cat cafés are a concept that started in Asia, but are now quite popular in America, including in the nearby cities of Pittsburgh, Cleveland, and Buffalo. Owner and Erie native Dena Rupp says she is thankful she has received so much paw-sitive feedback and support from the Erie community.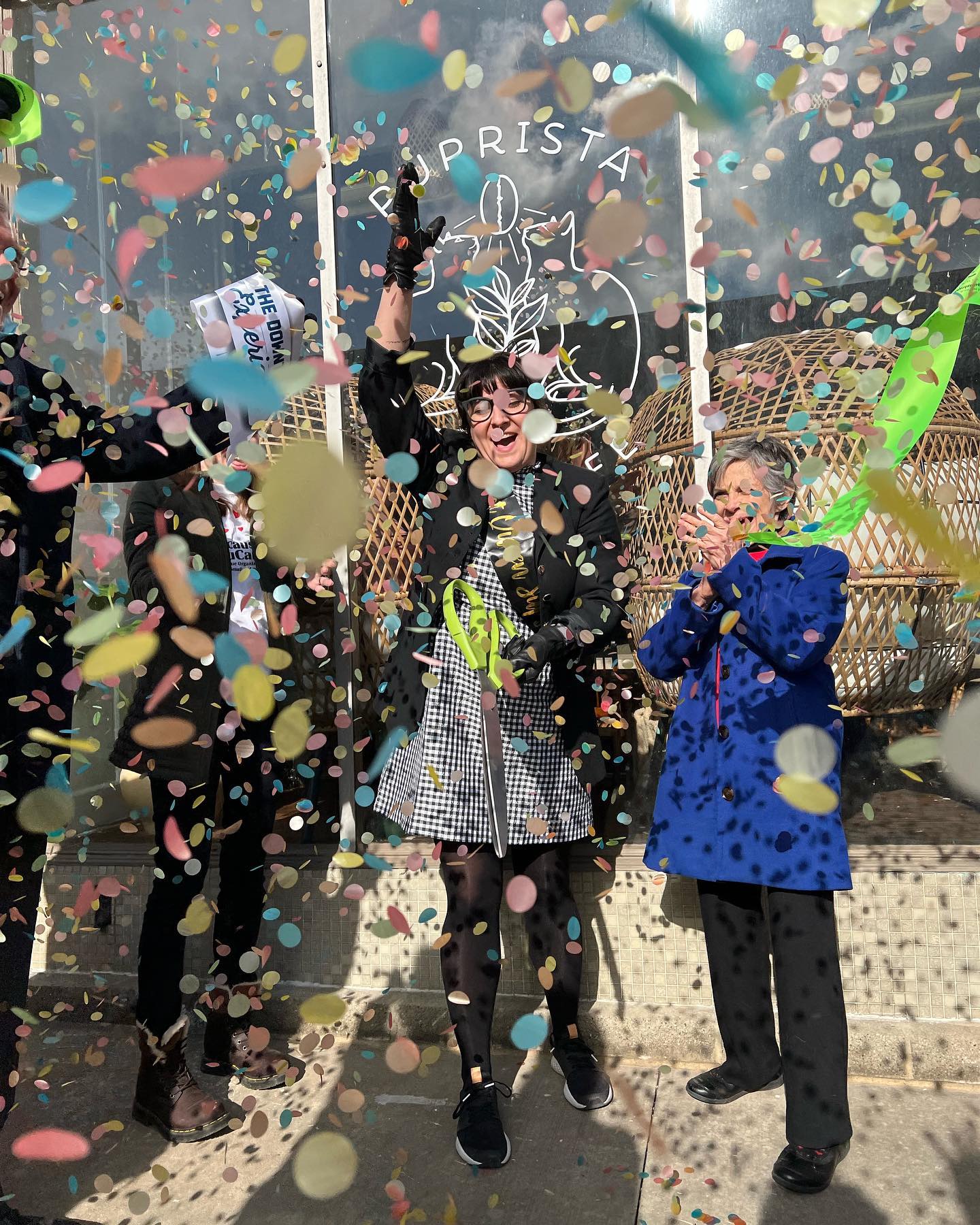 "I have a thing for a good coffee shop atmosphere and a deep love for animals. Traveling and exploring the last 10 years of my life has shown me that it can be done and it works very well. I think this space will bring a lot of education as well as focusing on animal therapy and how our mental health is very important. Animals can help with that. Especially during the difficult times with COVID and other hardships in our lives," Rupp said.
Purrista Cat Café consists of two areas separated by a glass partition, allowing patrons to choose their interaction levels with the furry friends. "As of right now, we keep 10 cats in the lounge. So far, three cat adoptions have been approved and went home with their furever families this past Sunday, on Adoption Day. We also have three more applications pending for this upcoming week," said Rupp. The adoptions are handled in partnership with Because You Care. All BYC adoption applications, standards, and procedures apply to the cats in residence at the café. Applications continue to be screened by the Cat Center manager, and all adoption fees are payable directly to BYC. Reservations to the cat lounge are suggested by visiting purristacatcafe.com. A fee of $15 for 50 minutes with the cats helps to provide for their care. Visits to this area are somewhat limited so as to not overwhelm the cats but, you can always watch their antics through the glass and visit the café side without a reservation.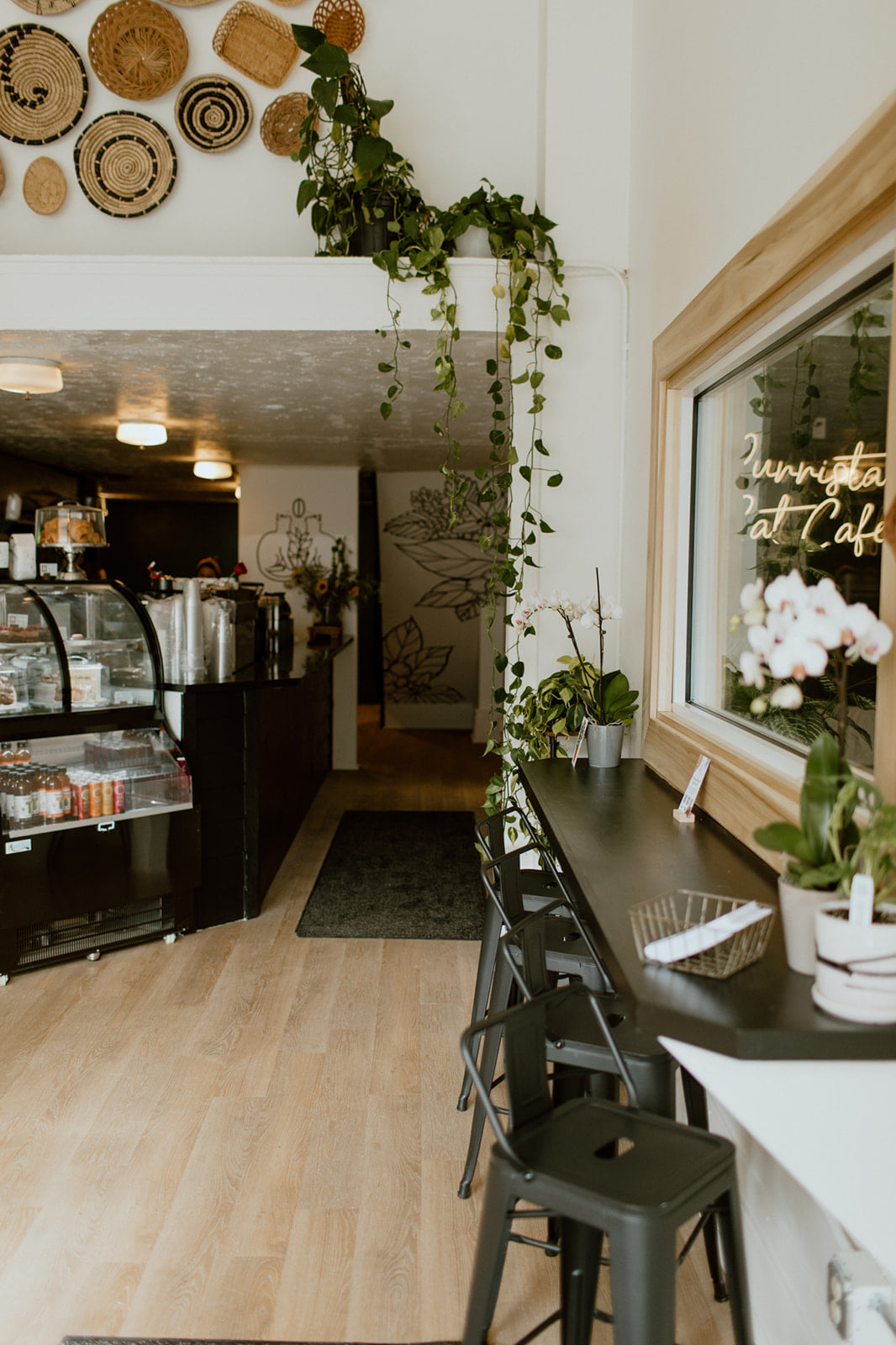 Besides the felines, the snacks offered at the cafe have been extremely popular. "I cannot keep up with the local baked goods from Sundae, Herb & Honey, Crumb Cake, and Flower Kitchen. Their items are flying off the shelves. They are all from or located around the Erie area. Two of them share store spaces with other businesses and the other two work out of their homes. Everyone has a unique touch to their goods. Vegan, traditional, floral & fruit infused, and puff pastry. It is all equally delicious, however," said Rupp. There is also a supply of Purrista merchandise for sale including coffee mugs and clothing that is quickly finding homes with visitors.
Rupp says she is excited for the opportunities and future of the cafe within the community. "I can't wait to see what the future brings with all the cat adoptions and local partnerships. This business model was focused on collaborations and helping others from the beginning. I am so happy to see it already thriving," said Rupp.
Purrista Cat Café, 30 W. Eighth St. (814) 520-8494, is open Wednesday through Sunday. For specific hours, more information, or to reserve space in the cat lounge visit purristacatcafe.com.
Amy VanScoter shares her home with two cats, Rumi and Mirabai, and has fostered kittens in the past for Because You Care and Anna Shelter. She can be reached at avanscoter@gmail.com.
Photos by Michaela Kessler Photography