Putting ERIE Back in Groceries: Frankie and May - Local Focus
Locavores rejoice! Find out all about the diverse and delicious board of fare at Frankie & May in Vaillancourt's cover story - hint: there's a surprise announcement at the end!
November 14, 2012 at 10:20 AM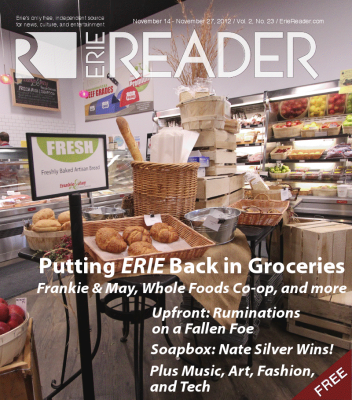 On a recent Sunday, seven of us huddled around a large, semi-circular granite altar of sorts. We donned the appropriate traditional garments and took our pre-ordained places, which were already set with ceremonial spirits, mats of slim bamboo canes, and knives – big, shiny ones, and small, pointy ones.
A number of petite metal bowls atop the gray rock block held diverse offerings – in some, simple vegetables or raw fish. In others, a magical green paste said to bring tears to the unwise. Scattered amongst the bowls were pairs of tiny sticks, also of bamboo, that tapered slightly at their ends.
The high priestess approached, heavily tattooed and pierced right through the lower lip with a silver-colored ring. She took her place of honor behind the marbled slab and began to conjure. To impart. To enrich.
This high priestess, Ashley Sayre de Rivas [profiled elsewhere in this issue] wasn't leading us through some sort of neo-pagan ritual; the aprons were to protect our clothes, the spirits were of the fermented rice variety, the bamboo mats were for the rolling of sushi, and the knives – big, shiny, small and pointy – were for the cutting thereof. Ashley – this high priestess – was teaching us to make sushi as we sat in the demonstration kitchen at Frankie & May Fresh Grocer.
Nestled deep into the corner of an attractive, L-shaped strip mall behind the CVS on 12th and Peninsula, it's easily overlooked. Like a skittish deer, it appears to be peeking out from the dark of the deep forest, shielded by rich, brownish-red brick columns and hunter-green awnings.
But Erie's ritualistic epicureans know exactly where it is; aside from Frankie & May's well-known and well-attended cooking classes, their café and its unique grocery offerings have been drawing local gourmets with an almost-religious fervor.
-
The Bible recounts the first historical instance of a human eating – and it didn't go so well.
Adam's foray into the forbidden had a number of implications, not the least of which has been humanity's conflicted relationship with food. Today, humanity has moved further from that garden than ever before, forced instead to inhabit a culinary wilderness that is both damaging to the body and to the environment. In much of the world, cubicle lunches and dashboard dinners have reduced both our food knowledge and our food preparation skills to sinfully low levels.
But like no other grocer in Erie before it, Frankie & May Fresh Grocer found a way to address all of these issues with a unique business plan most often found in bigger, more diverse cities.
"We're offering very high quality ingredients for a fair price," said Amy Cuzzola-Kern, founder of Frankie & May. "I think that makes us different."
She speaks with an air of unlikely gastronomic authority. Born and raised in Erie, Cuzzola-Kern attended the University of Michigan, the University of Pittsburgh, and then Case Western Reserve where she earned a Ph.D. in Social Welfare Policy; she then spent 20 years working in the nonprofit and philanthropic communities, including a stint as former Congresswoman Kathy Dahlkemper's district director.
While in Congress, Dahlkemper served on the United States House Committee on Agriculture, which is often thought of as one of the least influential, least-noticed committee assignments in existence; certainly not as sexy as Appropriations or Foreign Affairs. However, 'ag' is where scads of first-term representatives often start their careers, usually to their great chagrin. Not so with Dahlkemper.
"She wanted to be on the 'ag' committee," Cuzzola-Kern said. "Agriculture is Pennsylvania's number one industry. And in western Pennsylvania, it's a huge industry."
While working for Dahlkemper, Amy's focus necessarily shifted to local agriculture. "I did travel around the district quite a bit," she said. "I saw fairly quickly that we grow a lot of food in western Pa., and I became very quickly interested in improving access to the food that's grown locally."
She's talking about the "locavore" movement, which was born of the sustainability crusade; locavores are people who strive to eat food that is produced locally – often within a hundred miles or less. Although Amy's experience with local and regional producers of everything from grain to beef to ice cream led her to believe that she could expose consumers to artisan-quality local and regional products at competitive prices, another serendipitous connection sealed the deal.
"My husband's family business is the C.A. Curtze Company," she said. "It's a fifth-generation family business started in the 1800s by his great-great grandfather. They're a wholesale broadline distributor and a very competitive company regionally and nationally. I recognize the value they bring to the community and the quality food products they have, and I thought, well, you know, we could kind of form a partnership." While not a formal partnership, relations between Frankie & May and Curtze are close, on a number of levels.
With all the players in place, Frankie & May Fresh Grocer – named after the grandmothers of the co-founders – opened in January 2012. Amy founded the business with a partner but is now operating as sole proprietor – a local woman, operating a local business, buying local products from local vendors, and selling them to local people.
Grocers with a local focus, like Frankie & May, cobble together dozens of local and regional brands from mom-and-pop-style shops rather than run with the ubiquitous store-brand idolatry practiced by most major chains.
"We have about five core vendors, and another complement of 35 other vendors," said Amy. "I would say 80 percent of what we have in the store is derived from local vendors."
Amy elaborated as we toured the store. "Milky Way Meadows is a local Amish farmer; he's got great cheese," Amy said, pointing at the cheese case. "The majority of cheeses that you see are all artisan Pennsylvania cheeses. The Citterio brand of products is a Pennsylvania company. The corned beef, roast turkey, roast beef, the ham – it's cooked here. Bread is baked here, every day."
She went on to authoritatively rattle off an impressive and extensive list of local products from places like Edinboro (Beelzebub's Salsa), Meadville (Marcie's Homemade Ice Cream), and Saxonburg (Franklin Farms).
One of the obvious benefits of all such locavoraciousness is exactly that – local products made or handled by local people bring – and keep – local dollars local.
The implications of this particular economic activity cannot be overstated. According to Sustainable Connections, a nonprofit based in Bellingham, Wash., "…Studies have shown that when you buy from an independent, locally-owned business, rather than a nationally-owned businesses, significantly more of your money is used to make purchases from other local businesses, service providers and farms – continuing to strengthen the economic base of the community."
Another not-so-obvious benefit of this bioregionalism is the reduction of energy required for the production and/or the transportation of food from farm to family; on a global scale, the impact of a greater reliance on local cuisine could have an astonishing impact on the carbon footprint associated with the burning of fossil fuels. Indeed, food that is produced responsibly but then sits on a truck for a cross-country journey is food that is still grown in vain, environmentally speaking.
Obviously, not everything consumers demand can feasibly be produced within a hundred miles of town. All Frankie & May's eggs are local, as are the desserts, but the coffee beans are… well…they are imported. However, they're expertly roasted by Matt Wise of Fairview Roasters in, of course, Fairview. You've probably tasted them already at Jitters on West Ridge Road. Regardless, some things never can, and never will be produced locally; but those things, like the coffee beans from Fairview Roasters, are processed locally. The same goes for meat and fish.
"Let's talk meat and fish," Amy said, hands clasped tightly. "That's about 50 percent of our sales; that's all processed and brought to us by a local company. Specialty Steak Service [a Curtze company] cuts about 17,000 steaks a day."
Another local meat-making institution also resides, professionally speaking, in-store.
"I started when I was a kid; my dad had a store," said Tom Hill, butcher. Generations of Erieites have eaten Tom's products over a career he estimates spans more than 45 years. "Having a family business, you got put to work pretty early," he laughed. 
"I owned my own business for 20 years, on West Eighth Street," he said, noting that originally he started at 29th and Cherry streets. Renowned for both his artisanship and his ability, everything Hill does is either hand-cut or handmade.
"All of the ingredients for Tom's sausage are made here on site," said Amy. "It's all natural. No filler. No byproducts. The meat's ground every day, fresh."
Frankie & May's fish selection also comes with a fresh, local angle – the Curtze connection again.
"North Shore, which is Curtze's fish division – they process fish five days a week," said Amy. "Super fresh, off the day boats. It gets to them, gets processed, and comes to us."
With such a focus on fresh, local food, one might think that the term "organic" is missing from Frankie and May's list. It's not; but it's not as extensive as one might think.
"We do have a small offering of certified-organic foods, but for the most part, we're just looking for all natural, without genetic modification, without hormones and fillers," she said. "There are a very small percentage of people who are looking for strictly USDA organic food."
Therein lies the niche of Frankie & May.
"About 70 percent of our customers are buying local produce over organic. I think the larger majority of shoppers are looking for all-natural products. They want to know the provenance of their food. They want to know where it comes from and what's in it."
For those who want a quick, quality meal on the go, Frankie & May's café offers wraps, sandwiches, soups, and salads made from the very same products they sell. They also sell Fairview Roasters coffee by the cup, smoothies, and fresh-squeezed orange juice. "There's just one ingredient," Amy said. 
And although Frankie & May is content to sell you a fish – or a sandwich that they made from that very same fish – they can also teach you to fish; they're probably still best-known for their monthly cooking classes.
-
On that recent Sabbath, Faye Markovitch-Fox donned the ceremonial apron and took her place across the semi-circular granite altar from Ashley, our high priestess of sushi. Faye, a speech pathologist, admitted she'd never been to a cooking class before.
Although she described herself as "heavily foodie," she assured me that her cooking skill was moderate; she chose to enroll in the class because she was eager to learn how to both prepare and consume what was, until not long ago, the unthinkable.
"I'm a recent sushi convert. I couldn't see myself eating raw fish. But now I am," she said. "And I'm loving it. I had Ashley's sushi [at 1201 Kitchen, her better-known gig], and I decided I had to try my hand at it."
Faye also had the unexpected honor of being the only stranger in the class; the other seats were occupied by members of the always-hungry-for-food-and-knowledge Erie Reader Editorial Staff, two of whom are picky vegetarians.
Our chief picture-taker, Joe Cottrell, was also on the scene, shooting this issue's photos. He'd never been to Frankie & May before, and he neither expected to be making nor eating sushi. But make, and eat, and picture-take he did.
The class we attended was but one of eight to 10 class offerings Frankie & May provides each month.
"The classes were always a big part of the business model," Amy said. "We actually wanted to make sure we had a good space for it." Hence, the visually stunning semi-circular countertop, rising like some sacred dais from the immaculate tile floors. "It's something you can find in other communities, but no one in Erie was doing it."
Frankie & May hasn't even been open a year, but the response to their cooking class series – featuring local chefs Marc Berarducci, Marnie Mead, Mary Schaaf Mulard, Wendy Elliott, Meghan Mehler, and, of course, our instructor Ashley – has been outstanding, due in large part to the diversity of subject matter covered. December's classes include an Italian Christmas, holiday Hors D'Oeuvres, a "girls night out" featuring Chef Marc's favorite appetizers, holiday breads from around the world, Italian cookies and desserts, a traditional French Buche de Noel, and a class for kids on Christmas Cookies.
"Probably 80 to 90 percent of them sell out every month," said Amy. "We try to post the classes at the beginning of the month, the month before, and usually by the second week of the month, they're sold out. From time to time, you can find a seat."
The cost of the classes ranges from $30 to $65, depending on what is being served; they are also BYOB. A hands-on class, like ours, is limited to about 10 people, so that everyone has room to, well, get their hands on; a demonstration class or a gourmet night may accommodate up to 14. They also host private classes, so if you have some wild idea for a theme night to steal away with your friends, the talented array of instructors can probably make it happen. "We've hosted wine clubs, book clubs," Amy said. "A knitting group is coming later this month."
Another reason for the popularity of the classes is who they're targeted towards. "I was focused on young professionals and young families. I'm always amazed at how few women cook, and know how to cook for their families. And dads too! So I thought it was a big area for us to grow the interest in food skills."
Based on the demographics of the people that read this newspaper, we at the Erie Reader suspect that many of you fall into one of those categories – you're a mom, or a dad, and/or a busy young professional who wants to serve food that is both good, and good for you. All of us here at the Reader are at least a couple of those things, and after making it through Ashley's sushi class with our bellies full, our fingers intact, and a box full of take-home sushi that we made all by ourselves, Faye Markovitch-Fox probably summed it up better than the Reader people, who actually get paid to make words pretty.
"It's hands on…you walk out knowing how to do it. You have practical knowledge. It's great," she said. "I've learned so much I don't even know where to start. There's a lot of great things about preparation, how to roll it, some nice ideas for entertaining, for using up leftovers…it's going to be great."
We're in complete agreement. In fact, we've decided to sponsor, in conjunction with Amy and all the good people over at Frankie & May Fresh Grocer, the "Erie Reader Cooking Class Series." Once each month, for the next year, we'll be letting you know about special classes set up with you – and us – in mind. That way, one day, you can gather around the semi-circular granite altar, return from exile to the garden, and ditch the cubicle lunches and dashboard dinners, just like we're going to do!