Q & A: Superior Court Judge Candidate Jill Beck
Attorney highlights experience on both sides of the bench in her fight for "equal and equitable access to justice"
Among the top cards on Pennsylvania's May 18 primary ballot is the race for Superior Court Judge. Both Democrats and Republicans will find this as the second race appearing on the ballot, after Justice of the Supreme Court. While Republican Megan Sullivan finds herself unopposed, Allegheny County attorney Jill Beck faces off against fellow challengers Timika Lane and Bryan Neft.
With each judge serving a ten-year term on the bench, there are a total of 15 Judges on the Pennsylvania Superior Court. The majority of cases are decided on three-judge panels, with some being done en banc in front of all state Superior Court judges. With one vacancy, there are currently seven Democrats and seven Republicans. Beck was quick to point out that the Superior Court hears almost no cases that are politically motivated. At present, there are four judges from the Pittsburgh area, with five from the Philadelphia area, with none from northwest Pennsylvania.
Beck has been a practicing attorney for 15 years, having received degrees from Duquesne University School of Law and George Washington University. Following school, Beck went to work at the nonprofit organization KidsVoice, later serving under PA Superior Court Judge Christine Donohue for ten years – six in the PA Superior Court and four in the PA Supreme Court. Most recently, she has served as a civil litigator at the law firm Blank Rome. She currently lives in Squirrel Hill with her husband Pat and their children Gavin and Rachel.
We sat down with Beck at Andora's Bubble Tea Shop to talk to her about her campaign, her experience, and the role and importance of the Superior Court.
Nick Warren: Firstly, why are you running for this office?
Jill Beck: The Superior Court hears appeals from civil, criminal, family, juvenile, orphans, etc. Those are all areas where I've practiced and represented clients. I've also practiced in the Superior Court itself, filing and defending appeals. And I've been on the other side of the bench drafting over 500 decisions – of the very kind that I'll decide when elected to that court – when I worked for Christine Donohue in the Superior and Supreme Court chambers. So I know firsthand the importance of the Superior Court decision. These are cases deciding somebody's right to freedom, the right to parent their children, their right to their health, their wealth, their safety, their inheritance, it's interpreting our laws and our Constitution. It's also the court of last resort for about 97% of cases that come before it. Because the Supreme Court, which is the court that sits above it at the state level, only hears Superior Court appeals by permission. It is a discretionary review. And so it's really important that these decisions are decided, right, the first time. That these are legally supportable decisions.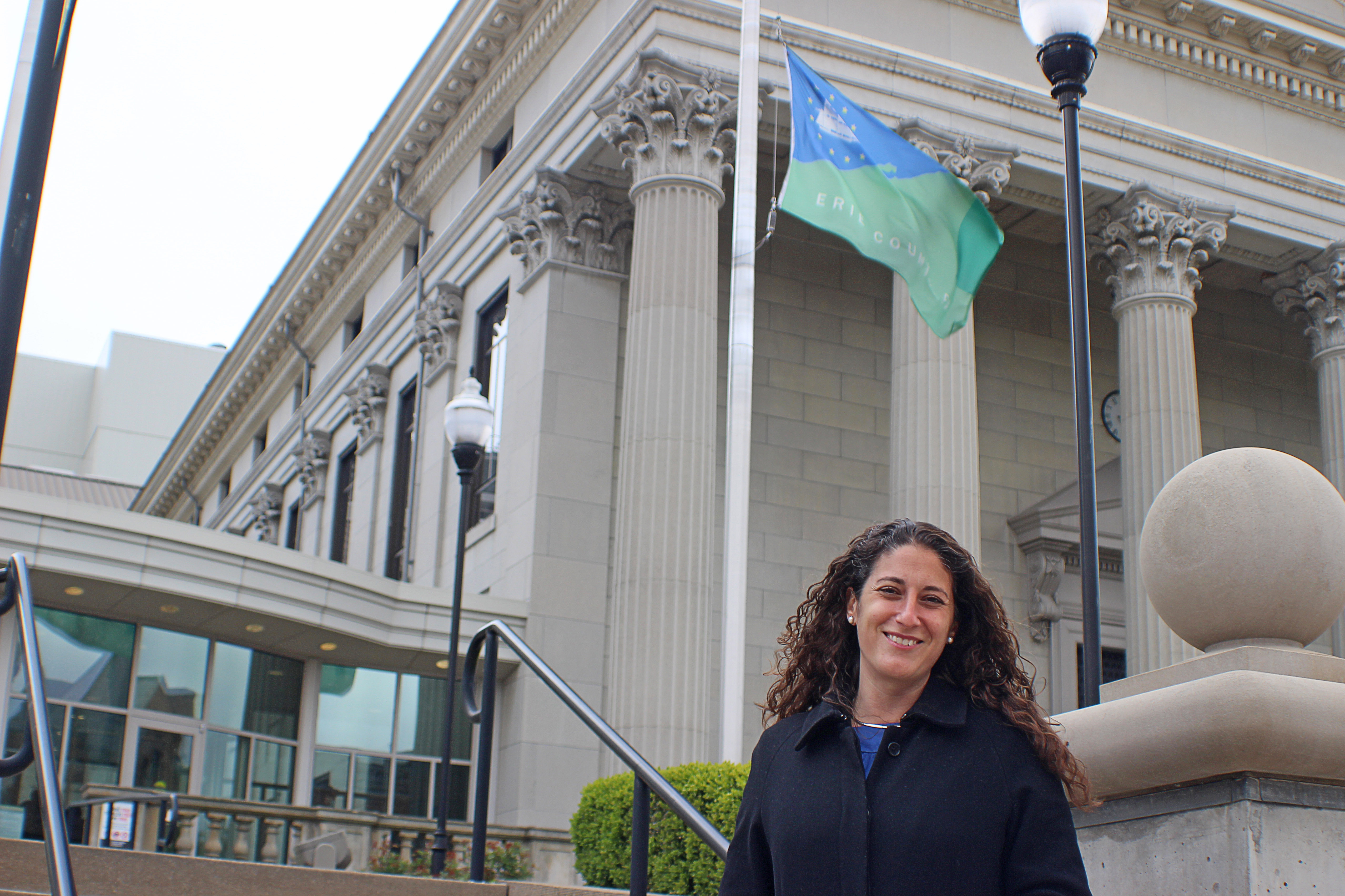 NW: Can you describe your background in child advocacy as a practicing attorney?
JB: I started my legal career at an agency called KidsVoice. It's a private nonprofit where I represented abused and neglected children. I had about 200 kids on my caseload at any given time, and these are kids aged birth to 21. I was advocating both in and out of court, for their safety and permanency, for their educational rights, their medical needs, their mental health needs, and really everything in between.
I was in court, on average, about three to five days a week. And while I was there, I tried approximately 1,400 cases in courts that are under the Superior Court's jurisdiction. It was also there that I got my experience in the Superior Court, where I had the opportunity to file and defend appeals. And it was that experience practicing in the Superior Court that made me want to know more about appellate practice and was what spurred me to work for the Superior Court itself, where I applied and was granted a job in Christine Donohue's chamber.
NW: So, obviously, that's one of the issues that are close to your heart. What are some other issues that you're convicted about, and that you want to make an impression as a judge with?
JB: The most important thing to me, in general, and in this run is equal and equitable access to justice. I have done a lot of work to advance that cause – through the work I did at KidsVoice, and additionally in private practice, I did a lot of pro bono work, representing victims of domestic violence, helping people who were facing housing insecurity during COVID, and just generally helping people without money get the same rights and protections as people who do. I have done that on the criminal and the civil side. And I've done that in appellate courts across the country.
I've done work on a case in the Fifth Circuit Court of Appeals in Galveston, Texas, where I was representing a group who were supporting an indigent criminal defendant's right to counsel at an initial bail hearing. I represented a group in the New Jersey Supreme Court that supported a criminal defendant having the protections of the Fourth Amendment to the United States Constitution, which protects against illegal search and seizure by police – for individuals who live in a rooming house, as opposed to a single-family home. It was our argument, that's the only difference there is money. Can you know, can you afford to live in your own home? Or do you need to have housemates or roommates? It's no different than college kids who share at home or the Golden Girls, depending on your bent. And in that case, the New Jersey Supreme Court did agree with us and it is now the law that adapts absent exigent circumstances that police have to get a warrant before entering into a rooming house.
For me, it is very important that every person, every entity that comes into the court is on an even playing field to get the same level of justice, the same level of review by the court. This is everyone from the biggest corporation to the small family farmer. Everyone from the person represented by the highest-paid attorney in the Commonwealth to the pro se litigant who is, you know, representing themselves and can't afford an attorney. In the Superior Court, parties have an automatic right to appeal decisions in the cases under the Superior Court's jurisdiction. And so in my view, the Superior Court's decision and its review are really part and parcel of somebody's day in court. If they seek that additional level of review, they should get a full fair, thorough review by the court. Again, no matter who they are, no matter what they look like, no matter where they come from, no matter how they pray, no matter who they love, no matter what they're alleged to have done, and no matter how much money they make.
NW: So what do you say sets you apart from Timika Lane and Bryan Neft, who are also in this in this primary?
JB: Well, for one be my breadth of experience. I have represented clients in every area, the Superior Court covers. I have tried over 1,400 cases in courts under the Superior Court's jurisdiction. And I have practice in the Superior Court. There's the amount of time that I spent on the other side of the bench as well. Those are things that both of my competitors cannot say.
NW: And then and then moving forward, what about in the general against Megan Sullivan? How do you see that race going?
JB: I am very optimistic that I would do well, I know probably the least about Megan, because we have not been on the campaign trail together very much thus far. But, to my knowledge, I don't believe she has any experience in Superior Court chambers or in the Supreme Court. And I think that that does give me an edge and an advantage because I have had what I consider to be the best on-the-job training anyone could ask for ... Being a judge is a nonpartisan position. I do bring what I view as democratic values to the court, but I am not making politically motivated decisions.
NW: Have you ever had experiences working with any of the other judges on the bench in addition to your time with Christine Donohue?
JB: Working for justice Donahue, when she was on the superior and the Supreme Court, I had regular interactions with other jurists and other chambers. So I do know, many of the judges who sit on the court. I really do pride myself. On my collegiality, I have always had excellent relationships with, you know, a great majority of people to work with whether we're on the same side or another side, or on opposite sides of the case. In fact, when the Pennsylvania Bar Association was doing an interview of me for my bar rating, the panel that was doing its investigation, the first thing they said to me was, 'we can't find anyone to say anything bad about you.' [laughs] I said, Oh, that's very nice.
NW: That's a good problem to have. [laughs]
JB: They said, 'didn't you ever have contentious litigation? Didn't you ever have really heated arguments in court?' And I said, Absolutely, on at least a weekly basis, if not more. We all argue very passionately for our clients and our cases, but afterward, we would go to lunch together, or we would go grab a cup of coffee together because that is the way that I operate. I like to consensus build, and I understand there's a difference between arguing in court on behalf of my client or feeling passionately about an issue and relationships that are outside of the courtroom. I was an athlete in high school, so I often heard the concept of 'leaving it on the court' or I guess you could say 'leaving it in the court.'
NW: Why do you want, Pennsylvanians, and Erie County voters specifically to cast a vote for you May 18?
JB: I know the law, but I also know and understand the human aspect of these cases. I have true empathy for the people involved and recognize the importance and significance of the job that I'm going to be asked to do. And I would just close with, you know, I know justice is served when the least of us is treated the same as the most of us. And that is something that I will take with me to the bench without question.