Q&A with "Spamalot" star Shawn Clerkin
"Spamalot's" King Arthur chats with the Erie Reader about the Erie Playhouse's wonderfully absurd season opener.
September 11, 2013 at 2:40 PM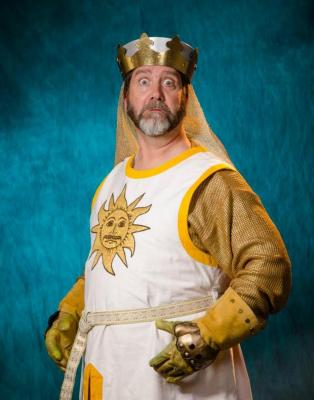 With the Erie Playhouse ready to kick off the 2013-2014 season, it's time for something completely different. "Spamalot," based off of the wonderfully absurd "Monty Python and the Holy Grail," starts a three-weekend run tomorrow, promising entertainment for even the biggest Ni-sayers. I sat down with The Rev. Shawn Clerkin, a man with huge… tracts of talent, about what it's like to go grail-searching as King Arthur.
Alex Bieler: When you look back to the original "Monty Python and the Holy Grail" film, King Arthur was by far the most dramatic role.
Shawn Clerkin: In interviews since ["Holy Grail"] with members of Monty Python, Graham Chapman said that everybody had all of the funniest lines and he had the most serious and sympathetic roles and in rehearsal, it's been very hard for me not to caricaturize King Arthur and that it's about setting up other people's punchlines. I say some stupid things, I say some clever things, but really what I do is set up everyone's jokes. In some ways, that's fun. I noticed that of all my lines, about 50 percent of them are interrogative, which is fun but also dangerous, because I have a tendency to go off script sometimes.
AB: I haven't seen "Spamalot" yet, so I'm intrigued to see if you play other roles, because I know Graham Chapman did in the film.
SC: I don't; I just play Arthur.
AB: I wasn't sure if you were part of the three-headed man or not.
SC: No, I got nothin'. I think the three-headed man is not in the script because Eric Idle did not write that bit. When he did the adaptation for the stage, he was only allowed to use the bits that he wrote and a couple of others that he was given permission. If John Cleese wrote it, for example, he did not permit anybody to use any of his materials from the original film. He said that they made enough money off of it, so they didn't need to make any more.
AB: Fair enough.
SC: Cleese was a bit of a weenie. At the same time, they all respected that about him.
AB: Tell me about the rest of the cast.
SC: The cast itself is a list of peculiar people. These are as close to comedians as we have at the Playhouse – in fact, these are our comedians at the Playhouse. We are edgy, we are peculiar, we are non-linear. I am certain we will never do the same show twice. I said to Almi [Clerkin, Shawn's wife and director of "Spamalot"], "The show you see on opening night will be the show you see on opening night." It will never be exactly the same. Not that we will mess with or destroy anything, but there is a lot of room for stretching with this show.
AB: I want you to give me a one sentence pitch for why people should see this show.
SC: A one sentence pitch… that's harder to do for academics than anyone else. I would say that the reason to see this show is that life is a piece of shit when you look at it and it's better to laugh at it instead of letting it weigh you down.