Qualifying Deadline Looms for Erie County Candidates
Thinking about running for office? Our writer's got the info for the upcoming elections right here.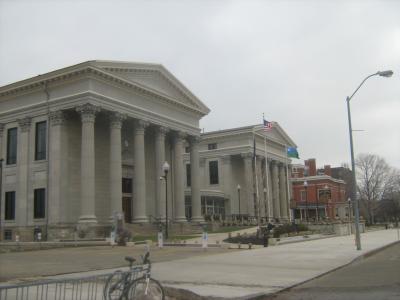 Thinking about running for office? Tuesday, March 8 at 4 p.m. is the deadline for prospective major party candidates to file the required paperwork with the Erie County Department of Voter Registration, located in Room 105 of the Erie County Courthouse at 140 West 6th Street in Erie. Not every office is up for re-election during each election cycle; one-third to one-half of all seats in any city, county, township and boro offices are up for election every two years.
Check in with us after the deadline has passed to find out which of the following incumbents will have challengers  - Erie City and Erie County offices will be voted upon in both the May 17 Municipal Primary Election and the November 8 General Election:
Erie County Council
1st District – (D) Phil Fatica
2nd District – (D) Fiore Leone
3rd District – (D) Ronald "Whitey" Cleaver
4th District – (R) Carol J. Loll
Erie County Controller
(R) Sue Weber
Erie County Coroner
(R) Lyell Cook
Erie County District Attorney
(R) John H. Daneri
Court of Common Pleas – 6th Judicial Circuit
(D) John J. Trucilla
Erie City Treasurer
(D) Susan E. DiVecchio
Erie City Council
(D) Jessica Horan-Kunco
(D) Patrick S. Cappabianca
(D) Mark Aleks Aleksandrowicz
District Judge
(D) Joseph R. LeFaiver
(D) Dominick D. Dipaolo
Erie School Directors
(D) Richard Szychowski
(D) Jeanine McCreary
(D) John C. Harkins
(D) Bob Casillo
(D) Gary Horton
Several Magisterial District races are also up for election this year, as well as dozens of other municipal offices; visit www.ErieCountyGov.org for more information. These municipal races will take place in the following jurisdictions:
Cities
Corry
School Districts
Corry Area, Fairview , Fort LeBoeuf , General McLane, Girard , Harbor Creek, Iroquois, Millcreek, North , East, Northwestern, Union City Area, Wattsburg Area
Boros
Albion , Cranesville , Edin , Elgin , Girard , Lake City , McKean , Mill Villiage , North East , Platea , Union City, Waterford , Wattsburg , Wesleyville
Townships
Amity , Concord , Conneaut , Elk Creek , Fairview , Franklin , Girard , Greene , Greenfield , Harborcreek , Lawrence Park , LeBoeuf , McKean , Millcreek , North East , Springfield , Summit , Union , Venango , Washington , Waterford , and Wayne.