Racism's History, Antiracism's Future and Where Erie Goes From Here
America's injustices from George Washington to George Floyd
June 23, 2020 at 12:29 PM
I was out of high school before I learned that George Washington was an enslaver.
Sometimes that revelation surprises people. After all, I teach and write about history. Sure, I knew the story of Washington and the cherry tree (which weirdly, considering the moral of the story, turned out to be a lie). I knew about his fake teeth. I knew of his heroics: traversing French Creek on his way to Ft. LeBeouf as a young man and the Christmas night crossing of the Delaware River during the American Revolution.
Yet, I had never learned what seemed to be a significant fact: that the first President of the United States of America enslaved Black people.
I was stunned. How was this omitted from all the historical stories, shows, and movies that I had consumed over the years? Why was I not taught this? That his power and wealth derived from the cruelty and wickedness of slave labor seemed to be monumentally important. 
It wasn't that the information wasn't out there. If I had looked a bit harder, or read a bit more broadly, or had I ever visited Mount Vernon, it may have presented itself — but whatever the reasons, I hadn't known.
I began working my way through other myths: that Washington may have enslaved people, but he was a kind slave owner (apparently not "kind" enough that Ona Judge, Martha's personal slave, and Hercules Posey, George's esteemed chef, didn't successfully escape), that Thomas Jefferson was in a relationship with the enslaved Sally Hemmings (it's not consent when you are 14, enslaved, and have no choice), that they were just men of their time (many knew the evils of slavery, including Washington and Jefferson themselves), that slavery ended with the Civil War (slavery continued to exist by other names), that racism was mostly a Southern problem, that most racism, at least state-sanctioned racism, had been solved by the Civil Rights Movement.
Of course, it was after the Civil War, when those who were enslaved were freed, that these Black families now lived within the same society and economy that had previously enslaved them. They had to live alongside the unpunished and unrepentant families of those who enslaved them, who viewed them as less than human, who would without hesitation enslave them again, if they were permitted. Those freed were provided few resources, no reparations, and, after the failures of Reconstruction, they once again had to live within state and local governments infested with white supremacists who wasted no time passing racist Black Codes and Jim Crow laws and terrorized Black people with another century of unchecked repression and violence.
The truth is that the story of the United States that is often taught, that is often portrayed in children's books and in movies, the story that many of us grew up with, paints an incomplete portrayal of the American story.
I've spent a decade now teaching United States history. When our public schools shut down on March 13, my freshmen were in the middle of projects on the Civil Rights Movement. When I finally went back to clean out my room for the summer, it was May 26, the day after George Floyd was murdered. Floyd's murder by a police officer had followed the killings of 26-year-old Breonna Taylor by police in her own home and 25-year-old Ahmaud Arbery, who was stalked and lynched by a father and son.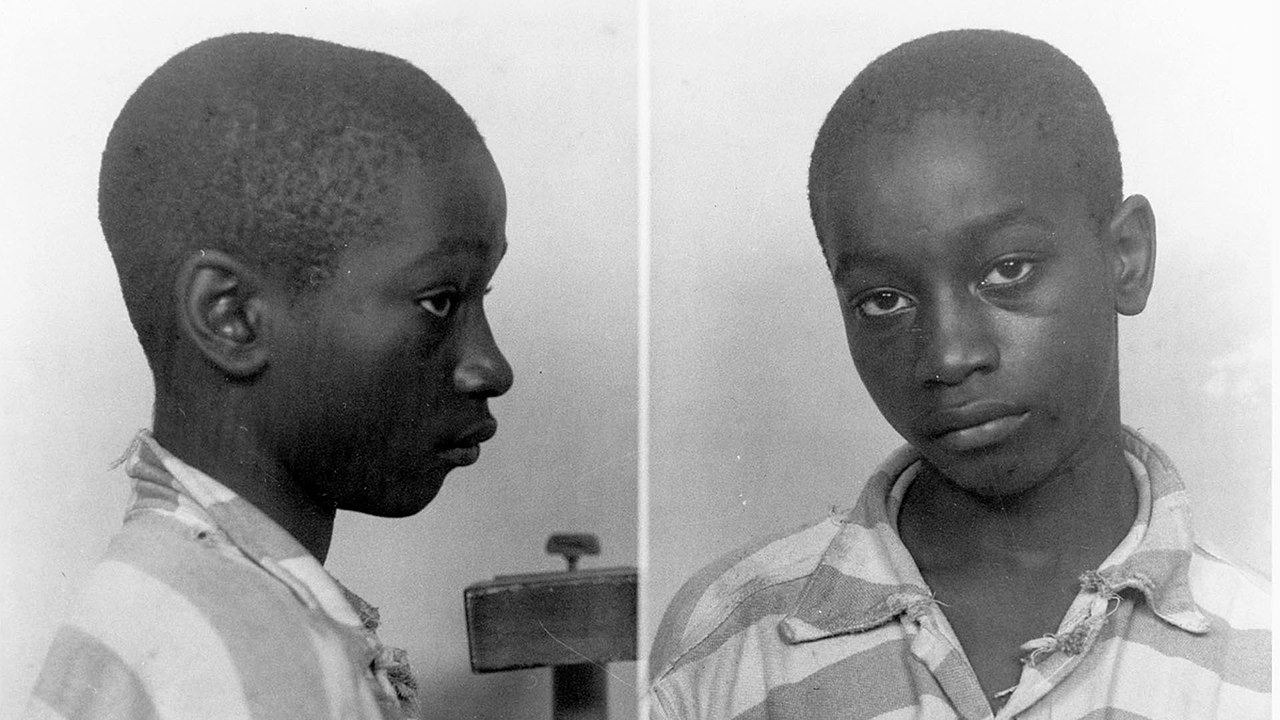 George Stinney, who was put to death at the age of 14 in 1944. Stinney had his conviction overturned 70 years later in 2014.
The incomplete projects were still scattered around the classroom: projects on the execution of 14-year-old George Stinney by his state in 1944 for a crime he didn't commit, on the lynching of 14-year-old Emmett Till over a false accusation in 1955, on the 16th Street Baptist Church bombing by four Klansmen in 1963 which killed four young Black girls, on civil rights activist and World War II veteran Medgar Evers who was struck in the heart by a white supremacist's bullet in his own driveway in 1963 while his wife and children were in the home, on the weaponization of the FBI against Martin Luther King, Jr. who spied on him, harassed his family, and sent him an anonymous letter posing as a Black citizen threatening to expose adultery and fraudulent behaviors if he, it implied, didn't commit suicide.
"King, there is only one thing left for you to do," the FBI's letter concluded. "You know what it is."
When I teach this unit, students are often surprised to learn that, while a nearly universally-revered figure now, over 60 percent of Americans had a negative view of King during his final years alive. They are surprised to learn how 1 out of 3 polled after his assassination stated that they "felt he brought it on himself."
While many of us who are white were learning mythologized stories of cherry trees, peaceful first Thanksgivings, the perceived perfection of Founding Fathers, and then a few lessons on Harriet Tubman and Rosa Parks during Black History Month, this is the history that Black people in the United States have always understood — and that's just during two decades of the recent past. The American story cannot be understood without including the continuously unprosecuted violence by white Americans against Black bodies.
If he hadn't been shot, Medgar Evers might still be here to celebrate his 95th birthday on July 2. Martin Luther King, Jr. would be 91 years old, around the age of my two living grandparents. George Stinney's 91st birthday would have been this fall. Emmett Till would be 79 years old. Denise McNair, the youngest of the four girls to die from those 19 sticks of dynamite, would be 68 years old — younger than my mother-in-law. Her father only died last year. His funeral was held in the same church where his daughter perished. Her mother and two sisters are living.
Deadlocked trials by two all-white juries meant it took over three decades to convict Medgar Evers' assassin. Emmett Till's killers, who had ripped him from his grandfather's home in the middle of the night to torture and murder him, were found not guilty. Afterwards, they publicly confessed to the crimes. Carolyn Bryant, who made the accusations against Till and admitted a few years ago that they were lies, is still alive and free. As for the Klansmen who murdered the four girls at their church with dynamite, the FBI closed their investigation five years later without any charges. They knew who the four white supremacists who had planted the bomb were, but it took until 1977 to convict the first killer and until the year 2000 to convict two others (the fourth conspirator had died in 1994). Naturally, those who committed the state-sanctioned murder of George Stinney by electric chair — a child who stood barely over five feet tall, was under 100 pounds, and who sobbed before and during his eight-minute execution — saw no consequences, as they were acting on behalf of South Carolina.
This doesn't even begin to tap into the history of the thousands of known lynchings (see a map of racial terror lynchings here) or even what has happened during my own lifetime. My earliest memory of a major news event was the police beating of Rodney King and the Los Angeles riots in 1992. The line between the beating of Rodney King, and the stalking and murder of Trayvon Martin by a neighborhood watchman, the rise of the Black Lives Matter movement, and where we are today with the recent murders of Breonna Taylor, Ahmaud Arbery, and George Floyd is as straight as it is clear.
The message has been clear to Black people during the Jim Crow era, during the years of the Civil Rights Movement, and all of the way through today: America's justice system was never meant to work fairly for you. Were it not for the existence of a bystander's video footage, there would have been no arrests in the case of George Floyd. There would have been no firings. The same can be said for Arbery. In the killing of Breonna Taylor, as of when I write this, still no charges have been filed.
"The system is working as it was designed and its goal is to maintain a racial hierarchy," civil rights activist Ella Baker once said.
"They've lost faith in the justice system," Sherrilyn Ifill, president of the NAACP Legal Defense Fund, told 60 Minutes recently. And why have they lost faith in the justice system? Because too often it has not produced justice."
Protests and riots have erupted throughout the United States in recent weeks. This includes Erie, Pennsylvania. These did not come out of thin air. They should not be surprising.
Little changed after the protests and unrest over the killing of Michael Brown in Ferguson, Missouri in 2014. Little changed as more and more names of Black men, women, and children ended up in obituaries and as hashtags: Tamir Rice, Eric Garner, Sandra Bland, Walter Scott, India Kager, Freddie Grey, Alton Sterling, Bettie Jones, Philando Castile, Stephon Clark, Botham Jean, and countless more.
Little has changed, except for now we know their names. Now we see the footage.
Meanwhile, millions of white Americans, many of whom I know personally, have tried to rationalize or justify nearly all of these killings — "well, he shouldn't have been carrying a toy gun in the park," "well, he shouldn't have been selling those cigarettes," "well, he shouldn't have run," "well, well, well…" —  while also dismissing the pain and trauma and outrage experienced by Black families. When President Obama frankly discussed the problem of race relations in the United States, of which he as the first Black president had unique insight, conservative shock jock talking heads such as Glenn Beck (who at the time had one of the highest-rated shows on Fox News) made wild assertions about President Obama wanting to divide us by race (the literal opposite of what he was attempting), a talking point still used today by white critics of the Black Lives Matter movement. When Colin Kaepernick used his platform as an NFL quarterback to peacefully protest by kneeling during the national anthem, these same people seethed at him, claimed he was unpatriotic, and continuously argued in bad faith that he was "disrespecting our troops." It didn't seem to matter that Kaepernick had worked with Nate Boyer, a former Green Beret, to come up with this method of peaceful protest.
"[A] lot of these players [try to] make sure that the narrative is understood that the protests are about racial inequality, social injustice, and police brutality and that kneeling during the anthem was a mechanism to raise that attention and to get those voices heard," Boyer reiterated."But it's not about disrespecting the flag or disrespecting the military."
So, here we are: amid a deadly pandemic with social unrest, unlike anything we have witnessed in recent history. The powder keg has been set off. Meanwhile, the current president is not only being dismissive of Black voices, but outright hostile, militant, and dangerous.
"Great job done by all. Overwhelming force. Domination," the president, who also referred to protestors as "thugs" rather than "very fine people," tweeted. This was the day after military police used riot gear and tear gas to disperse protestors outside of the White House so that President Trump could walk to a nearby church to have a photo op with an awkwardly-held Bible.
Every presidency, of course, has photo ops, messaging strategies, political stunts, and propaganda. That isn't new. I'm reminded of President Obama, who in the first year of his presidency, had the media-coined "beer summit." Rather than intentions to divide, he invited to the White House a police officer and a Black professor who the officer had wrongly arrested for an informal discussion. While, sure, there was a photo op there, it was also symbolic of what President Obama was attempting: building bridges amid difficult conversations. The meeting was widely ridiculed by Fox News.
"So, again, what am I supposed to learn? What kind of beer Obama likes?" Glenn Beck wrote for Fox News, dismissing the entire point of the discussion.
"Some beer enthusiasts aren't pleased with President Obama's brew of choice," another Fox News article decided was the important message of the meeting.
With George Floyd's recent murder, for the first time in long time, I noticed that white family and friends of mine who were liberal, moderate, and conservative seemed nearly all horrified over the video. While that seems an obvious stance, that clearly hasn't always been the case, even when there has been video footage. Sure, there were a few guys from my hometown who were defending the police officer on social media, but otherwise, I saw close-to-unanimous relief across the political spectrum when the first police officer was finally arrested. 
Then, something changed.
"When the looting starts, the shooting starts," the president tweeted, deliberately echoing a Miami police chief from 1967 and segregationist governor George Wallace.
While the majority of protesters were peaceful, some of the protests had turned violent, despite the organizers' best efforts. In some instances, there was looting. While the root of this violence and looting is varied — police needlessly escalating, agitators infiltrating the protests with bad intentions, or simply the result of generations of desperation and rage — the president pounced on the opportunity to divide rather than even attempt to build any bridges. 
Even many white allies of the cause started to condemn the rioting without contextualizing what or why it was happening.
"A riot is the language of the unheard," Martin Luther King, Jr. once said. It's a quote now being shared widely on social media. But he said more: "And what is it that America has failed to hear? ... [I]t has failed to hear that large segments of white society are more concerned about tranquility and the status quo than about justice, equality, and humanity. And so in a real sense, our nation's summers of riots are caused by our nation's winters of delay."
This wasn't the first time King had criticized white Americans for their apathy towards civil rights. A few years earlier in 1963, while sitting in a jail cell in Birmingham, King was scathing towards white Americans who stayed neutral or were not vocal in their support of the movement.
"[Our] great stumbling block in his stride toward freedom is not the White Citizen's Counciler or the Ku Klux Klanner, but the white moderate, who is more devoted to 'order' than to justice; who prefers a negative peace which is the absence of tension to a positive peace which is the presence of justice; who constantly says: 'I agree with you in the goal you seek, but I cannot agree with your methods of direct action;' who paternalistically believes he can set the timetable for another man's freedom; who lives by a mythical concept of time and who constantly advises the Negro to wait for a 'more convenient season,'" King wrote from his jail cell. "Shallow understanding from people of goodwill is more frustrating than absolute misunderstanding from people of ill will. Lukewarm acceptance is much more bewildering than outright rejection."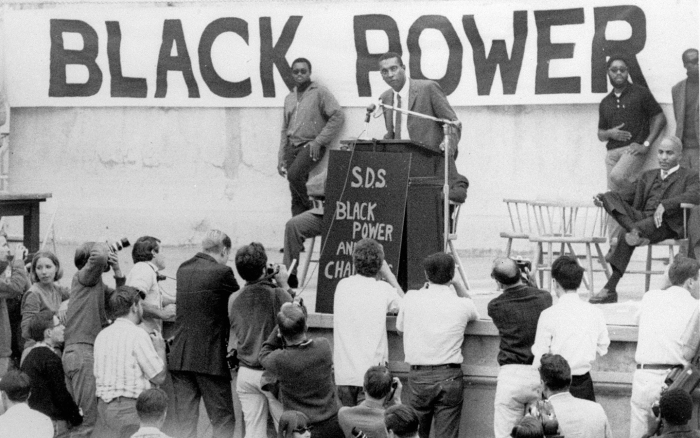 Stokely Carmichael speaks at the University of California's Greek Theater at Berkeley, California, October 29, 1966. Via AP Photo

Civil rights activist Stokely Carmichael, who grew to disagree with King and SNCC's civil rights strategies, described in a 1966 speech how people simply won't condemn themselves, because that would mean they would have to inflict punishment upon themselves. Hence, he argued, white Americans' inability to condemn racism in any meaningful way.
"You stand condemned," Carmichael said. "It seems to me the institutions that function in this country are clearly racist and that they're built upon racism."
In another speech that same year, Carmichael described why so many young Black people, including himself, were turning away from the tactics of nonviolent civil disobedience.
"There has been only a civil rights movement, whose tone of voice was adapted to an audience of liberal whites. It served as a sort of buffer zone between them and angry young Blacks," Carmichael said. "Each time [young Black people] saw Martin Luther King get slapped, they became angry; when they saw four little Black girls bombed to death, they were angrier; and when nothing happened, they were steaming. We had nothing to offer that they could see, except to go out and be beaten again. We helped to build their frustration. For too many years, Black Americans marched and had their heads broken and got shot. They were saying to the country, 'Look, you guys are supposed to be nice guys and we are only going to do what we are supposed to do — why do you beat us up, why don't you give us what we ask, why don't you straighten yourselves out?' …We cannot be expected any longer to march and have our heads broken in order to say to whites: come on, you're nice guys. For you are not nice guys. We have found you out."
"It is criminal to teach a man not to defend himself when he is the constant victim of brutal attacks," Malcolm X said in 1964. "We should be peaceful, law-abiding … But the time has come for the American Negro to fight back in self‐defense whenever and wherever he is being unjustly and unlawfullv attacked … If the Government thinks I am wrong for saying this … then let the Government start doing its job."
In the Erie region, we have our own unique problems with racism and white supremacy dating back long before this. It's important to remember that Pennsylvania didn't enact the absolute abolition of slavery until 1847, just 13 years before the Civil War. It's important to remember that an Erie congressman, a former Erie judge named James Thompson, was essential in the passing of the Fugitive Slave Act of 1850, working behind closed doors with Howell Cobb, a future founder of the Confederacy. It's important to remember that only a century ago, the local Ku Klux Klan chapter was making headlines in the Erie Daily Times for openly endorsing mayoral candidates from their local Parade Street headquarters. Erie's history is drenched in racism and white supremacy.
Today, we have neighborhoods historically still segregated by redlining policies with a highway built 14 years ago that disconnected these neighborhoods even more. It's not a coincidence either that, demographically speaking, the neighborhood of Frontier looks like it does. It's by design. We have USA Today, however flawed their analysis was, putting Erie in the national spotlight for ranking it the worst city in the United States for Black Americans (by 2019, they tweaked their analysis somewhat and Erie fell to the still-abysmal 15th worst by their new calculations) We have a police force in Erie that, as of 2013, had only three out of 173 officers who were Black — which had only increased to five by 2017, still less than three percent of the entire police force. We need more diversity among our local journalists and reporters, among our public school teachers, and our historians. We need more diversity in our local entertainment that gets news coverage and gets booked at our venues and our city events. 
We also have a white population of which many are still deeply racist. Some explicitly so, some implicitly. I know them. You know them. They are white family members, childhood friends, colleagues, and our neighbors. You see the racism unfiltered if you ever decide to read comments on Facebook articles. You don't have to drive far out of the city to see Confederate flags hanging on porches, displayed on their clothing, or stickered on their vehicles. It doesn't matter that they lived in Pennsylvania their entire lives. But, you know, "heritage, not hate," I guess. Or maybe they're just Dukes of Hazzard fans. 
On May 27, the Meadville Tribune reported that a 54-year-old man was facing a felony and five other charges for shouting racial slurs at two Black residents, which ended up with Robert Alan  Beck punching the man in the face and threatening to burn down their business.
The person who was not physically assaulted wrote in a public Facebook post that she was planning to open a restaurant next door and was visiting her property with her maintenance guys when they were "physically and verbally attacked" and called the n-word.
"We were told to get the f*ck off that property," she wrote. "These people actually told me that if I tried to open they would burn my place down."
Let me be clear: these sort of instances happen often in our corner of Pennsylvania. They just aren't always reported on. 
The important thing is that if you can learn racist ideas, you can unlearn them. The first step is to be able to recognize the racist beliefs one holds, the biases (whether implicit and explicit) one might have, and then work on being better. It's okay if it makes you uncomfortable sometimes. It should. 
It's not enough to simply be "not racist" though. One cannot remain silent. Nor can one claim their own color-blindness in a society that isn't. As Ibram X. Kendi has written many times, one needs to be actively anti-racist, which means actively fighting against racism. You can read more about that here. You can also read Kendi's book How to Be an Antiracist and the one he co-wrote with Jason Reynolds Stamped: Racism, Antiracism, and You.
If you are white, my best advice though is simply to shut up and listen to what Black people are saying and have been saying. Amplify their voices. Share their words, their art, their music, their business pages. If you have an opportunity to provide an opportunity, do so. If you involve yourself in activism, do not center yourself. Listen. Learn. These are very simple steps that will help.
I shouldn't need to write this, because I'm not saying anything that Black writers, historians, activists, entertainers, athletes, teachers, preachers, and so one haven't already been saying decade after decade after decade. Too many white Americans simply haven't been listening to what Black Americans have been saying (or, if they have been, they have been argumentative and dismissive). 
If you haven't, go read the writings of Frederick Douglass, Ida B. Wells, and W.E.B. DuBois. Find Black academics and journalists who have written about systemic racism, racial violence, voter suppression, and the justice system and follow their work. Follow their Twitter accounts. Follow their Facebook pages.
Read more contemporary nonfiction by Black authors. The internet makes it easy to find, but a few suggestions include: Hood Feminism: Notes From The Women That The Movement Forgot by Mikki Kendall, The New Jim Crow: Mass Incarceration in the Age of Colorblindness by Michelle Alexander, Why I'm No Longer Talking to White People About Race Book by Reni Eddo-Lodge, The Cooking Gene by Michael W. Twitty, Biased: Uncovering the Hidden Prejudice That Shapes What We See, Think, and Do by Jennifer L. Eberhardt, Between the World and Me by Ta-Nehisi Coates, and Freedom Is a Constant Struggle: Ferguson, Palestine, and the Foundations of a Movement by Angela Davis.
Read more fiction by Black authors too. Fiction is a gateway to empathy and understanding. In college, I was introduced to books by Toni Morrison, Ralph Ellison, Maya Angelou, Langston Hughes, Zora Neale Hurston, Richard Wright, Octavia E. Butler, Ernest J. Gaines, Alice Walker, and James Baldwin. Each of these authors changed me in some way. Each book helped me learn something, helping me gain a new perspective or contextualize something that I didn't yet understand.
Also, why are you waiting around for another Tiger King reunion episode when you can check out other Netflix documentaries like 13th, Time: The Kalief Browder Story, or Who Killed Malcolm X? 
These aren't solutions. They won't fix the plague of racism or our systemic problems or racist policies built into our justice system, but educating ourselves as well as others who are reluctant to listen will be key to moving forward. We must do better.
Jonathan Burdick runs the historical blog Rust & Dirt. He can be reached at jburdick@eriereader.com.