Raise a Glass for Arts & Drafts
The 25th edition of the bi-annual public arts festival
February 26, 2020 at 1:00 PM
Thursday, Mar. 5 – 7
Even though it doesn't feel like winter (as we know it) ever truly arrived in Erie, a sure sign that spring is here is the first Arts and Drafts Festival of 2020, held at the Brewerie at Union Station.
This is the 25th edition of the bi-annual public arts festival, which was established in 2008. The festival features over 70 local artists and 14 local bands. The historic Union Station makes for the perfect atmosphere for these artists who are creating history through their works.
Every Arts and Drafts event hosts a featured artist — this installment's is 43-year-old North East native Douglas Bailey. He is a self-taught artist who specializes in bright, bold mixed media pieces that he creates using multiple layers that are cut by hand from discarded or recycled materials. His artwork is a reflection of his passions, which are nature, skateboarding, and Lake Erie. Recalling both street art and animation, Bailey's use of thick black lines and bright colors make his work come to life.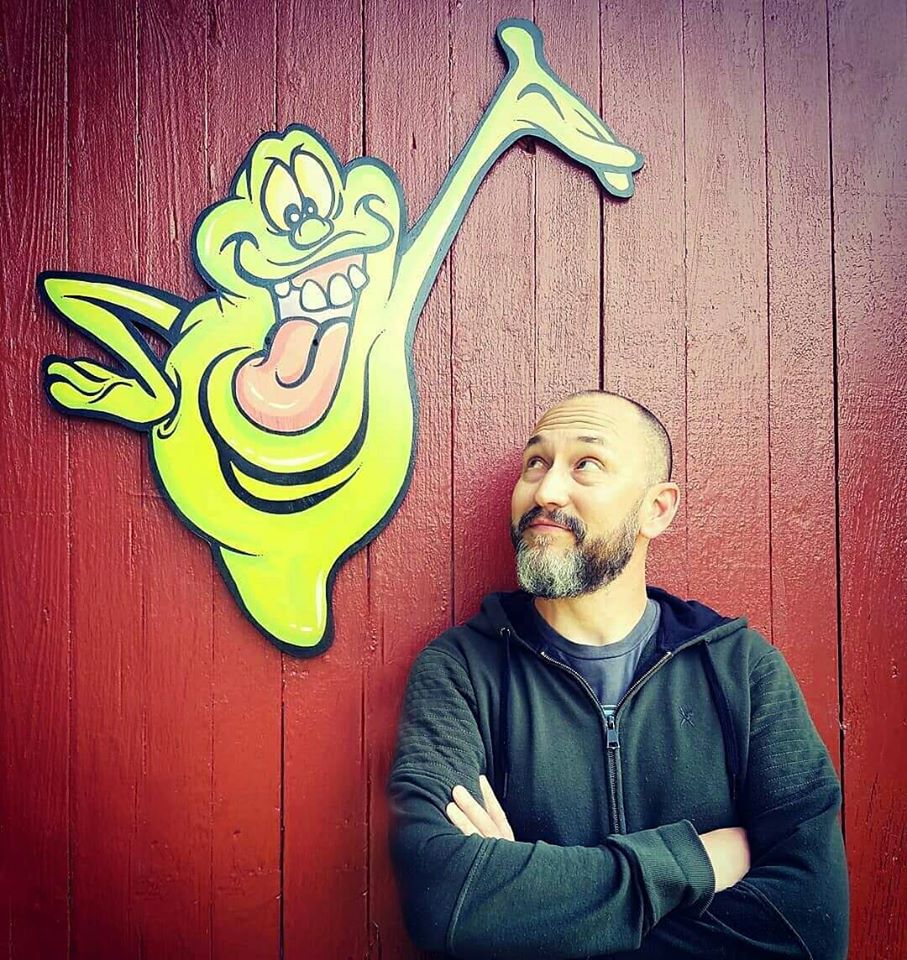 North East native Douglas Bailey, posing here with a cutout of *Ghostbusters antagonist Slimer, is the featured artist of 2020's first installment of Arts and Drafts at the Brewerie at Union Station.
When Arts and Drafts began, it was intended to create an incubator for local artists to display their work and gain exposure within the community for their talents. Since its inception, Arts and Drafts has won the Best Art Event in the Best of Erie Awards three times. It has become one of the most important social events in the region, where you will see predominant members of the community, musicians, and just about everyone gathering to enjoy the talents of these artists, who sometimes go unrecognized otherwise.
Local artist Emily Miller has participated in Arts and Drafts for the past five years and she enjoys being a part of the event "because of the relaxed atmosphere of the venue. You can invite anyone to come, friends and family, then sit and have a drink or meal with them." Miller also stated that she "appreciates how it is welcoming to all types of artists, from various backgrounds."
The event kicks off on Thursday March 5th at 6:30 p.m. with an acoustic performance from Jennifer Meyer, followed by Chris Ehrich at 7:30 p.m., singer-songwriter Tommy Link at 8:30 p.m., and wrapping up the evening at 9:30 p.m. will be the soulful sounds of Jess Royer.
The music continues Friday evening with Erie's newest indie rock duo Spades at 6:30 p.m., followed by Elle Taylor at 7:30 p.m., Jason Heberle at 8:30 p.m., local favorite Claire Stuczynski with her trio at 9:30 p.m., and folk troubadour Fred Oakman closing things out at 10:45 p.m.
Saturday evening begins with a performance from Georgia Buchner at 6:30 p.m., followed by Paper Matches offering an acoustic take on their usual garage rock at 7:30 p.m., a stripped-down set from the TK Blues Company at 8:30 p.m., dream pop from Optimistic Apocalypse at 9:30 p.m., and Erie's latest indie darlings Tiny Paper Boats wrapping up the festival at 10:45 p.m.
Get into the spring spirit with one of the most anticipated events of the year. — Larry Wheaton
Noon to midnight (music Thursday from 6:30 p.m. to 11 p.m. and Friday and Saturday from 6:30 p.m. to midnight) // The Brewerie at Union Station, 123 W. 14th St. // Free entry before 8 p.m., $3 after // facebook.com/artsanddraftsfestival