Real Deals
How thrift stores help our community
January 23, 2023 at 8:00 AM
After my niece Marissa purged her closet, I really cleaned up and left her suburban Philadelphia home with an armload of fashions from The Loft. But then I had to find room in my own closet for my gently worn hand-me-downs, including a lilac pashmina, a shamrock-green blazer, black yoga pants, and two camel skirts. As I piled up wardrobe discards, like the slim red skirt that hasn't fit me since the late '80s, I wondered how to put my cast-offs to better use.
That's when I remembered that several friends had urged me to write about the Green Scene Thrift Store and Thrifter Heaven, two businesses that support good causes by selling donations at low prices, reducing landfill waste in the process. The proprietors of those stores, in turn, put me in touch with Vicki Stetson, who founded 4 N.I.N.E. thrift store to help people in North East 23 years ago.
The staff of 4 N.I.N.E. at 49 Smedley St. (with additional space at 103 Clay St.), is "100 percent volunteer," said Stetson. "Nobody is ever paid for anything." But the store gives back in many ways. Stetson calculated that in the past year, 4 N.I.N.E., a 501(c)(3), contributed at least $91,749.68 to such organizations and programs as the Sunshine Group, Early Connections Preschool, the Philharmonic in the Park concerts, Hooked on Books, the North East Shade Tree Commission, Habitat for Humanity, the Gravel Pit Park playground, and the Erie City Mission, among many others.
Each type of donation is sold for a set cost. For example, all T-shirts are priced at $1. That efficient merchandising keeps regulars coming back. Shoppers "get a heck of a deal and they tell all their friends," Stetson said. Although only 35 people are allowed inside at any one time due to fire code, customers line up outside no matter the weather, waiting for entry.
Stetson recently sent a letter to thank volunteers and to reflect on the good deeds their efforts make possible. "Every time I come through the front door, I marvel at the clean floors, stocked shelves, and general tidiness of the store," she wrote. "I see the massive clothing and linen piles disappear and reappear on a daily basis, the cases and cases of books sorted neatly and shelved, and the endless stream of toys priced and displayed. The housewares are always clean and arranged to attract a customer's eye and the electronics are tested and out for sale … The card rack is always full, the jewelry is attractively showcased, and seasonal and holiday items appear at just the right time from the amazingly organized upstairs."
Angie Collins and her husband, Aaron, were searching for ways to support mission projects, here and abroad, a project started by her late grandparents, Mother Mary Beth and the Rev. Charles Kennedy Sr., and her parents, Cynthia and the late Charles Kennedy Jr.
Stetson, Collins' godmother, encouraged her to try the thrift store model, rather than asking donors to give small amounts here and there. After her grandmother died in January 2020, Collins decided to follow through with Stetson's suggestion to open a store, Thrifter Heaven, and proceeds benefit the Legacy of Love Foundation her grandparents established.
When COVID hit, Collins, who is also executive director of Community Country Day School, and her husband had more time to put the store plan into motion. School was shut down. Their four boys were at home. Aaron Collins had stored a couple of mannequins in the garage that could be used for fashion displays.
Still, Collins voiced some qualms. "What if we get all our friends to donate and we sell out?" she wondered. Stetson assured her that by offering consistent low prices and enlisting dedicated volunteers, the store would thrive and provide a successful income stream for Legacy of Love projects, including feeding programs, farming projects and schools in Congo, Cuba, the Dominican Republic and Haiti, as well as for local needs. "I think the true feeling is that this is what God wants for me. There are so many people that can't do it for themselves, people around the world," Collins said. She loves to donate clothes for her best friend from Erie, Cheri Lyn Kolbas Perez, to take back to Perez's mission in the Dominican Republic, the Heart of the Nation. Or to pack up a barrel of clothing to send to the Philippines. "People in those countries are so thankful for nice clothes," she said.
Collins is also grateful to foundation board member Laurie Bondi and her husband, real estate agent Joseph Bondi, for helping them find space to rent at 4455 W. Ridge Road. The store is one level, which is good for shoppers and volunteers, and has easy parking. Elizabeth Damon shops at Thrifter Heaven several times a month, often for books like Dean Koontz thrillers. "The prices are good and there's always something different," said Damon, who also bought a couple of window weatherization kits at a bargain price.
Collins said she is always looking for reliable volunteers to join people like Erna Kahteran, 22, whose parents came to this country in 1995 after fleeing Bosnia with just "a bag of clothing." Kahteran volunteers at Thrifter Heaven because she enjoys waiting on "happy people" when they find great deals on clothing, housewares, jewelry, knickknacks, music (including vinyl albums), and seasonal decorations.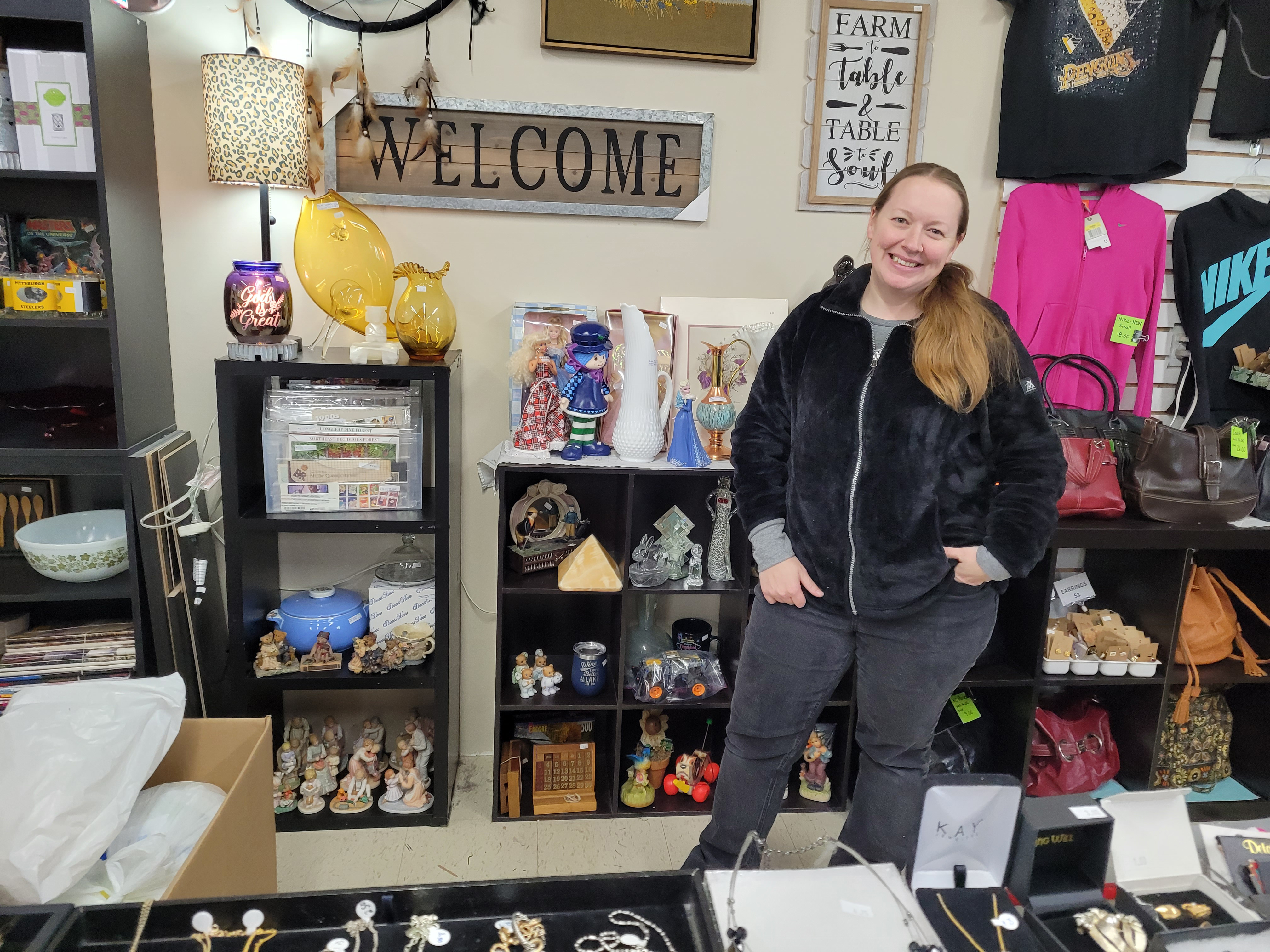 "Our mission is to keep as much stuff out of the landfill as possible," says Ann Marie Brooks, manager of the Green Scene thrift store.
Stetson's 4 N.I.N.E. success also helped to inspire Nicole Gladitz, founder of Green Scene, a thrift store dedicated to reducing waste headed to the landfill. "I came from a retail background and saw waste year after year," Gladitz said. She also remembered the large amount of trash that had to be hauled away every spring when the city of Erie held its annual big-item curbside pickup. Gladitz, a thrifty shopper herself, was also curious about the fate of items she donated to various groups. "Were they dumping it? Did magic stuff happen to it?"
To learn how to run an efficient thrift store that keeps stuff out of the landfill, she volunteered for two years at 4 N.I.N.E. before she opened Green Scene at 1301 E. Grandview Blvd. three and a half years ago. "Our mission is to keep as much (as possible) out of the landfill," she said. "If you're not sure what to do with it, as long as it's something we take, just get it to a place like ours." Like the other thrift stores, Green Scene doesn't accept TVs, mattresses, or baby items such as cribs.
But the store staff and volunteers work diligently to find homes for everything else. If something can't be sold, components like metal might go to a recycler. There are also bins out front to recycle glass for Bayfront Glass. Gladitz is also tickled that her store has recently been able to donate to the expERIEnce Children's Museum and will help educate museum visitors about how to reuse and recycle.
Like the other thrift stores, inviting displays are important for Green Scene. With every donation, "We try to clean it and display it and make people think differently (about how they might use it)," Gladitz said. That's why the array of fitness products caught my eye. After all, I want to fit into my "new" yoga pants.
If you go: The best source for information about these three thrift stores is to visit their Facebook pages: 4 N.I.N.E. Thrift Store, Thrifter Heaven, and Green Scene Thrift. There, you will find information about store hours, links to websites and other social media, contacts for donating or volunteering, and details about special promotions, such as Free Fridays on the second Friday of the Month at Green Scene or items offered on eBay. These stores are also always in need of men's and children's clothing.
Liz Allen can be reached at lizallenerie@gmail.com.