Reinventing a Town
Cambridge Springs still discovering what's on the other side after blaze claims Riverside
What is Cambridge Springs without the Riverside Inn?
When the Victorian-era building burned to the ground in May of 2017, those of us who call Cambridge Springs home have been forced to reckon with this question.
The Riverside Inn had been such an entrenched part of our town's identity for so long, most residents had never reflected on what it would mean to the community if something happened to that beautiful old building at One Fountain Avenue. We had all thought about it, of course, but never thought it would actually happen.
Nowadays, Cambridge Springs seems quieter than I remember it as a kid — but it's certainly no ghost town. There's the LORD Corporation plant off Grant Street. On the hill once occupied by Alliance College and the massive Rider Hotel is a minimum security correctional facility. In recent years, the National Guard Armory was built right outside the township. There are also many small locally-owned businesses run by engaged and community-driven residents — a scattering of antique shops, an old-fashioned diner, a pizza place, a store of locally-produced chocolate, and even a Harry Potter-themed coffee shop and attached boutique. The old Hotel Bartlett is being utilized as senior housing and across the street is an art studio and Laura's Barber Shop. The Lost Lanes bowling alley and its restaurant, the Found Lounge, remains one of the few places left in town to get together with friends over a hot meal — which, as locals already know, isn't a problem as they have some of the best wings around. Most of the town's old bars — the Iron Horse, Spring Inn, and Crossbow — have closed and sit vacant, the Villa being the lone business district survivor for those in need of a nightcap.
While there are clues if one explores the town closely, it might be difficult for a passerby to believe that this little municipality of 2,500 people was once a bustling resort town. A dozen hotels once stood in Cambridge Springs, serving tourists who came daily by train to indulge in the towns mineral springs, widely known for their supposed healing qualities.
"The water from these fountains is chemically pure, being entirely free from organic matter," one old mineral springs advertisement reads. "It cures Dyspepsia and all Stomach, Liver, Kidney, and Bladder diseases … [and] is invaluable for Insomnia, Indigestion, Torpid Liver, and loss of Appetite."
"I find a remarkable apathy among American physicians who do not take the trouble to inform themselves as to the powers of these springs," an English doctor was quoted on another ad.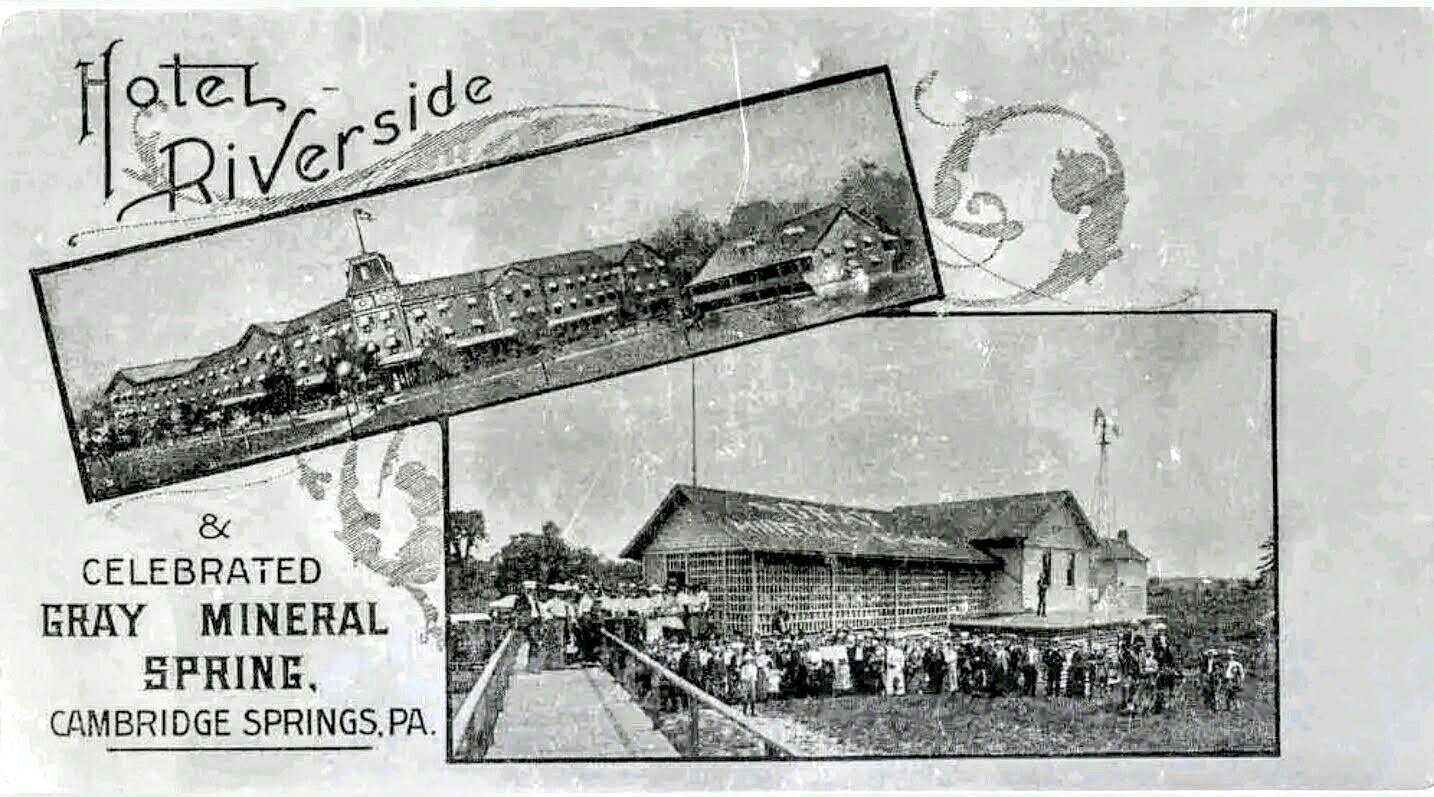 Contributed Photo
Cambridge Springs got its name from the local mineral springs, which were a popular health craze near the end of the 19th century.
The Riverside Inn and its adjacent spring house were erected in the 1880s as this mineral water craze spread — but as the fad faded away in the first decades of the 20th century (thanks to the passage of the consumer-friendly Pure Food and Drug Act), so did the concept of Cambridge Springs as a resort town.
Most of the other hotels were sold off, demolished, or, in the case of the Rider Hotel, burned to the ground. As the decades passed, the Riverside transformed along with its ownership, but unlike the others, it continued to operate. By 1985, the Riverside was one of the few remaining relics of Cambridge's resort town past. That same year, Mike and Marie Halliday purchased the inn and began the arduous process of room-by-room restoration. They reconstructed the inn once again into a cornerstone of the community, returning it to its glory as a popular tourist destination — a hub for weddings and parties, meals and drinks, music and theater, and reunions among old friends.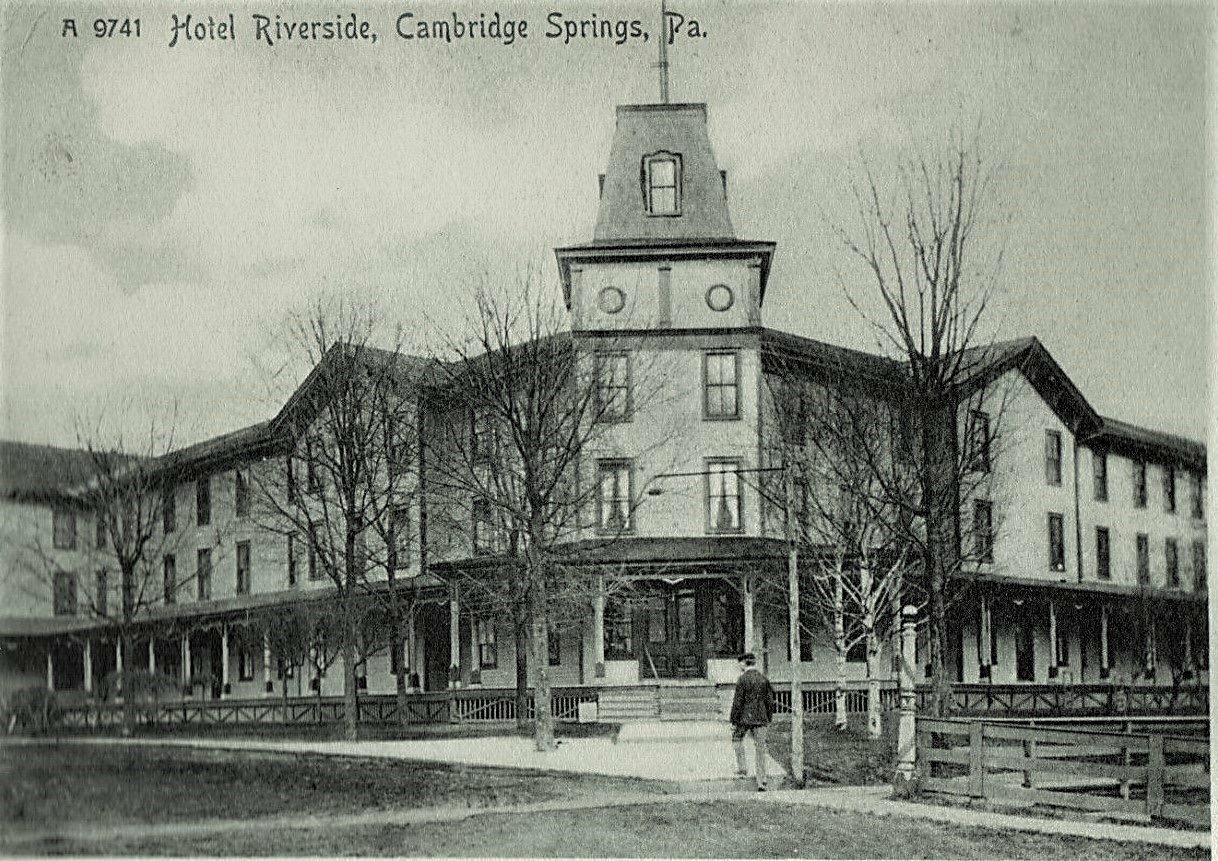 Contributed Photo
A blend of American Shingle StyleJ22 and French Second Empire, the Inn's recognizable facade left an indelible impression on countless people for over 130 years.
In the summer of 1990, Jeremy Ball began working at the inn — a rite of passage among Cambridge youth. Like many newly hired teenagers, he started out washing dishes.
"When I first started, I was mostly dish room," Jeremy said, "but then Mrs. Halliday always felt bad that my glasses would fog up in there and after a couple of months I had been promoted to busboy."
From there, Jeremy was again promoted to help run the Canterbury Feast and overseeing the buffet line — essentially becoming royalty among high school employees at the inn. He then moved on serving tables when he turned eighteen.
These experiences at the Riverside Inn led Jeremy to pursue a degree in Hotel, Restaurant, & Institutional Management at Penn State University. While doing so, he traveled back home every other weekend to continue working at the inn.
"I'd get home at four and work from Friday night through Sunday evening, working double and sometimes triple shifts and then would make the trek back to [Penn State]," Jeremy recalled.
After graduating in 1997, he managed the American Ale House & Grill in State College for nearly five years before an impulsive summer trip to Philadelphia led to his relocation. He spent the next decade managing numerous high-end restaurants throughout Philly before deciding to move back home in 2014.
"I was ready to move back to the country and be closer to family," Jeremy said. "I was initially nervous trying to find something that would be challenging in this market, but then Marie Halliday found out I was back in town and called me and said, 'We need to talk.'"
She offered him the position of general manager and after so many years, Jeremy was back to where it all began, the place that had instilled in him a passion for the hospitality business. Over the next few years, the Riverside continued to flourish under Jeremy's leadership.
Then, around 1 a.m. on May 2, 2017, Jeremy received a call from an inn employee about what they assumed was a false alarm going off — but when he arrived, the kitchen door was already blazing hot. Twelve guests and three employees were evacuated as dozens of fire stations from all over Northwestern Pennsylvania were alerted of the impending disaster.
As this was occurring, I was awake on my living room couch, now residing in Millcreek. My infant son, not yet three weeks old, was having a bottle before being rocked back to sleep. I was in that delirious phase of parenting a newborn, mechanically aware in my motions, but unmistakably fatigued.
When he was back asleep, I reflexively checked Facebook. A live stream was being shared by Kenny Watkins, someone who I had gone to school with back in Cambridge. The video was dark and the picture difficult to make out at first, but at center was a blazing orange and yellow, an unmistakable fire.
Somehow, I knew immediately.
"I listened to it on that scanner [and] when I heard the fire sirens go off and I heard they were on their way to Riverside, I was like, 'okay, I'm going down there,'" Kenny told me.
He arrived at the inn even before the fire trucks and saw people running in and out of the building frantically. "I wish I would have just ran in there and helped, because I feel that if they had help stopping it at that point, there would have been a chance," Kenny said. "I started the video once I saw the flames come up over that edge from the back."
He knew he was about the witness the Riverside's demise. "This was the night it was going," he remembered thinking. "It was like a matchbook."
I watched his live stream until it cut out quite some time later. At that point, Kenny said it seemed like the whole town was there watching as the firefighters worked heroically to salvage any part of the inn. From my couch, I'm not sure that I had even completely processed what was happening, but I remember staring at the wall for a while. I fell asleep at some point. When morning came, I checked my phone again, assuming it had been some sleep-deprived nightmare.
My mother was watching my older son at the time, so I dressed for work and drove him into Cambridge Springs to drop him off. I had to take a slight detour, but drove close enough to see the devastation, the smoke, the firefighters still at work to tame the remaining flames.
The next day when I came into town, I parked my car and walked towards the still smoldering remains. I couldn't hold back my tears.
What would Cambridge Springs be without the Riverside Inn?
It was our town's living museum. For everyone who visited, everyone who worked there, everyone in the community, the pain seemed akin to a death. I wondered how many vows had been exchanged there over the years? How many first dates? Shows attended? Proms held? How many evenings were spent on the porch on a warm summer night, reminiscing with friends over cold beers, the world seeming to have slowed down?
The memories made during the years I had worked there, folding an endless pile of cloth napkins on my first shift at age 16 through my last shift a few years after graduating from college, how I'd taken my wife there countless times while we were dating and then later when we had taken our oldest son, the people I had worked with and met from all over the world, the hijinks amongst the staff — those memories over the course of a single night ceased to have a physical presence, crumbled by an undetermined blaze. I could only wonder how many thousands, how many tens of thousands who cherished the Riverside felt similarly upon hearing the news.
"It was an iconic building that was so much more than a hotel, restaurant and dinner theatre," Jeremy told me. "It had a life and a personality and just drew people in with its charm, history and warm atmosphere. So many people worked there, made memories there, and became families there. It was a symbol of coming home — the gathering place. As we all know, people would visit once and just fall in love with the inn. It was such a special place."
Wilma Webster was one of the first people I met when I started working at the Riverside — and having done just about every job that could be done at the inn since she first worked there in 1965, she knew every inch of the building.
"I worked [there] in my junior and senior years and the summer after I graduated," Webster said. "It seemed to me that they catered to wealthy people and their families [back then]. When we were training on proper serving to guests it was very formal."
She's kept in close touch with all of those she worked with over the years, including the Hallidays. "I will miss the people who came, some for the very first time, and fell in love with the grand old lady," she added. "Then they came back again and again. All the weddings, the dinner theaters, the fantastic staff."
Brenda Evans, who worked at the Riverside since the '80s and ran the inn for a number of years, felt similarly. "I miss the people who used to migrate back every so often like they were being called to come home. It was always about the people we met there — customers and workers."
I asked Jeremy what he thinks will stand out the most in his mind in 10 or 20 years when he thinks of the Riverside.
"​Having the opportunity to run the hotel that I started working at as a kid," he said. "The trust and faith the Hallidays put in me. Being trusted with such a monumental operation of a 130-year-old hotel was the most amazing opportunity I had ever experienced."
This spring, a grassy field emerged on the vacant property where the Riverside had stood only a year earlier. Until this past May, a sole surviving brick fireplace still stood defiantly.
Despite the pain, residents of Cambridge Springs are optimistic for the town's future. Last fall, the Hallidays sold the property to Deanna and Jason Howles, a couple from Guys Mills. They are in the process of repurposing a historic barn on the land in order to open a new brewpub for their newly established (and aptly named) Riverside Brewing Company. Construction began in May and on Thursdays throughout this summer, they will be operating "growler hours" from 5 to 8 p.m. to introduce the community to their beers, food, and maple products. Other area businesses have equally stepped up to fill the void left by the Riverside's absence.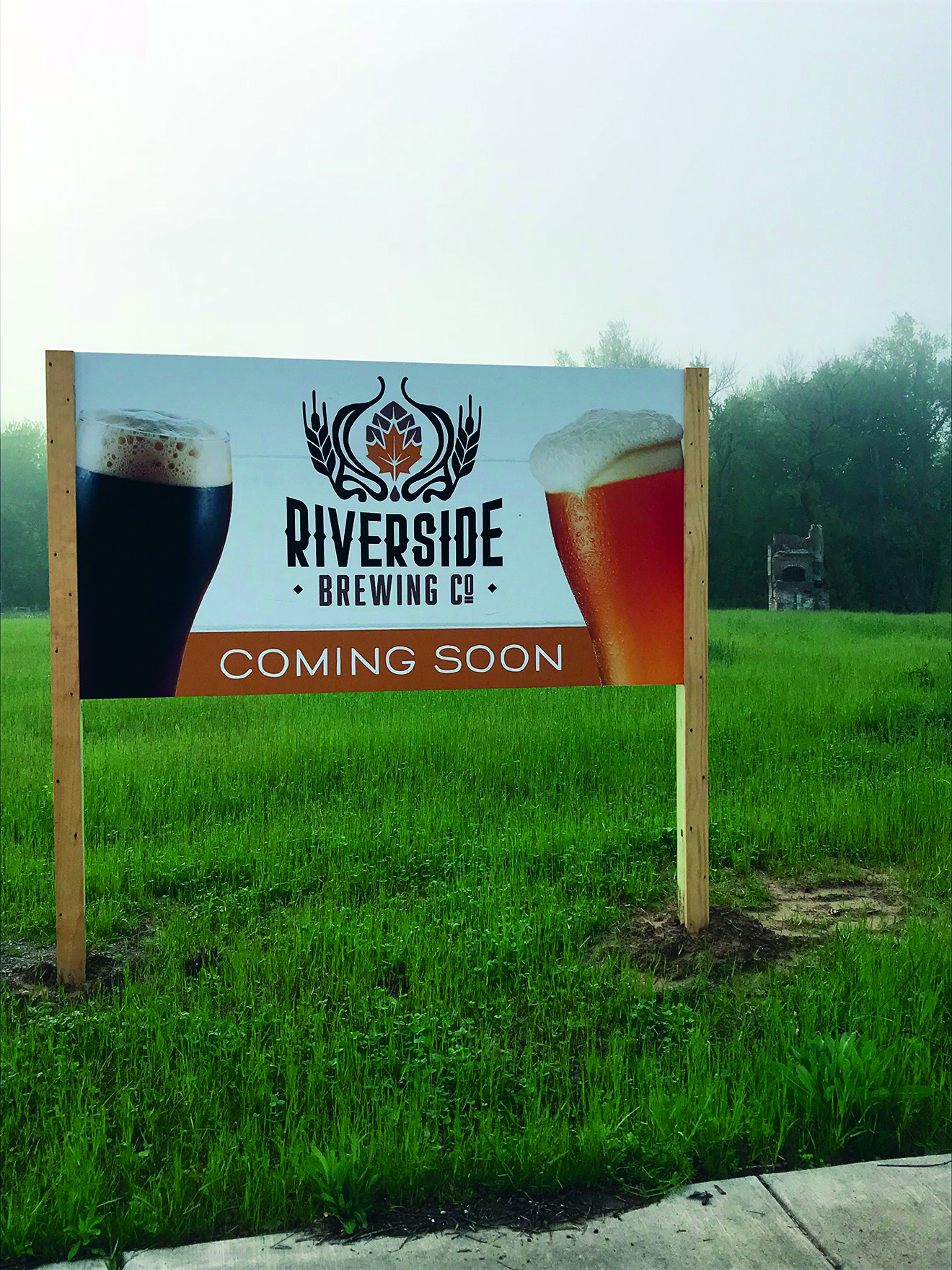 Contributed Photo
Recently, Guys Mills couple Jason and Deanna Howles purchased the land the inn stood on, with plans to open up the aptly named Riverside Brewing Company.
What is Cambridge Springs without the Riverside Inn? It's a town that moves forward. For a town that has had to reinvent itself many times already — it may be amid a reinvention once again.
"Let's make this tragedy a reminder to always have hope," Jeremy said. "This situation helps show us how strong we all are both as individuals and collectively as a community. Hope is being able to see the light despite all of the darkness. Our lights will shine again."
Jonathan Burdick runs the historical blog Rust & Dirt. Follow them on Twitter @RustDirt, and on Instagram @RustandDirt.