Remembering Imam Hussein
Annual walk takes place in Erie  
December 7, 2016 at 12:15 PM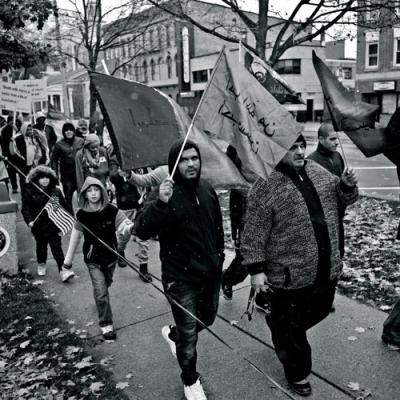 Recently, more than 300 Shia-Muslims of Erie turned out to march in remembrance of the Prophet Mohammed's grandson, Imam Hussein, also known as Arbaeen. This is an annual pilgrimage undertaken by all Shia-Muslims around the world. The Shia-Muslims believe Imam Hussein travelled from Saudi Arabia to Najaf, Iraq, where he was murdered attempting to save the Shia sector of Islam.
Local marchers started the walk dressed in all black clothes and shouted, "We Want Peace," or "Imam Hussein we are with you." Children as young as five years of age and men as old as 80 joined this once-a-year walk. The walk was led by an Iraqi-born and Pittsburgh resident clergy, Sayed Muntadahr Al-Jabery.
"Today was a march of peace that symbolizes the revolution against tyrants and oppressors," he said. "This march of peace is a response to the Imam Hussein's call 1,377 years ago to stand up against injustice and oppression."
The marchers proceeded from Sixth and Liberty streets to Perry Square; then to the Islamic Cultural Center of Erie at 25th and Parade streets, where they stood outside the mosque to recite poems about Imam Hussein.
Some non-Muslim individuals in the Erie area also joined the annual event. They participated in the walk to support the Muslim community and to explore the diversity of Erie.
Sarah Everett, from the Community Art House, one of the non-Muslims who participated in the walk, said, "I learned that there are a lot of Muslims in Erie. I didn't know that until today. They are so peaceful. We as Americans want to let the Muslim communities know they are welcome here."
Black banners with Arabic quotes from Imam Hussein stood out throughout the five-mile walk. They were waved in the air, and many took turns holding them. The Muslim community also carried the American flag as well as a sign saying, "TERRORISM HAS NO RELIGION."
Maitham Basha-Agha can be contacted at Maitham@eriereader.com.