Remembering the Riverside
Holding on to the good times at the Cambridge Springs inn
Cambridge Springs' beautiful Riverside Inn was a lot more than just some old local gem. It was a living, lively treasure.
Before I saw those first early morning texts about the fire that destroyed the Riverside from my brother and a friend who lives down the street from where it was, I hadn't really ever thought too much – never had to – about all the Riverside had given me, even as a relatively infrequent visitor.
But once I saw the first images of the gorgeous, iconic 132-year-old inn being devoured by horrific high flames in the early morning hours of May 2, I was washed over with a stream of sweet memories.
I remembered being at one long-past springtime music festival there, walking barefoot and newly in love through its beautiful lawns with the girl who'd become the woman who'd become my wife.
I remembered being there a handful of years later, slow-dancing with her – beautiful in that moment, too, with her belly full of baby – at my brother's wedding. That was after I'd stood before a crowd of friends and family in that lush, low-lit room, choking up while trying to give my speech, overwhelmed with love for the bride and groom and everyone around us.
I'd seen some of the best local concerts I've ever witnessed in that same great space. Celebrated a good many other friends' weddings there, too. Taken my son backstage to help me photograph musicians at play. Chased my daughter through its lawn. And, out on its sprawling, lovely old wraparound porch, we'd shared everything from smokes to jokes to new baby news with friends.
And then it hit me: The Riverside is gone.
"Almost brings tears to your eyes," my brother said, and I agreed.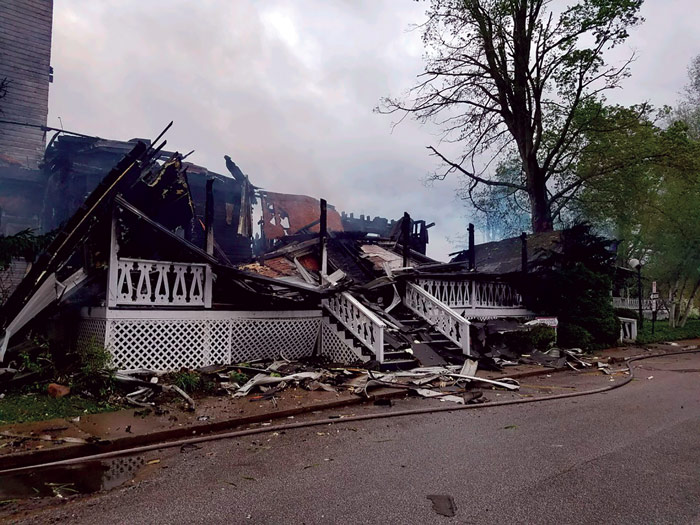 The news of the inn erupting into an uncontrollable blaze came as a sad shock to us, to be sure. So we couldn't imagine what it must have done (and is doing) to the small core group of young entrepreneurs who've devoted their time, energy, and efforts in recent years to restoring and improving the Riverside, opening a new gastropub, lining up cool events, and giving it what looked like – until May 2 – a secure foothold for a bright future.
"It's just a sad way to end. It was such a beautiful place," Riverside owner Marie Halladay told Erie Times-News reporter Tim Hahn in a story published Thursday, May 4. "I feel so badly for [Riverside General Manager] Jeremy [Ball]. He had been working so hard it, doing a wonderful job. It really is too bad. I feel badly for a lot of people."
So do we. And, it seems, that's about all there is to be said.
But plenty of people – local artists, musicians, event planners, and supporters – are talking about it, writing about it, singing about it: remembering the Riverside.
And maybe remembering is the best thing we can do right now. Maybe that's how we lend some grace to this ugly mishap. Maybe that's how we keep it.
So, if you loved the Riverside, keep loving it. Keep sharing what it meant to you. Keep remembering.
That won't bring it back, but it will keep it, in some sense, a living thing – not just a ghost.
Ryan Smith can be reached at rsmith@eriereader.com, and you can follow him on Twitter @ryansmithplens.