Remnants, Art, and Heart
Generational business becomes shared community beauty
September 7, 2022 at 6:27 AM
"You do what you can do for people and I think it comes back to you," says Judie Pentz, owner of the Remnant Store, a fabric shop at East 11th and German that has been in operation for nearly 60 years. Beyond selling fabric remnants, she has created an anchor in a neighborhood that is often overlooked by those who don't happen to have a heart as big as hers.
Continuing a business that was started by her father and uncle, Pentz, now 80 years old, feels it is the store that keeps her young and gives her purpose. And she looks forward to carrying on for as long as she can: being a fixture in her neighborhood, greeting customers like family, giving work to local upholsterers, helping her neighbors access services they need, stocking her candy bowl for the neighborhood school children, and now serving as a public canvas for a new, bright, beautiful, inspiring mural for everyone in the community to enjoy.
"My father came to Erie for college, met my mother, brought his brother here with him and, at first, they owned a cafe in this neighborhood. At some point my father patented a barstool he made and sold through Arthur F. Schultz for years. That barstool was in every bar in Erie. And when that died down, he had all this fabric left over, lots of discontinued fabrics, so he started the Remnant Store with his brother." And the rest, as they say, is history. Judie Pentz inherited the Remnant Store from her parents, Matt and Rose Plizga, who started the store in 1963, and she has since worked there for 46 years.
In addition to carrying on the store, Pentz has also adopted the business philosophy of her father: no fabric has, nor ever will, cost more than $9.95 a yard. This policy serves as a great equalizer: "Everyone is treated the same way in our store, with respect. Our millionaire customers and our struggling customers alike." Pentz has not only donated fabric to the various churches and nonprofit organizations in the community over the years, but she also often gives fabric to families who are new immigrants to Erie and are trying to get settled, or offers free rent to her upholsterers in exchange for their help organizing and lifting heavy bolts of fabric for Pentz at the end of the day. For Pentz, it's all about doing the right thing for the people who need it most.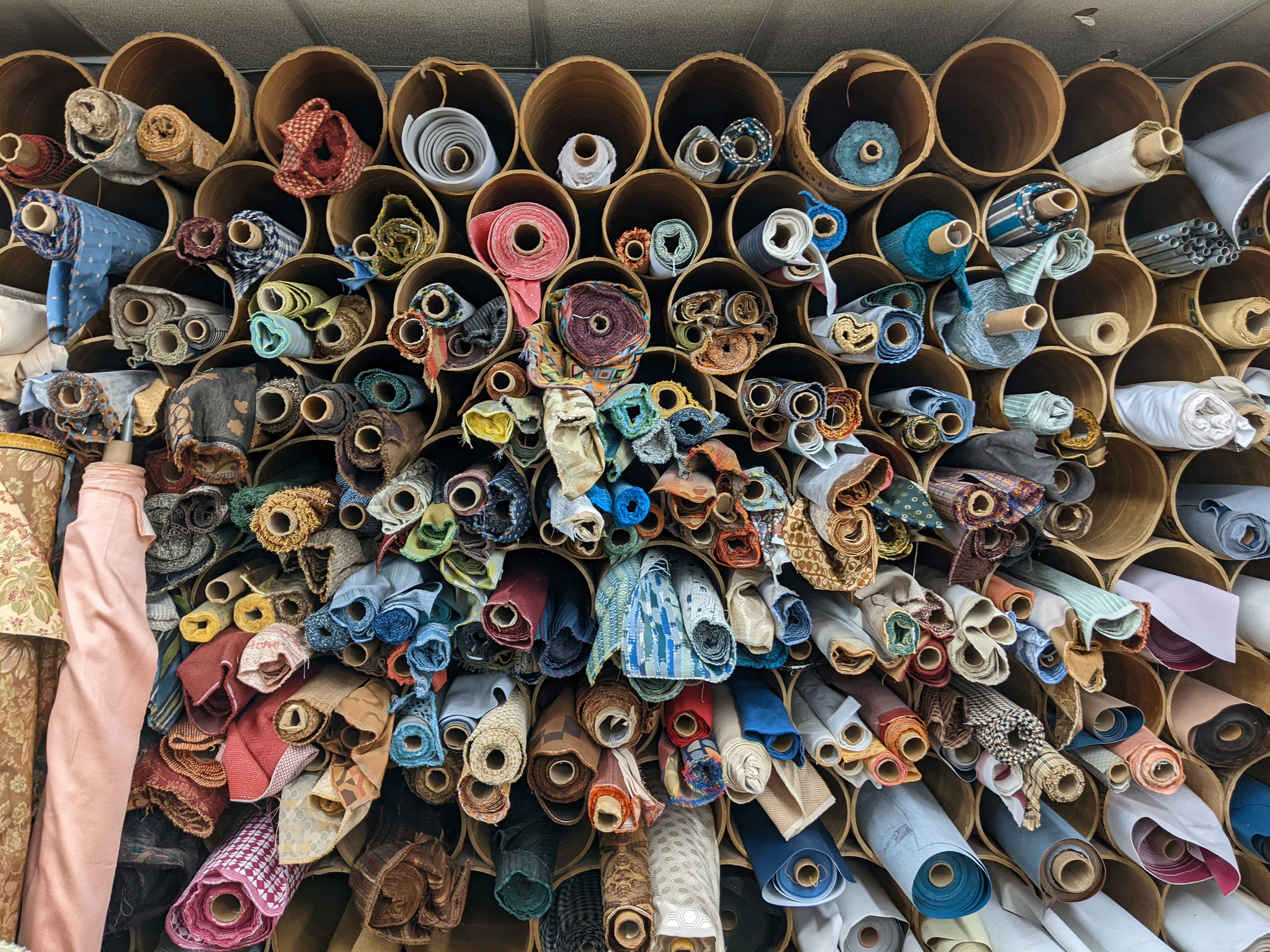 Remnant fabric lines the walls in the ca. 1877 building at 306 E 11th Street. Judie Pentz's father purchased the building in 1972 and moved the business he began in 1963 from it's previous spot on Parade Street to it's current location.
And all of Pentz's customers, visitors, and neighbors appreciate her efforts and look forward to seeing her when they come into the Remnant Store. One loyal customer, Gina Rullo, reflects on her experiences with Pentz over the years: "I look forward to going to see Judie, knowing she'll show me her newest inventory and give her opinion about which fabrics would coordinate best for my project. She's always so busy but never too busy to ask me what I'm looking for and to redirect me if there's better fabric for my project. Judie is the Remnant Store and I'm so grateful for her and her family to be part of our extended downtown."
For those unaware, remnant fabric is not just scraps and bits left over. When an upholstery company makes a line of couches, furniture, pillows, etc. they are often left, after that run of production, with large bolts of remaining fabric for which they have no use. Oftentimes this is high-end, designer fabric. Wholesaler distributors then buy up these leftover bolts. Pentz has a number of close friendships with these wholesalers and she and her husband (who is 83 years old) make regular road trips down south or to New York to these distributors to pick up new fabric, as shipping such heavy materials is too expensive and would effect Pentz's ability to continue to sell these fabrics, even those designer fabrics that usually sell at retail for hundreds of dollars, at $9.95 a yard, just like her father did some 60 years ago in the same building at 306 E. 11th St.
The building itself stands as a testament to long-lasting generational businesses, as the Pentzes are somehow only the third owners the building has ever had since about 1877. Built in the Commercial Italianate style like so many storefronts of that time period, the storefront was originally built and owned by the Knoll Brothers, who ran a grocery and liquor store from one side of the property, and a shoe store on the other. They ran these businesses for 40+ years, eventually selling the building to Arthur L. Stone, who sold kitchen equipment and scales. It was from Stone that Pentz's father purchased the building, and not much of the original character of the building, nor the business that Judie's father started, has changed over the years.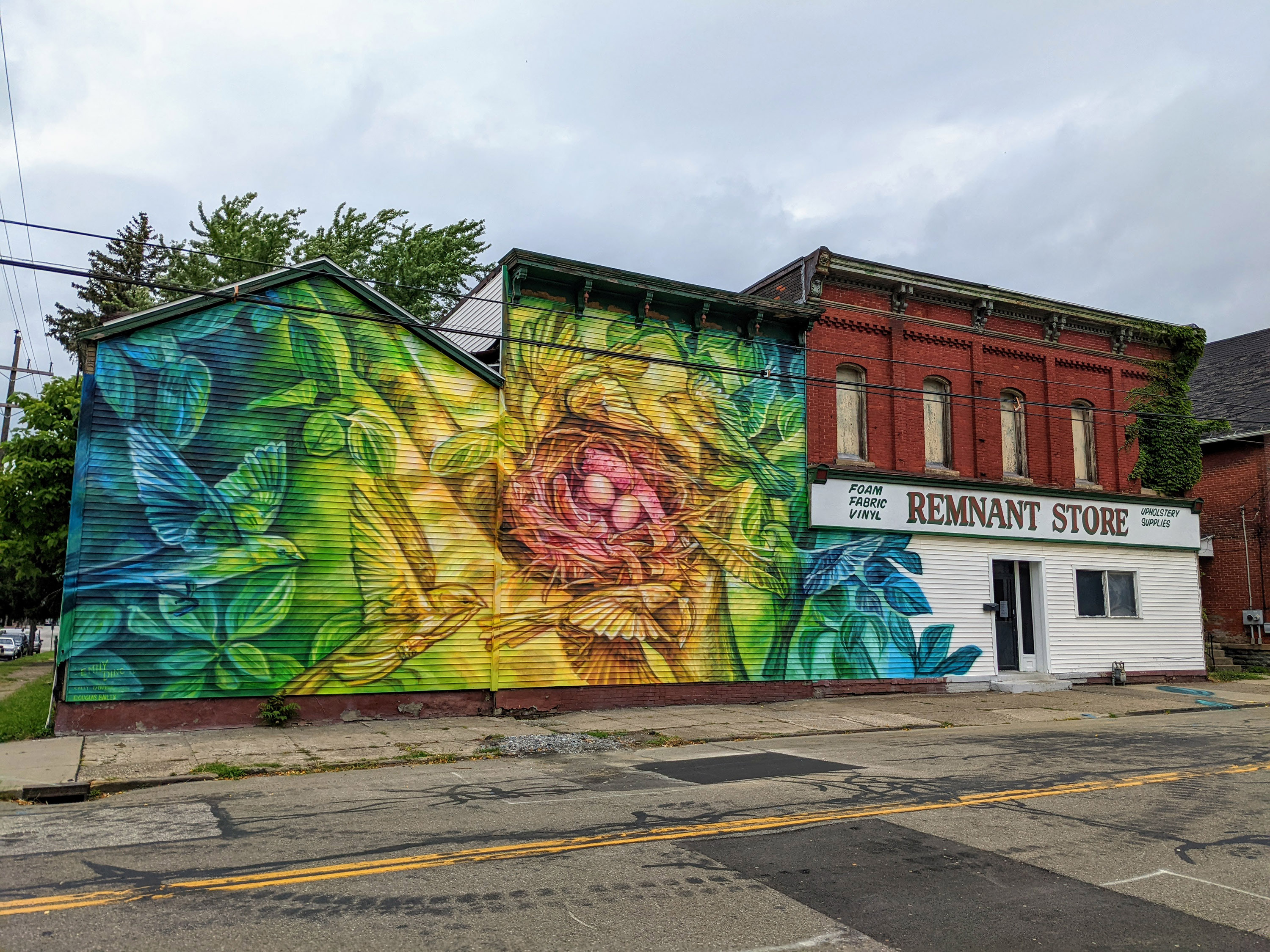 The Remnant Store recently became a part of the "Purposeful Placemaking" project through Erie Arts and Culture which aims to complete 50 murals in Erie along Community School Walking Routes in 2022 and 2023. Artist Emily Ding, along with local assistants Cally Paparelli and Doug Bailey completed this mural in July.
So, given that regularity, Pentz never expected that an opportunity would arise that would mean a massive change to her previously unchanged building: an Erie Arts and Culture "Purposeful Placemaking" mural that would transform what was previously a massive swath of white vinyl siding covering their building. According to the organization's executive director, Patrick Fisher, the choice to use Pentz's building was a natural one: "Visiting muralist Emily Ding selected the Remnant Store for the unique architecture of its front facade, even though vinyl siding is a less than ideal surface to paint on, as it poses many challenges. After Emily identified the Remnant Store as her top choice, I placed a cold call to the Remnant Store and spoke with Judie. I identified myself, provided very minimal details about the project, and quickly received an eager YES from Judie."
Muralist Emily Ding traveled to Erie from Los Angeles and was assisted by local artists Cally Paparelli and Doug Bailey. Not only do these public art projects help uplift surrounding neighborhoods with their beauty, they also allow for a teaching opportunity for local artists. Fisher comments: "When we bring visiting muralists to Erie, it's actually a strategic effort to build the capacity of the talent that is present in our own community. For every visiting artist, we hire two to four Erie-based artists to serve as their assistants. We pay the assistants $25 per hour and they are provided with a direct opportunity to learn from national and international artists."
Pentz saw the mural as yet another opportunity to help her neighborhood, and she soon realized the benefits spreading throughout the area. "We have a line here for the food pantry down the street on Saturday mornings, they're all in front of this mural, looking at it, and it makes them so happy. They wonder why they put it here in this neighborhood: well it's because they're thinking of us and want to bring us some beauty! We have a neighbor, Jim, we call him the Mayor, and he went down the street and helped everyone clean up their front yards and porches, because people are coming down to the neighborhood now and stopping to look at the mural. So, yes, I think this is going to help the neighborhood immensely."
Fisher agrees with this insight, knowing that public art has the power to transform places, and the organization and its community partners, like the United Way of Erie County, are not stopping with the Remnant Store: "Through this initiative, we aim to create a total of 50 murals between 2022 and 2023, all along [the United Way's designated] Safer Walking Routes. Each of the five community schools will receive 10 murals. In part this is a wayfinding project through which we are providing large visual landmarks that indicate the walking routes. But, this is also about improving the visual landscapes of our communities. We are working to counteract predatory advertising that can be found along the routes, things like advertisements for payday lending, bail bonds services, and alcohol and tobacco products. Advertising is a visual language and children in our neighborhood are exposed to it each and every day as they walk, bike, and play in their neighborhoods. What is the cumulative impact when the advertising they are consistently exposed to is predatory in its nature?"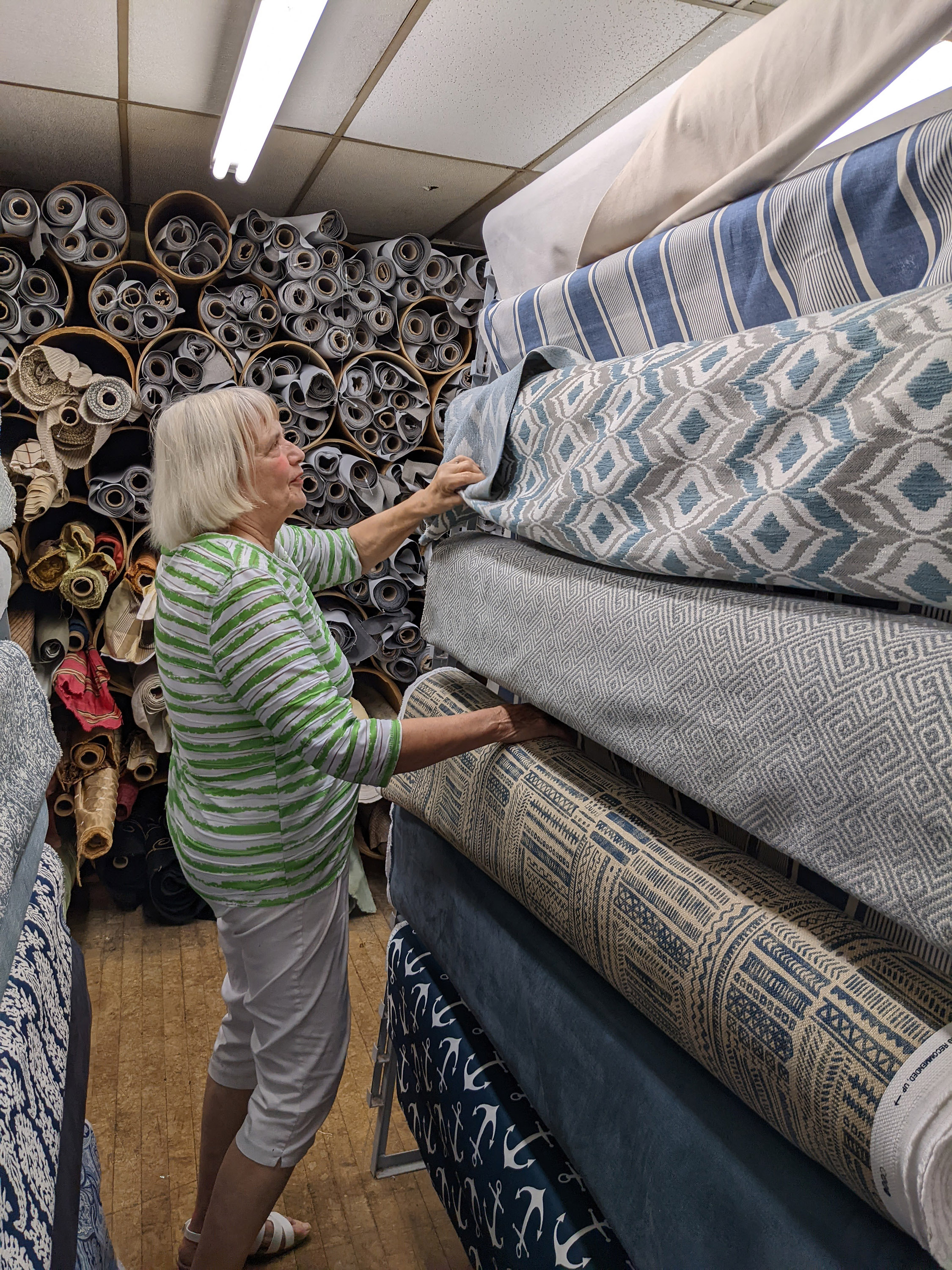 Judie Pentz shows off a roll of Ralph Lauren remnant fabric, which would normally retail for hundreds of dollars a yard, but Pentz has priced at $9.95 a yard. Following her father's example, Pentz never prices any fabric higher than $9.95 so her customers can complete their projects for a fraction of the price.
And conversely, what is the positive impact of this public art on the community's children? Many of the children who pass by the Remnant Store every day on their way to school at Pfeiffer-Burleigh Elementary, or to the Neighborhood Art House, or the various churches or charitable organizations in the area, don't often have the opportunity or the means to go to an art museum or a gallery, but by placing these murals on their walking routes, they have the chance to see, appreciate, and be inspired by the art. To know that they, too, can someday make something beautiful for the community, to see that there is value in being creative and to understand that giving something back to your neighborhood improves the quality of life for all its residents. Fisher believes that this art helps the neighbors in the surrounding area feel seen, heard, and valued: "What's always striking to me is when someone says 'I never thought my neighborhood would have something like this.' I use moments like that as an opportunity to expand the conversation to delve into what other investments they'd like to see made in their community."
While our city neighborhoods change and grow in many ways, through public art, or simply through individual kindnesses, Judie hopes that her legacy at the Remnant Shop can live on beyond herself. It would take a special person with a big heart (and big shoes to fill) to take on a business that is more focused on fairness and honoring the community than making a lot of money, but Judie is confident that the kindness, generosity, and positivity that she has put out into Erie for all these years will, in fact, come back to her.
Erin Phillips runs the Instagram @olderieonfoot, an in-depth look at local architecture "by foot, stroller, papoose, bike, and occasionally minivan."