Reveling in Romolo Chocolates
Confectioner perennially an Erie sweetheart
February 17, 2023 at 6:17 PM
While many may have their hearts set on Valentine's Day as the biggest day for candy and sweets, Easter is actually Romolo Chocolates' biggest holiday for confections. An Erie staple, you'd be hard pressed to find someone in the area who hasn't tried one of Romolo Chocolates' incredible creations, but some may not be familiar with the history behind the company.
"Romolo Chocolates was created from a finality," owner Tony Stefanelli explains. "I expected to continue as the third generation of chocolatier owners of Stefanelli's Candies, but when my father retired and my uncle sold the business, I was able to create Romolo Chocolates one year later (in 1994) with my wife, Jennie, and my sons and fourth-generation candymakers, Anthony and Roman." The business was named for Tony's beloved grandpa, Romolo Stefanelli, the family's first chocolatier and one of Tony's teachers.
"It has been exciting, painful, joyous, and hard, hard work to start from scratch," Tony continued. But luckily for Romolo Chocolates, they had experience and ambition in their toolbox, and were ready to hit the ground running. "I had years of training and experience cooking and solid relationships with vendors, so I knew I could make an outstanding product in my grandpa's tradition."
In 1994, Romolo Chocolates opened its doors at its first location in the Schaal Plaza on West 12th Street. While the loss of the family's last name to the old business was lamented, the new opportunity provided by Romolo Chocolates is a thing of pride for Tony. "To overcome that was the greatest thing that ever happened to me," he said. "It gave me a chance to start anew, to bring my family into the future. We really dove into it and gave birth to a company with a wide-open view."
Along with that new vision came the Romolo Chocolates we know and love today. In 2003, the business opened at their current location on West Eighth Street, next to the Greengarden Plaza and across from Frontier Park, ushering in that new vision with more clarity than ever. Comprising a chocolate shop, a gift shop, and the Cocoa Café, the location offers something for everyone, and was voted both Best Local Business and Best Chocolates/Candies in the Erie Reader's 2022 Best of Erie Awards.
Tony and Jennie take a lot of pride in Romolo Chocolates as an Erie business, and love providing the service that makes them stand out. "We appreciate going to other businesses and finding that hometown Erie service," Jennie says. "From our auto shop to Tony's barber to our next door Greengarden Plaza neighbors, Erie businesses show their style and their hard work, and we are proud to be one of them."
In 2023, Romolo Chocolates is showing no signs of slowing down and they refuse to compromise on their vision and quality. "Supply issues after the pandemic meant searching for ingredients and packaging that met our high standards and not always finding them," says Tony. "Sometimes we just didn't make a confection, or an ice cream, or a cookie, because we weren't going to change its quality or flavor."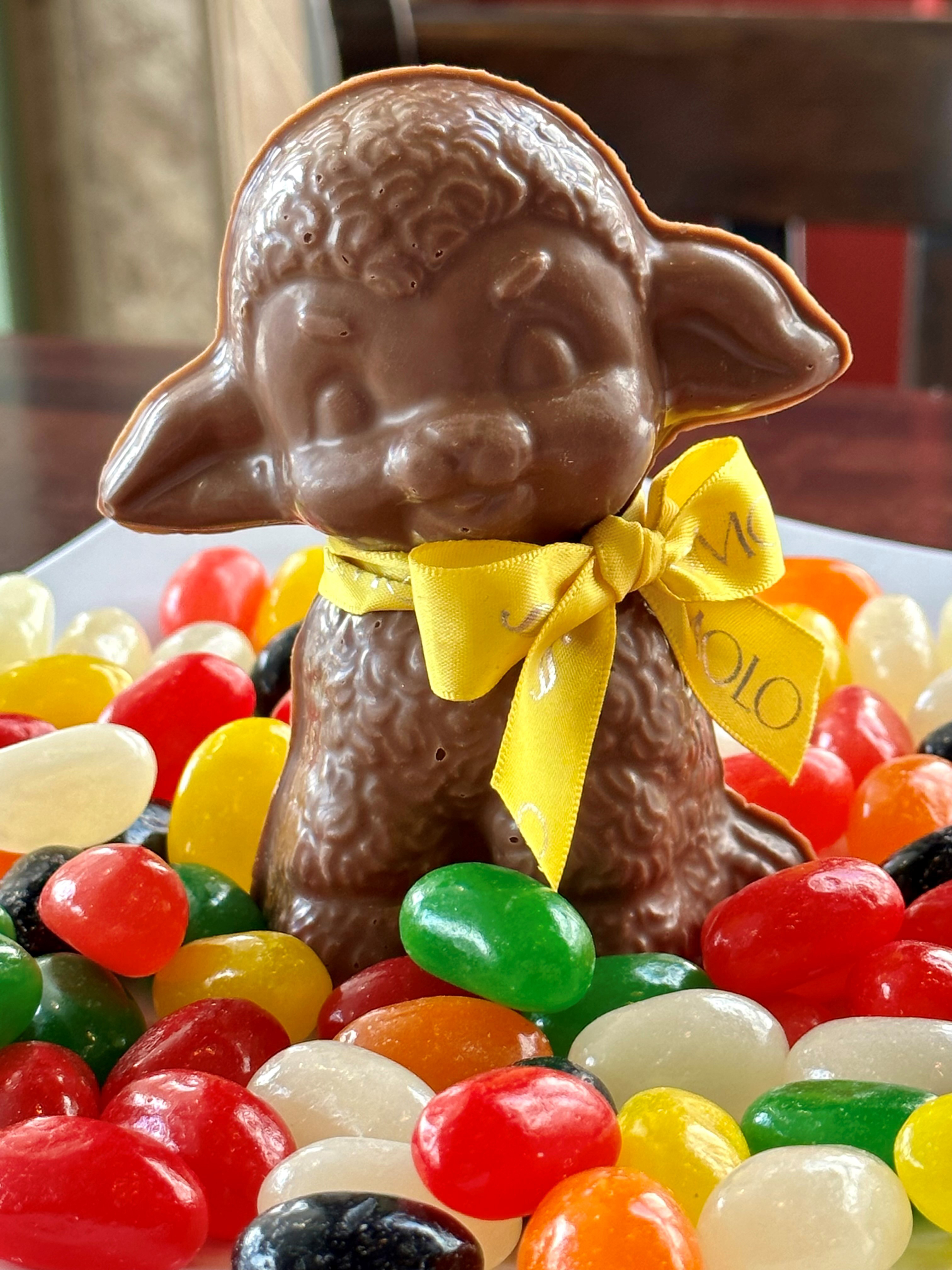 "Sophie" Romolo Chocolates' newest Easter addition, is an improvement upon last year's lamb, and with her signature Romolo ribbon, makes her the perfect centerpiece for your Easter basket this season. (Contributed photo)
With Easter reigning as the business's busiest holiday, each year seems to grow customer demand at Romolo Chocolates. "We prepare for Easter by focusing on our molding process, setting production goals, and working together day to day as a team, like we always do," explains Tony. "To help keep pace with customer demand, we incorporate more machinery each year."
Eastertime also brings around some fan favorites and best sellers, some of which include the solid chocolate miniature Easter pieces like the Running Classic Rabbit, the Sitting Rabbit with Flower, and the Large-Eared Classic Rabbit. Joining their ranks this year is Sophie, a solid chocolate lamb that is the newest addition to the Easter lineup.
"Our new solid chocolate Easter Lamb, Sophie, is the cutest; she's cute enough to cuddle!" says Jennie, proud of the newest addition. Sophie will replace previous years' lamb, whose lack of a now-discontinued sugar eye created an undesirable look that the business didn't love. The new lamb comes with a Romolo ribbon around her neck, making her the perfect signature piece for every Erieite's Easter basket this year.
Another new addition to this year's Easter roster are Easter-themed miniatures. Crafted using molds imported from Italy, the miniature shapes include lambs, chicks, bunnies, and eggs, all classic indicators of the Easter holiday. Thanks to the perfect tempering performed at Romolo Chocolates, each piece has a beautiful shine, making them (almost) too pretty to eat.
A hidden gem of the Easter season that many may not realize are sold at Romolo Chocolates are their "nickel eggs." These are a petite version of the business' crème eggs, and have the same delicious flavors that can be found in their larger counterparts. "We handcraft these large and small eggs, which feature crèmes of maple, peanut butter, chocolate, butter, and coconut, as well as fruit and nut and solid nut eggs," explains Tony.
If you're looking for other Easter candy ideas – or for any time of the year, as Romolo Chocolates are perfect for all occasions – be sure to check out Jennie and Tony's current favorites in the shop. "Like many of the Romolo team, we get fixated on a particular confection and then move to another when we've satisfied that taste," the couple said. Currently, Tony is loving the new flavors of nougat, while Jennie has been enjoying the toffee bark.
As they look ahead, Romolo Chocolates see nothing but new opportunities, no matter what the future holds. "I enjoy the challenge," says Tony. "When I open a gift box of our confections, it strikes me as beautiful music – a perfect orchestra of chocolate."