Reviewing the Case for Judge for Erie County Court of Common Pleas
Local judicial candidates speak out in their own words
October 23, 2019 at 10:45 AM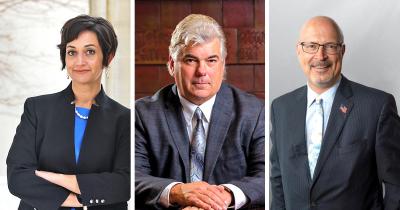 The general election cometh. No, still not the one with only now slightly fewer Democratic candidates than available flavors of Baskin-Robbins ice cream, all of whom are still vying to nab the party's nomination to go on to challenge Republican President Donald Trump in November 2020.
The election that lies on the near horizon is the 2019 municipal general election, slated for Tuesday, Nov. 5.
Setting the precedent
As I wrote back in May, this election lacks a "big" race.
I bemoaned the traditionally low voter turnout for primary elections in general for a number of reasons. One of note, Pennsylvania — in the company of Delaware, Florida, Kansas, Kentucky, Louisiana, Maine, Maryland, Nebraska, New Jersey, New Mexico, New York, Oregon, and Wyoming — remains one of just 14 states to feature closed primary elections, meaning registered voters may only vote along party lines.
What's also worth bemoaning is that municipal elections — those for local offices, where electees have more impact on citizens' day-to-day lives — consistently net lower voter turnouts.
Maybe 2019 will be different, maybe it won't be.
Conversely, elections with gubernatorial races (or ones with U.S. senators, congresspersons, or presidential candidates) yield a significant uptick in voter turnout. Take last year's 2018 midterm general election, which featured congressional bids, along with races for the Keystone State's governor and lieutenant governor seats. More than half of registered voters (52.23 percent) cast ballots, the highest midterm election turnout since 1994.
The marquee races in 2017 were by no means insignificant, but they were both local. The executive seats of Mayor of the City of Erie and Erie County Executive were heralded by many as some of, if not the, most important races in Erie's history. Yet, a paltry one-third of registered voters voted.
Past 2016's 63 percent turnout for the much-covered presidential race, rewind four more years to 2012 when Erie held its last municipal election, and we'll get our lowest general election turnout: 27 percent of those registered to vote called the shots.
What's on the docket
If there's optimism to be had, maybe the times are a-changin'. The headline to Matthew Rink's coverage of the 2018 general election for Erie Times-News read: "Midterm turnout in Erie County highest since '94."
Doug Smith, county clerk of elections told Rink: "I wasn't expecting it to be as high as it was. I thought we would do well, but not this well. Erie County needs to give itself a hand. They really turned out in big numbers today."
Perhaps Erie will be giving itself another round of applause come Nov. 6. Rightfully, Erie should be focused on this election as various key local seats are up for grabs — including two seats on the nine-person bench of the Erie County Court of Common Pleas.
Casting ballots in this race bears a greater significance, as seats come with 10-year appointments, meaning who Erie votes in will be there when we revisit these seats in 2029.
The two vacancies are to fill the openings created by the death of Judge Robert A. Sambroak Jr. in March 2017 and the retirement of Judge John Garhart at the end of 2018.
In short, the Courts of Common Pleas (if the Pennsylvania legal system is to be envisioned as a pyramid) sit above minor courts presided over by magisterial district judges (MDJs) and municipal court judges, with the Superior Court and Commonwealth Court just above them and the State Supreme Court at the pinnacle.
The general trial courts of Pennsylvania, the Courts of Common Pleas statewide are organized into 60 judicial districts, typically following geographical county boundaries. But if you're sitting there noting, "but Pennsylvania has 67 counties!" the lower number of districts results from seven of the 60 being comprised of two counties (though not so for Erie County).
Chiefly, each Court of Common Pleas is charged with handling appeals from the minor courts, appeals not exclusively assigned to another court, and matters involving children and families.
In May's primary where candidates were able to cross-file to appear on both Democratic and Republican tickets (partially nullifying the "closed primaries" issue), there were five candidates looking to make to the general election. Up to four could have continued on, but three did and two did not: former three-term Erie Mayor Joe Sinnott and Pete Sala, a lawyer in private practice in Erie.
The three who did, alphabetically, are: Erin Connelly, Dave Ridge, and Ed Smith.
For Connelly and Smith, this isn't their first rodeo.
Connelly, Chief Deputy District Attorney, 42, of Millcreek, and lawyer Smith, 60, of Millcreek, each sought a spot on the bench in 2015 but were unsuccessful in their bids.
Ridge, 59, a Democrat from Fairview Township, is a newcomer to a campaign for the seat, but led on both parties' ballots (12,148 votes on the Democratic ticket and 9,589 on the Republican) while Connelly snagged a spot on the Democratic with 11,604 votes and Smith on the Republican with 8,091 votes.
Because Ridge has a spot on both ballots, the general election is a run-off of three candidates rather than four.
To give Reader readers a better sense of these candidates, we asked each a series of questions, the responses to which you will see below.
When voters — hopefully more than one-fifth of those eligible — head to the polls on Tuesday, Nov. 5, they can vote for up to two of these three candidates.
Q: In six words, please capture the essence of your campaign/platform in running for the position of Judge in the Erie County Court of Common Pleas.
Erin Connelly: Experienced Public Servant, Pursuit of Justice.
Dave Ridge: I'm prepared to serve Erie County.
Ed Smith: Highly recommended. Experienced. Community involvement. TrustEd.
Q: What are the top three things you think make you most qualified for this position?
Connelly: Experience in the courtroom, commitment to public service, and a passion for justice.
As a prosecutor for 17 years, I have more trial experience than the other candidates combined. I am ready to hit the ground running on day one.
When I first became a lawyer, I thought I would only stay in the District Attorney's office for a few years. Instead, I fell in love with the work and have committed my career to public service. Working in the private sector may make you wealthy, but for me, serving the public was of more value.
I am also passionate about justice and making sure the court system works for everyone involved. As the Chief Deputy District Attorney, I have to look at the whole picture, and consider a myriad of factors. I'm uniquely positioned to see how the entire system works and how we can be advocates for justice.
Ridge: No.1: I believe in serving; No. 2: I will be ready from day one; and, No.3: [I received the] highest ranking for competence, experience, integrity, temperament from the Erie County Bar Association.
Smith: I have broad experience in virtually every area of law. The Bar Association has indicated that I am highly recommended to this position. I have life experiences and work experience to perform this important position.
Q: Of those who you know are voting for you, what are the three things you think they'd say if asked in a coffee shop why they're voting for you?
Connelly: From the thousands of doors that I have knocked on and voters that I've talked to, what seems to resonate most is my experience in the courtroom, my ability to apply the law fairly, and my passion for justice.
Ridge: He's honest. He works hard. He'll treat people with respect.
Smith: Hopefully, I am approachable. I have the experience to make the judgments required. I have integrity.
Q: If someone told you they weren't voting for you, what would you tell them in 15 words or less?
Connelly: I have dedicated my career to keeping violent criminals off our streets.
Ridge: There are two positions available, but I respect their position either way.
Smith: Thank you for your consideration. I hope you continue to research and reconsider.
Q: What do Reader readers most need to know about your background to see that you're the "right" person for this position?
Connelly: My vast knowledge through my experience of working in the courtroom everyday makes me the most qualified candidate for this position.
Ridge: I've been practicing law for 34 years. I've handled every type of trial, case, and individual, and have been in front of many different types of judges. I know what it takes to be a good judge. You must be prepared, know the law and the rules of evidence, and remember that no matter what type of case, the matter before the judge is the most important thing going on in that person's life.
Smith: I believe my background and especially my upbringing formed my character. I was raised in a blue-collar family where my father was a steelworker and my mother was a homemaker. I went to school at Penn State and then law school at Duquesne. I have been married for 34 years with two children. I believe that I have had the life experience and work experience to hold this important position.
Q: What might Reader readers be surprised to learn about you or your background that would convince them that you're the "right" person for this position?
Connelly: I have prosecuted 27 homicide cases, over 150 jury trials, and have consistently handled the most violent crimes committed in Erie County. While the work is never easy, I believe in being a voice for victims and working to make Erie a place we can safely raise our families.
Ridge: My dad was a staunch Truman Democrat who worked two jobs to take care of his family.  My mom was a strong Eisenhower Republican who raised her kids and also had a part-time job as a saleswoman at Halle's in the West Erie Plaza. Both my mom and dad made personal sacrifices to create opportunities for their three children.
Smith: I worked my way through law school at the Allegheny County District Attorney's office. I was the only clerk to get promoted to the Homicide Division. In the summers before that, I worked for several gas companies mowing gas pipeline hills where a tractor could not reach, mowing the pipelines with a mowing scythe. I started my own law firm at the age of 26 and have earned my keep as a practicing lawyer ever since.
Q: If you win, what's next? Conversely, if you don't win, what's next?
Connelly: My only focus right now is knocking on doors and talking to as many voters as possible before Election Day.
Ridge: If I win, I will do everything I can to be ready to serve from the first day on the job. If I don't win, I will continue to practice law and will attempt to get involved in even more charitable and nonprofit organizations. Plus, I'm going to spend more time fishing.
Smith: The first thing I would intend to do as a judge is listen and learn. If I am unsuccessful, I look forward to continuing to try to help my clients through their problems.
For more information on the candidates, visit them online at erinconnelly4judge.com, daveridgeforjudge.com, and edsmithforjudge.com
Ben Speggen can be contacted at bSpeggen@ErieReader.com, and you can follow him on Twitter @BenSpeggen.